LinkedIn conversation ads are one of the latest advertising developments presented by this leading professional network. Is it worth looking into? We say: YES! 
For companies looking to grow their business, LinkedIn Conversation Ads bring a CTR rate that is 5 times higher than other ad types and boast an impressive ROI track record. For the user, they provide a more personalised experience and a way to connect with brands they love in a meaningful way. 
Check out our complete guide to LinkedIn Conversation ads and find out all you need to know to supercharge your LinkedIn advertising with Conversation Ads. From what are the challenges and benefits of LinkedIn conversation ads to how to actually set them up within the LinkedIn campaign manager. We got you covered! 
What are Linkedin Conversation Ads?
LinkedIn conversation ads are a highly personalisable form of native Linkedin advertising displayed to LinkedIn users within their direct messages.
The key difference between LinkedIn conversation ads and LinkedIn message ads is that with conversation ads, you can set up multiple call-to-actions that link to your landing pages, open a Lead Gen Form, or drive engagement with more information in the next message.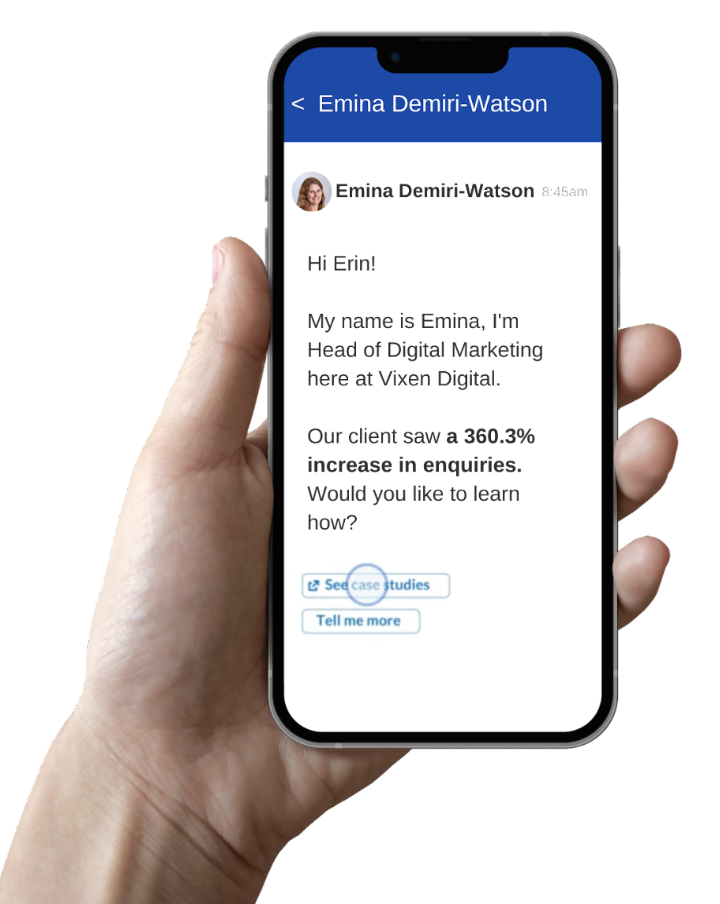 The Benefits of Linked in Conversation Ads
There are several benefits to using LinkedIn conversation ads to grow your business. The three main ones are: 
Better user experience – Choose your own path

Increased CTR and engagement

Real time engagement 
Better experience - Choose your own path user experience
The key thing that sets Linkedin Conversation Ads apart from its competitors is the "choose your own path" experience. The "choose your own path" experience allows advertisers the use of multi layered customised CTAs. This means  you can create full funnel campaigns and interact with your audience in a way that feels human and tailored to them. As the name itself suggests, LinkedIn conversation ads are exactly that: a meaningful conversation with your audience. 
Needless to say, with more personalised and human-like communication comes an improved customer experience which can result in increased engagement and conversion rates.
Increased CTR and engagement
Businesses have reported an increased CTR of almost five times higher than seen previously with the use of Linkedin Conversation Ads. This is not surprising considering the ad type allows for the use of multiple CTAs. 
The ability to create multiple layers of customised CTAs allows customers to determine their journey. And, by offering various customisable CTAs for users to respond, you continually expand the potential for engagement. In essence you are keeping the conversation going based on their terms.
One of the elements that is super exciting about LinkedIn conversation ads is their focus on real time engagement. Messages can only be sent when the prospect is active on LinkedIn and therefore more likely in the right mindset to engage with your content.
Things to consider when setting up LinkedIn Conversation Ads - the challenges
Like is the case with any ad type, LinkedIn conversation ads come with a few challenges. Two of the main drawbacks are:
LinkedIn Conversation ads are limited and a highly competitive ad inventory 

LinkedIn conversation ads, if used incorrectly, it can lead to customer frustration
Limited and highly competitive ad inventory
LinkedIn can be a competitive ad space and due to the fact that each user is limited to receiving one conversation in a 30-day period, this can make getting in front of your desired audience a challenge. Although don't let this put you off, as it's absolutely possible.
Whilst it's important to ensure your audience is well targeted, you'll want to be sure that you've got an audience of at least 50,000 to broaden your reach. This may require you to loosen your targeting slightly, so once you're in front of your audience, it's good to use some specific early questions to identify the highest quality leads.
If used incorrectly, it can lead to customer frustration
It's important to ensure that your CTAs remain goal orientated and provide value for your audience. Too many CTAs with limited value may leave users frustrated and resentful.
How to set up Linkedin Conversation Ads
You can set up your LinkedIn conversion ads by following these 8 steps:
Pick your objective 

Define your audience

Set your budget and bid

Choose your sender

Create a conversation

Choose your CTAs

Add a banner image 

Finally – don't be afraid to test!

First things first, as with all campaigns, you must first select your objective from the options shown. Conversation Ads are available under two objectives in campaign manager:
Website Visits: The website visits ad objective is generally used in the middle of the marketing funnel, when looking to engage your target audience. Selecting a website visits campaign objective will mean that you are only shown the formats that best support your objective of sending users to your website or landing page. 

Lead generation: Lead generation objectives are at the bottom of the marketing funnel, when you are aiming to provoke valuable action. When using this objective, users who click on your ad will be taken to a Lead Generation Form that is pre-populated with their LinkedIn profile data.
With conversation ads, objectives will of course inform your CTAs so it's a good time to consider how these will align with your campaign objectives and your overall end goal.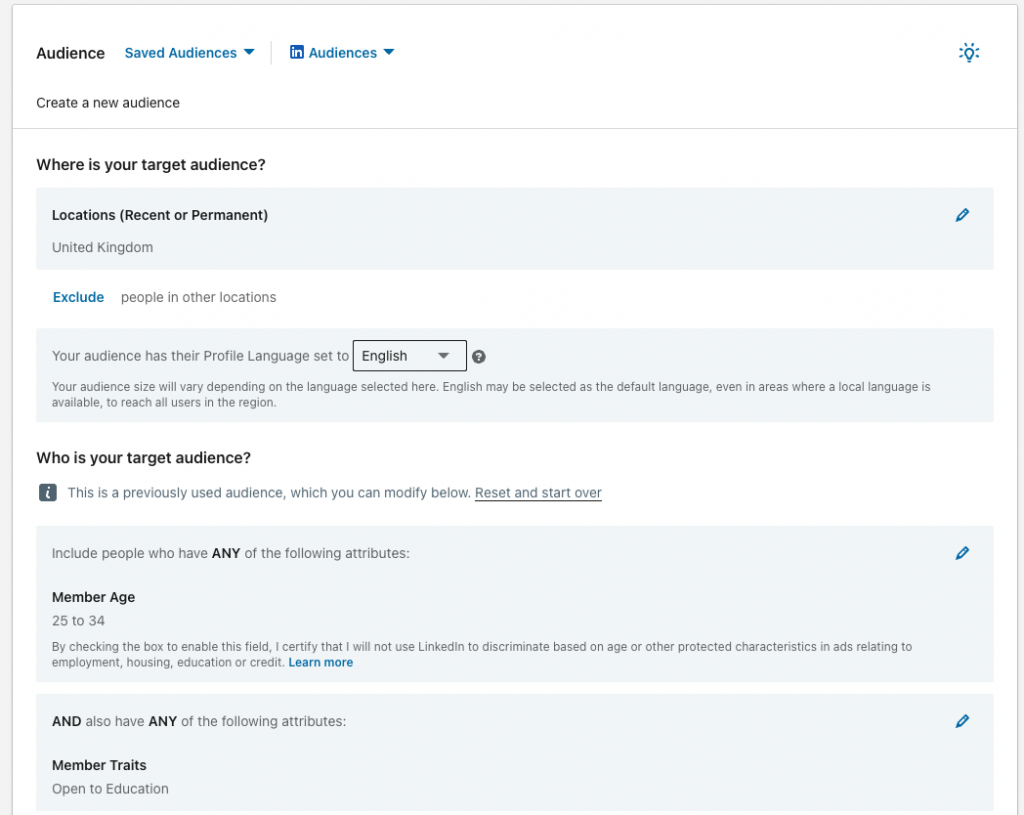 Targeting the right audience is a crucial step in any marketing activity and Linkedin Conversation Ads are no exception. Whilst it's important to have an audience broad enough to ensure you access your share of the limited inventory, a well targeted audience is crucial to success. 
As with other ad formats, here you can target using all your usual audience segments such as country, industry, job title and so on. You're also able to import your own list of contacts or companies from outside of Linkedin.
Things to remember when setting up your audience: 
1. Be specific 
It's important to be specific with the job titles that you'd like to target. An average ad shown to the right people will more often than not, out perform an awesome ad shown to the wrong people. 
It's useful to note that Linkedin no longer allows you to target by title and then exclude by function. So, you'll need the specific titles under a function that you don't want to include.
2. Don't forget your exclusions 
Asking converts to engage in a way they already have is always a little awkward. Particularly when it's delivered directly to their LinkedIn inbox and is intended to feel human and personalised. So, it's super important to exclude any previous conversions, particularly in the case of Lead Gen campaigns. 
Make use of exsisting audiences

Whilst it's important to remember your exclusions, that's not to say you shouldn't leverage valuable existing audiences if they fit your objective. It's always a great idea to reuse high performing audiences and retarget website visitors. Retargeting paired with accurate exclusions can result in some stellar targeting.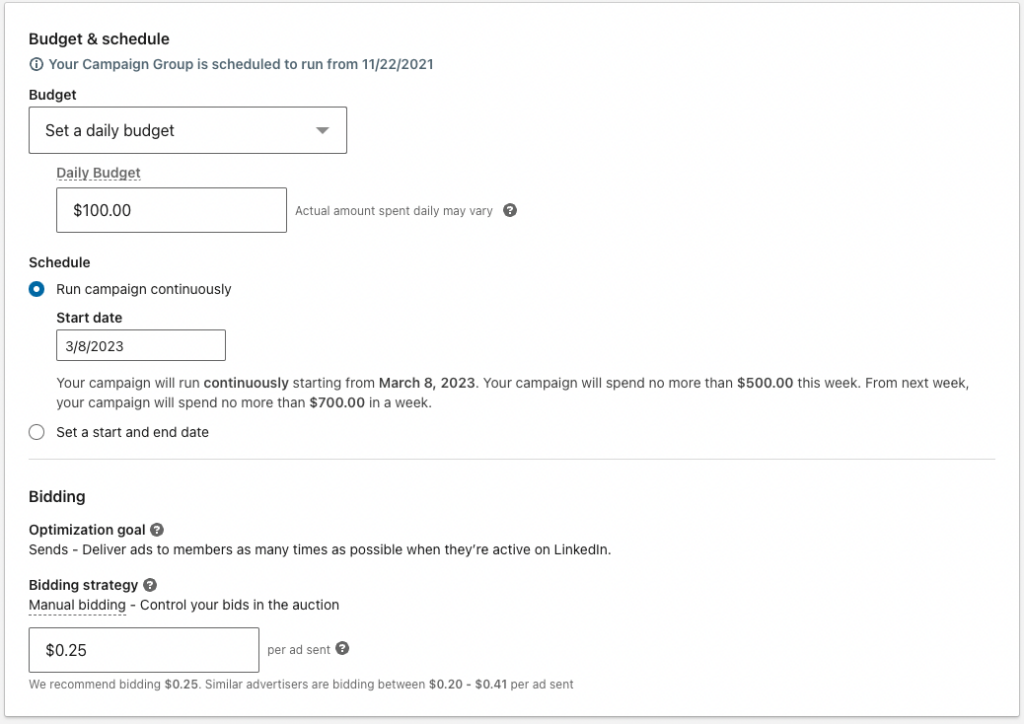 There are two ways to approach setting up your budget for LinkedIn Conversation ads:
Set up your Daily budget  – this is a good strategy if you have a large target audience (100k+ members)  and your campaigns are always on with no specific end date. 

Set up your Total budget • If you are working with  a smaller, niche target audience (<100k members)  and you have a set end date (i.e., event date is xx and members need to sign up at least 24 hours in advance) this is a better way to set up your budget
When it comes to conversation ads, each Linkedin user is capped at one ad delivered to their inbox within one 30-day period. This limits the inventory and means that you need to bid high to win it. You'll need to choose bid amounts and daily budgets that get you into the LinkedIn inbox quickly without risking the possibility of overspending.
LinkedIn suggests having a budget of £100 a day for any type of advertising you do. This is a total of cc £3000 a month if running ads on the weekend. In our experience, even a budget of £1500 per month per campaign can work well. The secret is to test and see what the actual CPC is. 
If you are using a Daily Budget, we recommend setting your bid somewhere within the given bid range. You should then keep an eye on this for a few days. If you are spending up to the daily cap, it's a good time to consider lowering your bid. However, if you're spending less than your daily budget, it may mean that your competition is outbidding you and winning the ad inventory. In this instance, you should increase your daily budget cap.
When using a Total Budget, to deliver your budget in full quickly and efficiently against the competition, you should set your budget at the top of the bid range and outbid others in the auction.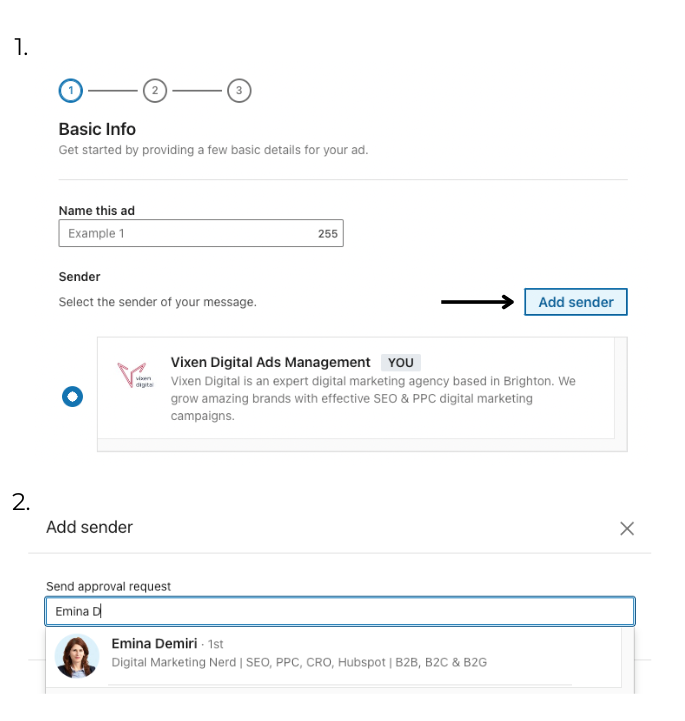 It's important at this stage to choose a sender that's relevant not only to your business but most importantly to your objectives. It needs to make sense why this person is messaging about the chosen topic and you want them to be regarded as an expert in this area. Remember, the sender doesn't need to be a c-level to gain engagement.
For example, if you're looking to drive university admissions, it's probably most effective to send from an admissions counsellor. Looking to win new SEO business? Send from your Head of SEO.
So, now it's time to start your conversation. Consider your objective and create a conversation featuring a series of personalised CTA layers that will guide your audience towards this.
Linkedin offers templates to help build your conversation. However, no one knows your target audience quite like you. So, why not make the most of this knowledge and create your own conversation that speaks for your brand and will best connect with those who have the potential to become your customers?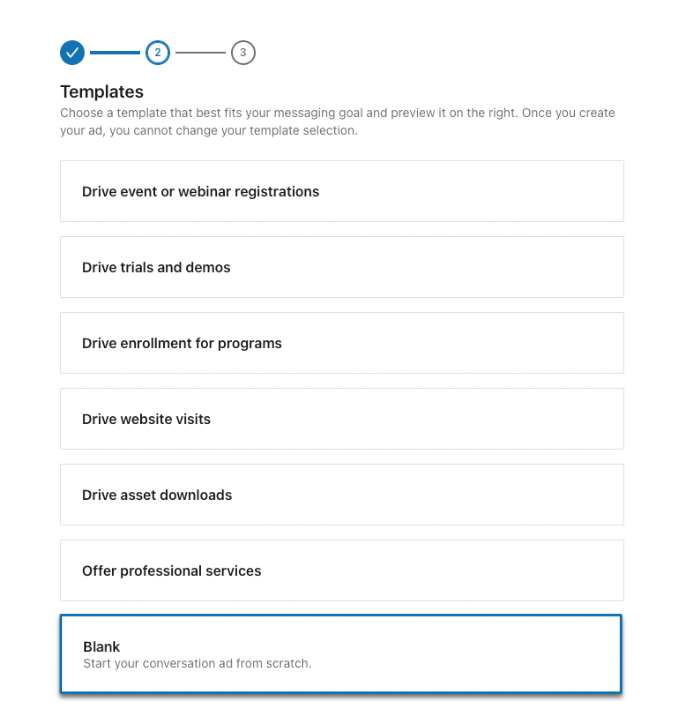 As with all marketing material, you want to grab your reader's attention from the get-go. So, be sure to nail your opening message using active verbs and clearly outlining your value proposition from the outset.
You can use up to 8,000 characters, including spaces and punctuation here. However, as we all know, most professionals are short on time and it's unlikely that any user is going to engage with content up to 8,000 characters long. Instead, try to work more around the 500 character mark and be mindful that fewer characters often drive higher engagement. The key strength of conversation ads is the ability to have a human-like conversation tailored to the user, so make the most of this. We recommend: 
Keeping it concise yet friendly – The recommended message text for LinkedIn conversation ads is 500 characters

Speaking with a relaxed, conversational tone, avoiding big words and concepts where possible

Avoiding slang

Asking questions to keep a two-way dialogue
Some things to consider when creating your conversations:
Capture their attention, fast!
You need to get your subject line right, but recipients can also see the preheader before they open your message. So, make sure it grabs their attention. The preheader is even shorter than your typical email preview text so you're going to want to make it snappy too.
Be personable and personalise
Linkedin allows you to dynamically personalise your conversations using the users profile data, so be sure to use it. Open with their first name and be sure to introduce yourself too. Tell them your name, your relevance and the value you can offer them.
Conversation Ad campaigns should ideally be 2-5 layers deep, with each layer consisting of a message and CTAs positioned as responses to the question in the previous layer. You have the option to add up to five CTAs per message and you should always have at least two.
For example, if you're looking to sell your business services, add a CTA to a case study and a second CTA to simply learn more, linking to your 'about' page.
Whilst it's always good to give users a way out. We recommend staying away from CTAs with negative language such as 'not interested'.
Note: Depending on your objective, your CTAs must either contain a link to your website or to a lead gen form.
CTA specs to remember:
CTA buttons: 25 characters
Max CTA buttons per message: 5 buttons
Banner images are a quick and easy way to ensure your brand is at the forefront of your conversation. More importantly, if you don't upload a banner image, you risk another brand's image showing up instead!
Now before you go, it's useful to know your banner  ad specs and ensure you've got everything you need to create a killer banner . Here's an overview of what you're working with:
Banner image: Desktop only

Banner image size: 300 x 250px

Banner image file type: jpg or png
Finally - don't be afraid to test!
There's no one size fits all when it comes to paid media and Linkedin Conversation Ads are no different. Test your subject lines, switch up your senders and try different CTAs to see what works best for you and your audience.
Final thoughts on LinkedIn conversation ads