Solicitors, law firms and anyone else in the legal profession have such a wealth of SEO opportunities to take advantage of. But, you have to identify those opportunities and create an SEO strategy that works!
In this SEO guide for Solicitors, we explain how you can identify SEO opportunities for your business and drive organic SEO growth.

You'll learn how to:
Now, one of the first things we need to consider is the breadth of terminology used in the legal profession. Terminology is our friend because with SEO, it simply means more keywords that we're able to identify and take advantage of.
To illustrate this, let's first think about the terminology of the job title itself. In the UK, a "Solicitor" is the term used to describe a "Lawyer". They are the same thing. We also have the term "Barrister", which is used to describe another legal professional who has slightly different responsibilities than a Solicitor.

In general, a Lawyer is the term that can be used to describe both a Solicitor and a Barrister.
The key point here is that we already have three keywords to work with. So firstly, it's important to consider and keep in mind that we may want to use this to our advantage as we go forward with identifying our SEO strategy.
Secondly, we should also bear in mind that we should pick the appropriate terminology based on the country in which we are operating. For example, there are a lot of differences in the legal systems between countries, especially when it comes to terminology. For example, in the USA, you do not have Solictors; you just have Lawyers and Attorneys (as well as differences in other terminology within the law itself).
The main point here is that in the legal profession, we will have a huge amount of keyword combinations to consider. This is because there are many variations of saying the same thing. This means that with SEO for Solicitors, we will spend more time in research but we'll have many more SEO opportunities to work with.
Identifying your keywords
Now, those in the legal profession are no strangers to research, and that's where we need to start!

Your legal firm needs to take some time to map out all of the services it offers.

Here in the UK, a normal Solicitors firm may offer the following services:
– Business Law
– Family Law
– Landlord & Tenant
– Conveyancing
– Commercial Property
– Wills & Probate
– Litigation
– Criminal Defence/Prosecution
– …& many, many more.
Once you have this list, it will give you the ability to make sure you have a detailed page on your website for each of these services.

If you find that you don't have one or more of these pages, then your first task is to create and develop this page.
Then, we can start the keyword research.
Your homepage (most of the time) should simply be optimised towards the keyword of what your business does. Simple!! For example, if you're a Solicitors based in Brighton you may choose something like "Solicitors in Brighton – Smith & Jones LLP". You'd most likely have this as your page title, and your H1 would also need to include "Solicitors in Brighton". You will also want to include this keyword in your meta description.
Now, some websites will rank with their homepage quite well but, if you're just starting out, have a new website or don't have a very strong website (in the SEO sense) then you may not get much luck with this page. However, that's ok, because we have the service pages that we can focus on instead!
It's our service pages where we'll be able to identify lower competition keywords and search terms that we can target.
Your Solicitor Service Pages
Here we'll show you how to identify some lower-competition keywords for your service pages.
We will show you how to do this using Ahrefs, but you can also complete this keyword research using other SEO tools.
(in our SEO for Accountants guide, we show you how to do this with SEMRush).
First of all, pick one of your pages – in this case, we're going to use "Conveyancing". We'll start with the search term of "Conveyancing Solicitors".

If we type this into the Ahref's "Keyword Explorer" tool we will get a breakdown analysis of this keyword.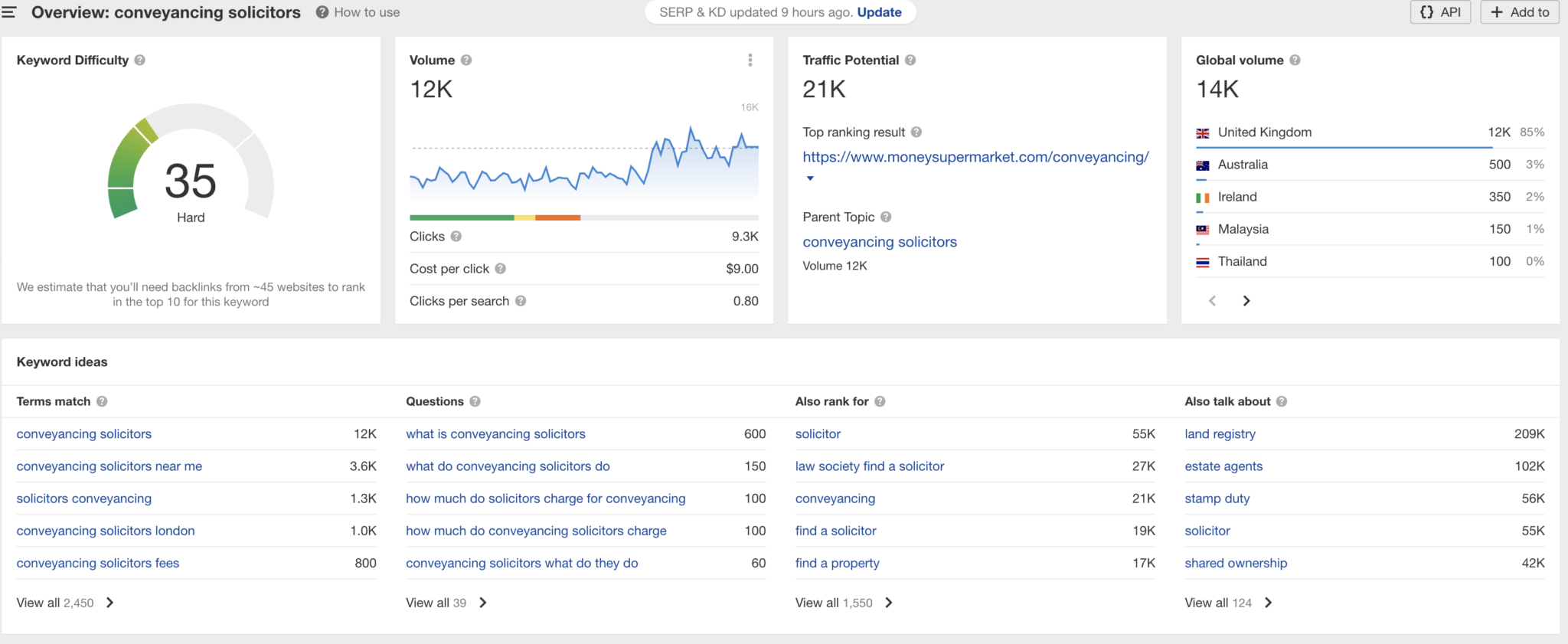 As we can see, it's a relatively difficult keyword to rank for on its own as it is quite a competitive term. But if we then think locally (with our local SEO mindset), then we can add our business location to the search term.

Let's try "Conveyancing Solicitors Brighton" and bring up that analysis.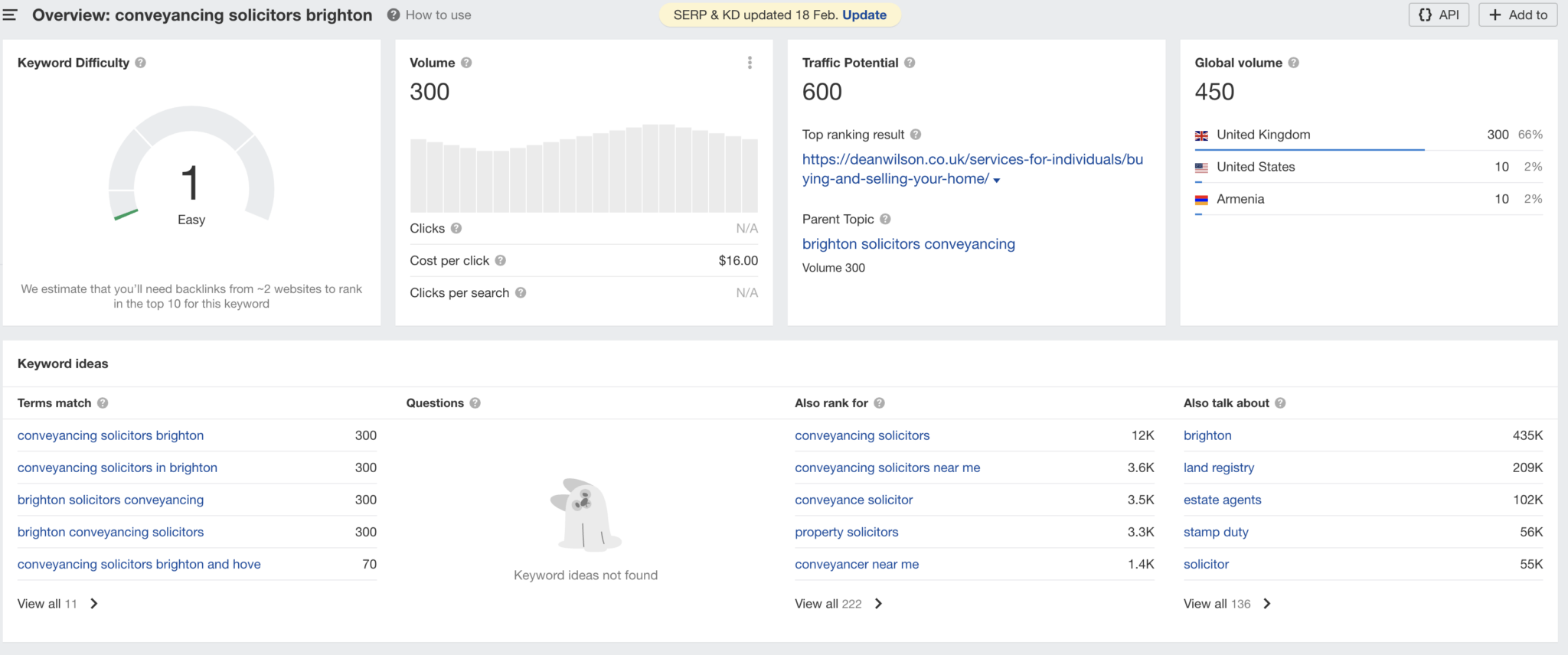 And there we have it, a great contender for us!
This is a low-competition, easy keyword to rank for with a decent amount of search volume each month.
So, the next thing to do on your Conveyancing service page, is to optimise towards this keyword.

Change the page title to "Conveyancing Solicitors Brighton" and also include this in your H1 on the page.
Learn more about using headings for SEO here.
(Of course, this page also needs to be fully developed, with great and relevant content in order to rank).
Then, you're well on your way to ranking high in the SERP with this page, for this keyword and getting traffic to your website.
This brings us nicely to Local SEO.

In fact, we did a bit of Local SEO in the previous section about keyword research. We made our keyword location specific.
However, in addition to this, there are a few things you need to make sure to do:
– Make sure you have a Google Buisness Profile and it's up to date.
– Make sure your NAP (name, address, phone) is consistent across all of the business directories you're listed on.
– Add your law firm to more business directories to get more backlinks and increase your credibility with Google.
Then, you need to use your location-specific keyword targeting intelligently.

For example, in the previous demonstration above we used "Conveyancing Solicitors Brighton". But if our website was powerful enough (SEO power) then we could have targeted the more competitive term of "Conveyancing Solicitors" which gives us the potential to bring in regional and national web traffic, not just local.
On the other hand, we can use location-specific keyword variations when competition is high for a certain keyword.
Let's use another example with a more competitive term:
Let's say we're a Solicitors based in East London and we're looking to get more clients enquiring about Immigration Solicitors services.
We can look at the keyword "Immigration Solicitors London" in Ahrefs.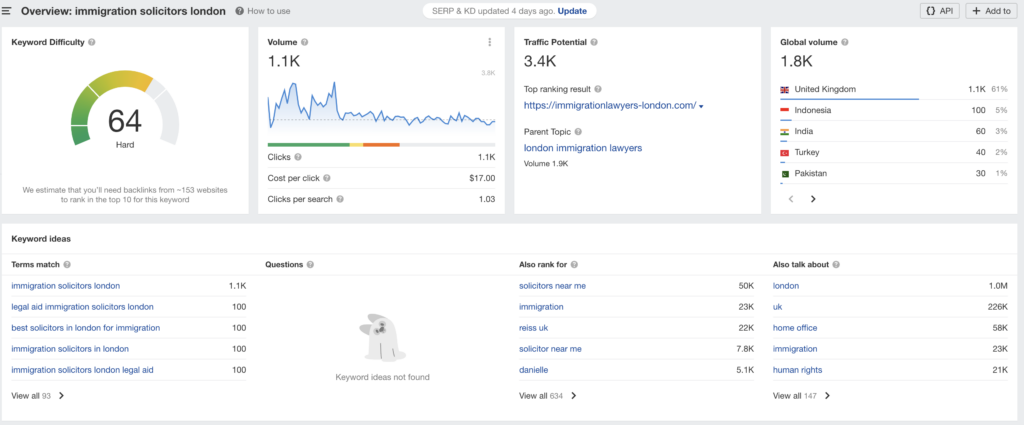 And see that it's a very competitive keyword that would be difficult to rank for (unless we're a powerful and authoritative website).
So, we can research further: in Ahrefs "Keyword Explorer" we can click down to the "Keyword Ideas" section and see a breakdown of similar keywords.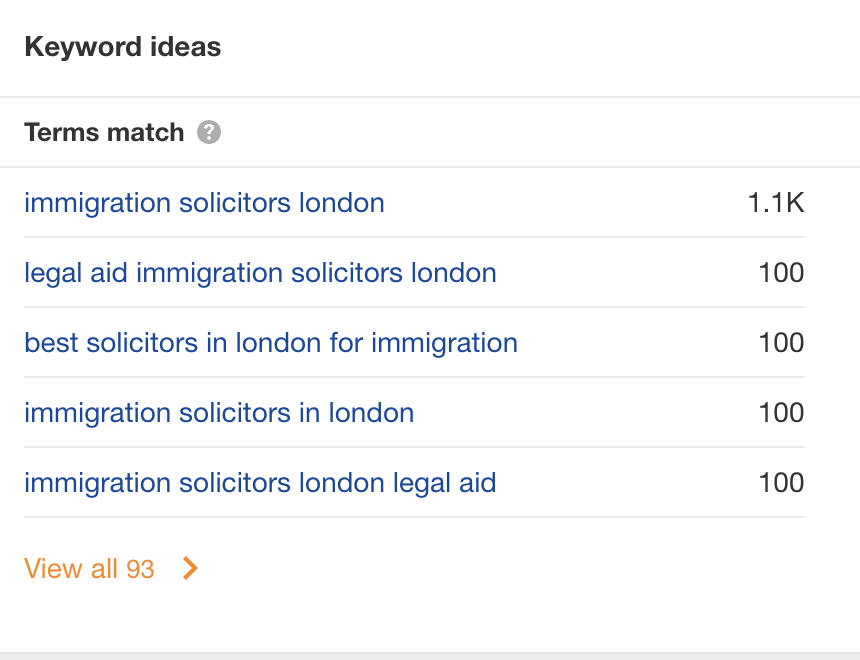 In here, you can see a list where we should be able to identify a similar keyword that is lower competition. It may have lower search volume but at least we'd have more chance of ranking high and more potential of increasing website traffic to our Immigration Solicitors service page.

In this case, you can see that "Immigration Solicitors East London" is a great alterative.
It is relevant to us, it has good search volume and it's not as competitive.

Once you've identified the keyword you're targeting, you need to once again optimise your service page for this keyword like we previously discussed.

SEO Content For Solicitors & Legal Firms
Your SEO content should always be focused around some of your key service pages.
The long-term, ideal goal is to have supporting content for all of your service pages but when first starting an SEO content strategy, you will need to decide on one or two to focus on.
Let's take "Employment Law" as an example.
We'd need to break down this topic into its parts and then select our focus point.
For example, "Employment Law" could include:
– Unfair or unlawful dismissal
– Discrimination in the workplace
– Grievances
– Redundancy
– Settlement Agreements
– & more
So, we could pick one of these, let's say "Unfair Dismissal".
Once again, we can use Ahrefs and the "Keyword Explorer" to type in this search term and bring up the analysis.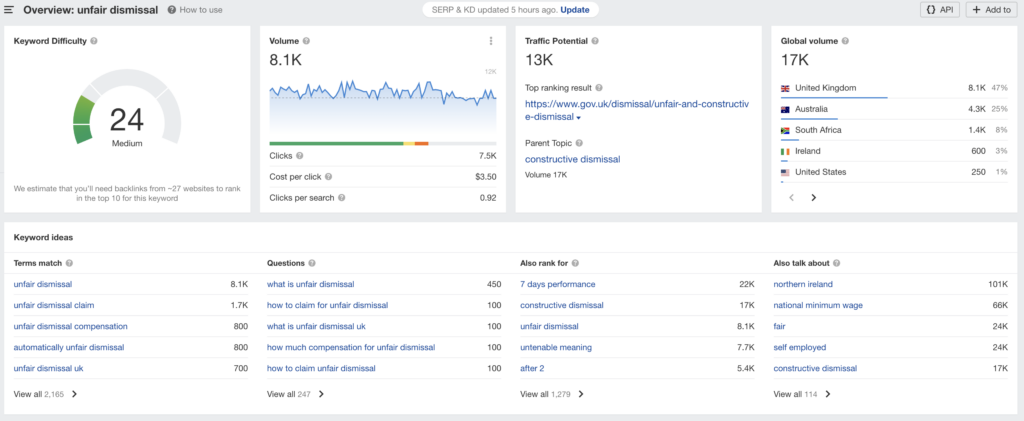 Then, we can click on the "Questions" section.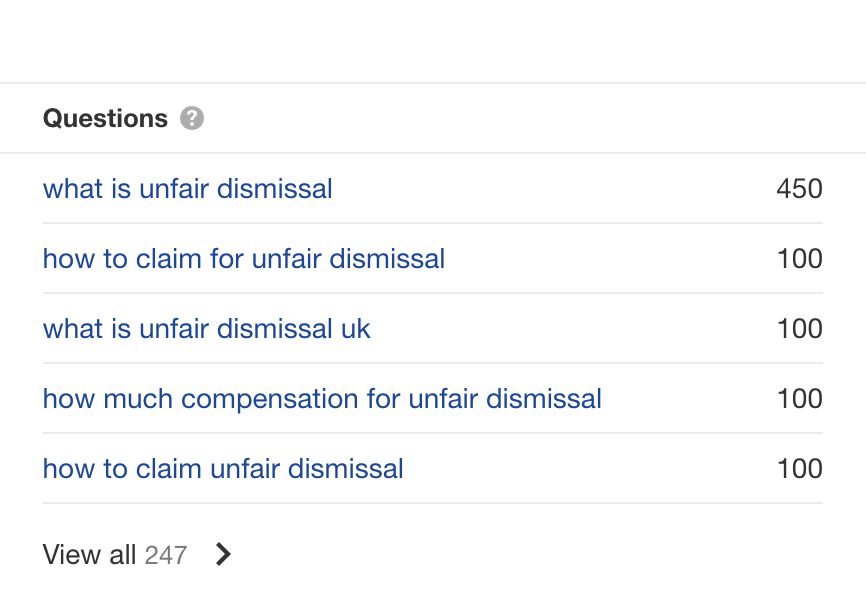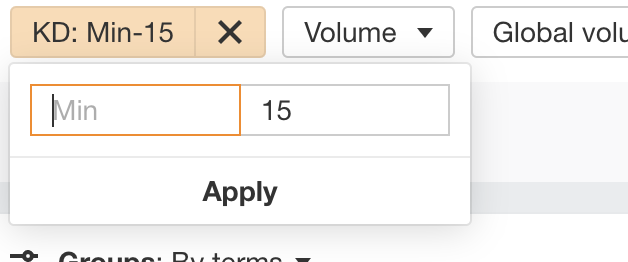 We can select the "KD" or "Keyword Difficulty" filter and adjust the results to only show us questions below the "KD" of say 15.
This will then give us a list of questions people have been asking around "unfair dismissal" and their search volumes and keyword difficulty.
We can then use this as our base point for building out a content plan. We would simply need to produce content pieces that answer these questions.

Then, repeat this research for each topic that makes up the larger service category.
You should naturally build links to your website if your content is helpful to people who visit your website. If the content is good enough, it will rank in higher positions. If it ranks in high positions then you stand more chance of people sharing and linking to your pages.
Link Building follows on from the SEO content plan because you really need to focus most of your link building on your supporting content. Not your service pages.
Your blogs and articles should be the pages that you get the most links to. Then, your internal linking strategy can point to the service pages, passing along that authority from your high-performing pages.
Google understands that your service pages suit commercial intent from people looking for a product or service. Therefore, these pages will naturally receive fewer links from sources.
However, your articles and blog pages are informational, so Google expects to see more links to these pages because the content, in general, is more helpful to people's search intent.
You need to always bear this in mind when manually building links to your website.
For Solicitors, the best link building options are usually guest posting on relevant and high authority websites, as well as sharing press releases and news from interesting cases or clients.
Why not get in touch for more link building ideas or to hear more about link building services.
SEO is a long-term strategy that takes time and consistency. Although you can get some quick wins by following some of our advice in this guide, SEO success needs to be nurtured through commitment and dedication.
If you wanted to learn more, then speak to our SEO team today. Get in touch to start your journey to SEO success.