This is our super specialised SEO for Accountants guide. We'll show you how to get more website traffic and enquiries for your accountancy company using some great organic SEO strategies.
With this SEO guide you can:
This guide has been compiled by asking our team of experienced SEO experts to share their best strategies for growing accountancy firms with SEO. We've put these strategies, methods and previous successes together to make this guide so that you can grow your accountants business.
Who is your target audience?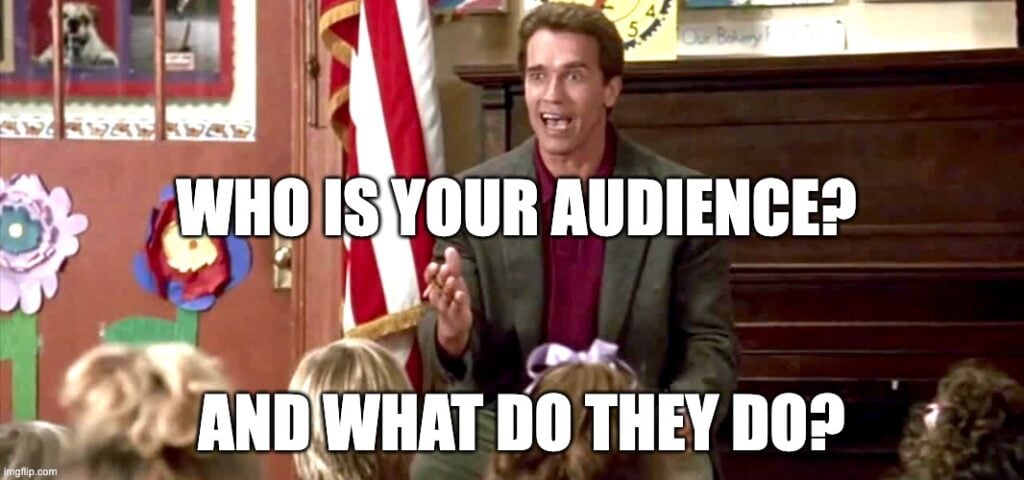 The very first thing you need to do is to sit down and really think about who your audience is.
Ask yourself;
Who are you trying to reach?
It's usually best to make a list and to start scribbling down all of your ideas to give you a starting point.

As an accountant, you'll most likely be looking to reach businesses, so you need to ask yourself,

What size of business are you looking to reach?

Think about things such as:
Industry
Turnover
Staff
Location
And soon you'll start to put together a list that's a bit more specific:
Any industry (not really industry specific)
£100k+ turnover
2+ Staff
Ideally within 20+ mile radius
Startups & SMEs
Soletraders/Self-employed

Then you can think about what help, advice or guidance will these businesses and people be searching for?
Help with bookkeeping
Tax advice
Financial planning
Help with HMRC returns
Business accounts
VAT support and guidance
Payroll
Pensions
Tax returns and self assessments
Accounting software questions

At this point, you could go one step further and create yourself some ICPs.
Create an ICP for your accountancy company
ICP stands for "Ideal Customer Profile". In its most basic form it's simply an imagined character profile of your target customer.
For example, Jane, 32 years old, a small business owner who lives in Brighton. Jane wants help with managing her bookkeeping and needs advice on whether she needs to charge VAT.
These profiles can then be developed to be more complex, but even when they are kept simple, they are a very good way of identifying and understanding your audience.
And this is the first SEO superpower we need to master… UNDERSTAND YOUR AUDIENCE AND WHAT THEY'RE SEARCHING FOR.
Try creating a selection of customer profiles for your own accountancy firm to better understand who you are trying to reach and unlock the things your customers might be searching for.
What do you want people to do on your website?
The next thing you need to consider is identifying exactly what you want people to do on your website. Do you want them to give you a call, request a quote, download a pdf, make an appointment, or fill in your contact form.
No matter what this action is, everything on your landing page needs to be focused around that call-to-action (CTA).
Local SEO for Accountants
Location, Location, Location
The first thing to do with SEO when you're an accountant is to think locally.
Where is your business based?
One common mistake that we see time and time again is when businesses completely ignore their location and radius of operation. You have to think locally because you can unlock so many opportunities on your doorstep with a simple local SEO strategy.
The mistake that some accountants make is that they forget about optimising for the location of the business. For example, on the homepage of their website they might have the page title as "Smith & Jones Chartered Accountants". Then, the H1 on the home page would be similar but with something like "Smith & Jones Accountants – A Friendly & Reliable Service". Whereas, they could be instead focusing on their location to optimise towards search volume. For example, "Accountants in Brighton – Smith & Jones".
Local SEO: Keyword Research
Now it's not as simple as just mentioning your location, you have to do some keyword research first. So let's show you how:
Let's pretend we have an accountancy business based in Hammersmith in London.
The first location that springs to mind is, of course, London. So first of all, we should research the search term of "Accountants in London".
We'll be using the tool "SEMRush" to do this. But there are other tools available that you can use.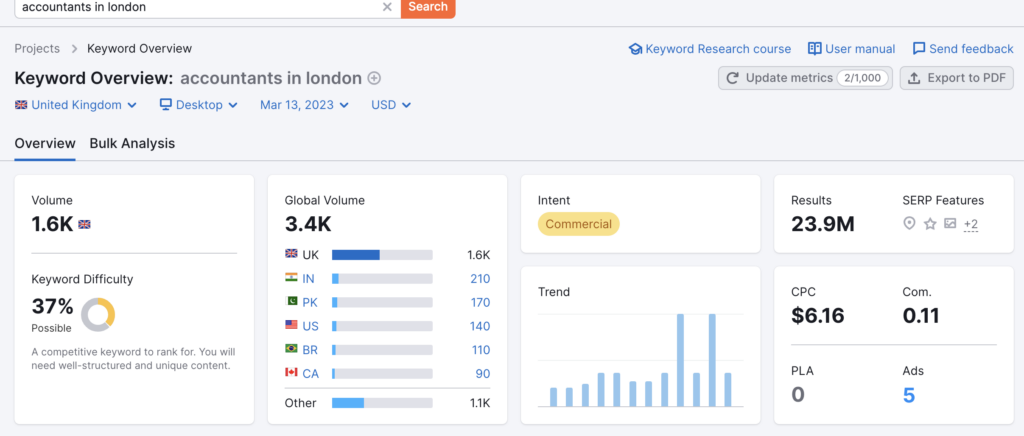 As you can see, "Accountants in London" is a competitive term. As we would expect, London is a place where many businesses operate, therefore we can expect competition to be high.
We also have to consider our own website and ask ourselves;
How strong is our website? (From the SEO perspective). Does our website have great authority? how old is it? Do we have lots of relevant backlinks and good quality content? If the answer is yes, and we're confident our website satisfies these questions, then we could target more competitive search terms.

But, if the answer is no, we need to be even more selective about the keywords we target.
Identify lower competition keywords
In our example, let's say our accountancy business in Hammersmith is a new business with a new website, around 12 months old. This means, we need to take this into consideration when deciding on the keywords and search terms we want to target.
A new or young website stands less chance to rank highly for highly competitive search terms and keywords compared to an older, more authoritative website.
Think of it like different divisions of Football teams. A non-league football team will be competitive in its own league full of similar ability teams of players. However, if they were to play a team in the Premier League, they'd be unlikely to get a result. In order to compete, they would need to improve year, after year, and get promoted into the league above, constantly improving and recruiting new and better players and staff. Until, they themselves reach the premier league… nothing like a football analogy!
In summary, "Accountants in London" would most likely be too competitive for us to target.
So, back to the drawing board. But in SEMRush we can look at the "keyword variations" in the "keyword magic tool" and analyse this list. And quite quickly I was able to see "accountants in west london", a less competitive search term. However, if it's less competitive that usually means that it is also less in average search volume each month. This is the compromise that we have to make.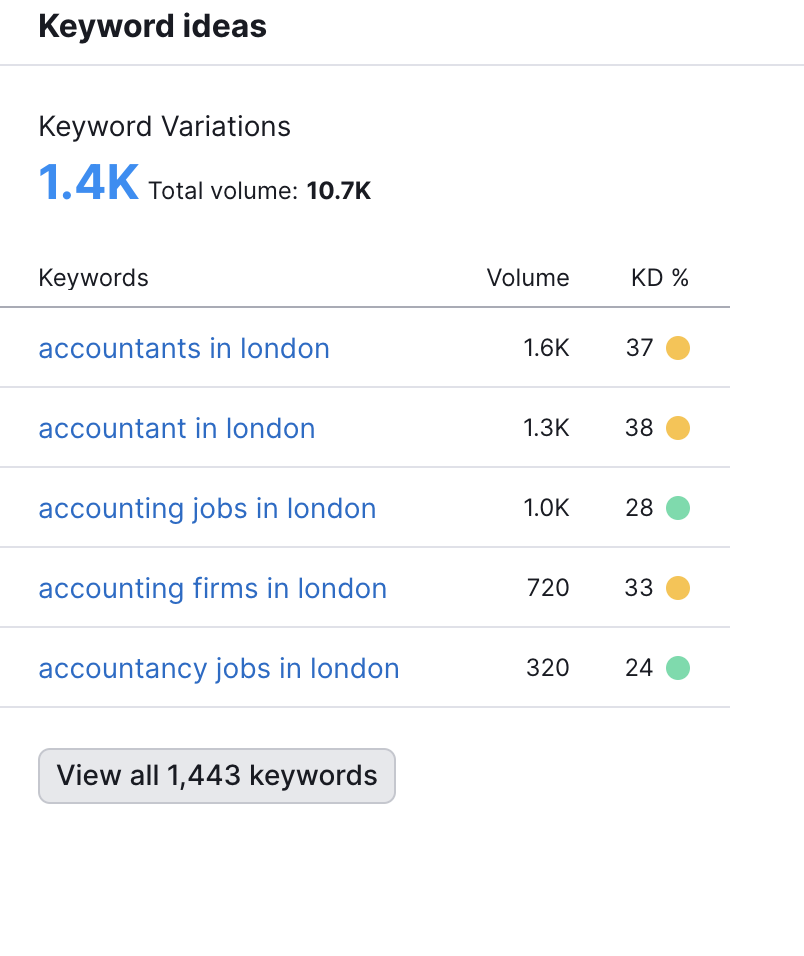 If we repeat this step again, we could look to research even further but this time look to "related keywords" in Semrush's "keyword magic tool". Here I found "accountants hammersmith" which is even less competitive, with an OK level of search volume each month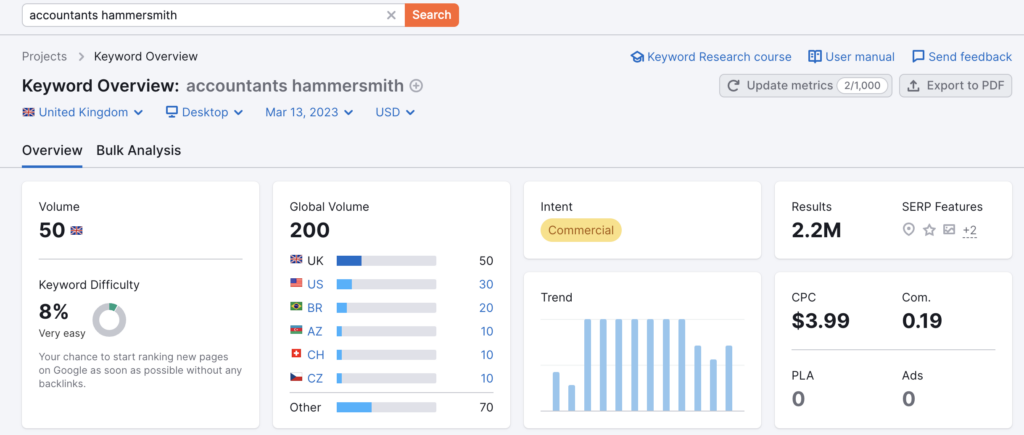 So we now have two options to choose from:
"Accountants in west london" or "accountants hammersmith".
In this case, I would probably suggest the homepage to be optimised towards "Accountants in West London" due to the lower competition but higher search volume. Then, we could keep the "accountants hammersmith" for another page on the website that was more location specific or even for the "about" page.
Local SEO: Google Business Listing & Directories
Another very important task to put on to your to-do list is to make sure that you've set up a Google Business Profile (formally Google My Business) and also submitted your company details to be listed on a variety of directory websites.
Make sure that your business information is consistent across all of these. You don't want to confuse Google by listing different phone numbers or business addresses with different listings. Google wants to see consistency, because this indicates your business' legitimacy. The idea here is that you are building your business citations and creating a consistent NAP (Name, Address & Phone Number) across the web.
The next thing you need to focus on is developing your SEO content plan. Think back to your audience and your ICP profiles. What questions are your ICPs asking? What guidance are they looking for?
This is what we need to unlock, because this is where our content plan starts. We need to answer the questions that our ideal customer is searching for.
XERO: SEO Content Opportunity
Let's go back to Jane, the small business owner in Brighton.
Jane uses the Xero accounting software but she struggles with it and finds it difficult to maintain her bookkeeping. Jane often looks for advice on how better to use the Xero software. Therefore, we could identify this as a topic opportunity for us.

Let's take a look at how: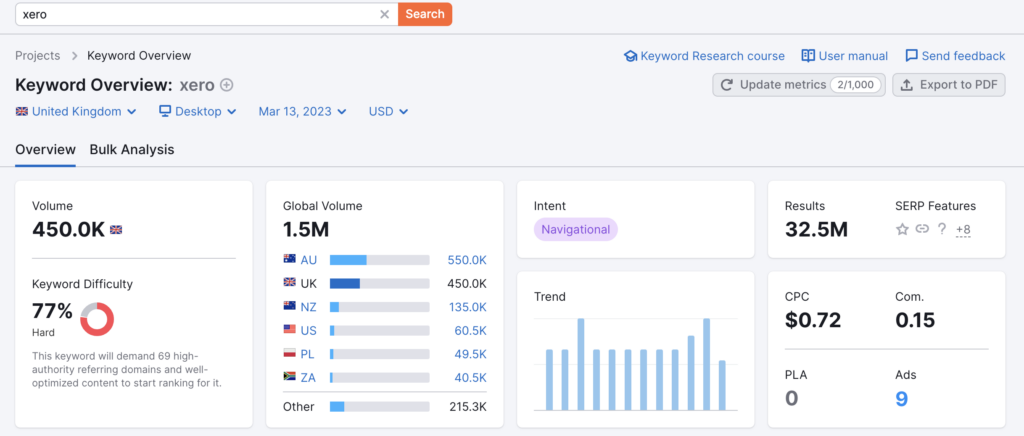 Using Semrush again, and the "keyword magic tool". We can type in the "Xero" keyword.
We can see it's very competitive, so let's then navigate to the "questions" section of the "Keyword ideas" panel.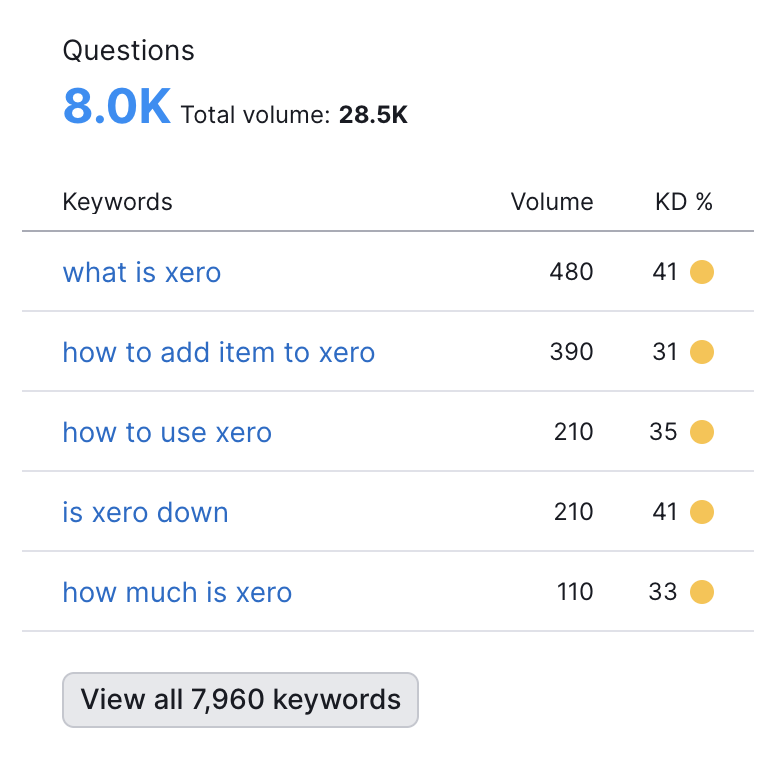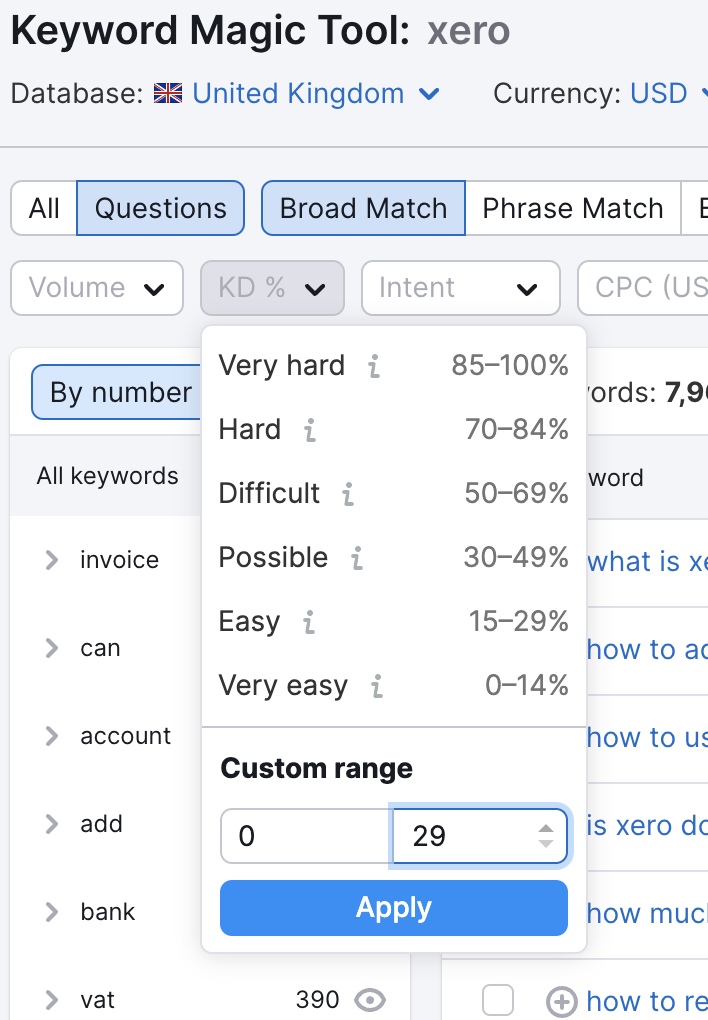 Then, we can filter for "keyword difficulty" to only include lower competition keywords.
This will then give us a selection of questions that people are searching for that are low competition. So if we answered these questions with a piece of content, we'd stand a good chance of ranking high with that content, and therefore getting relevant traffic to our website.

For example, let's take "how to unreconcile in xero". We could answer this question by producing a blog post article guide that shows the reader how they can un-reconcile their transactions in Xero. We could include screenshots and even make a short video to include within the blog post article.
Then, you can do the same for the other questions people are asking and use this to create a content plan for yourself over the coming weeks and months.
You can also repeat the same steps but instead do it on the "keyword variations" section of the "keyword magic tool" in Semrush.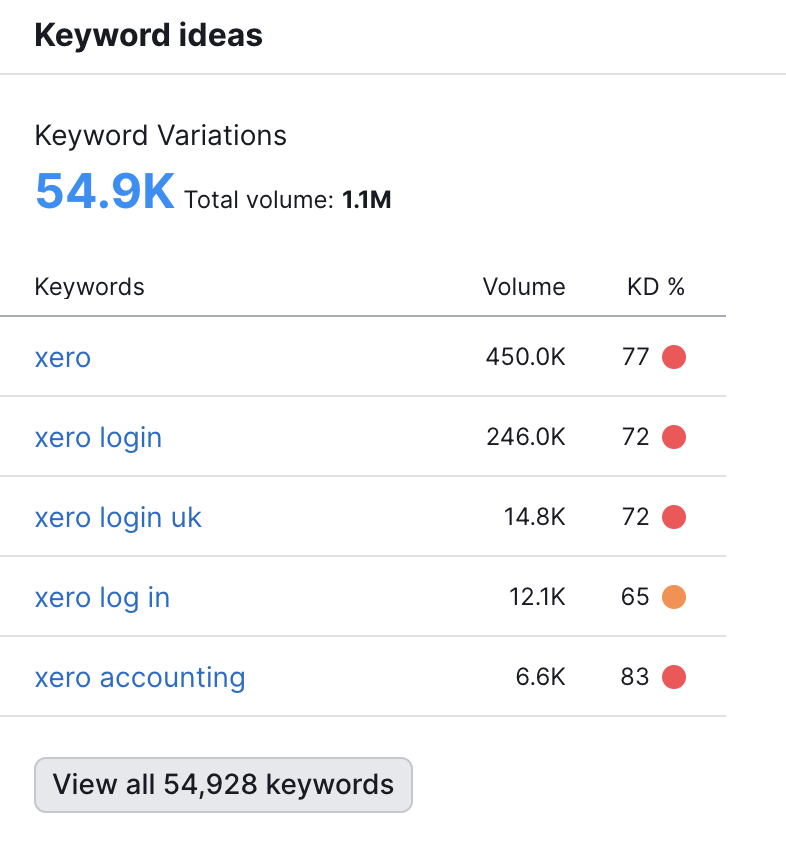 This way, you can find other content ideas that are not specific questions.
For example, here's a great opportunity: "Xero vs Sage".
This could be a comparison guide piece of content that you could develop and publish on your website's blog.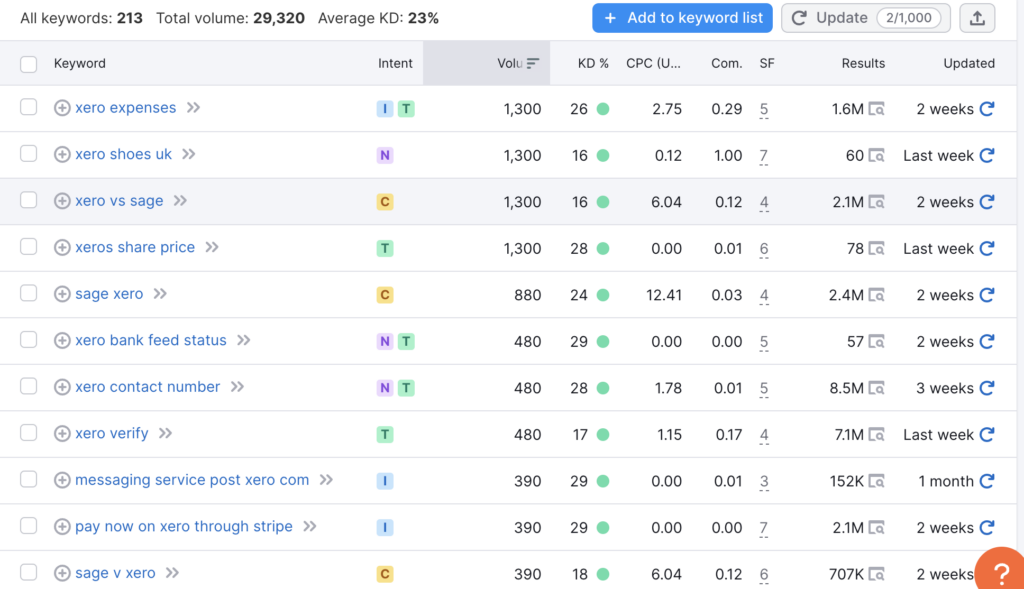 IMPORTANT: Remember, include your CTAs in prominent positions on your landing pages so that you are encouraging your readers to take action on your website.
Another part of the SEO jigsaw puzzle is to be building relevant and high authority backlinks to your own website. Now you already have some of this covered with the directories that we previously suggested, but you need to do better than that!
Accountants need backlinks from a variety of relevant, authoritative sources.
Firstly, think local. Identify your backlink opportunities from websites who also operate in the same local area as you. This could be news websites, local business blogs, or even similar businesses in a connected industry.
To build relevant backlinks you're going to need that great content from the SEO content plan. This is going to be one of the main ways in which you can get backlink opportunities. This is because you can approach other websites with the valuable articles you've produced and ask them to share it or include it in their own content.
You can write some original content to submit to other websites in exchange for a mention of your business and website.
Another great way to get backlinks is to run some frequent events or free training sessions. Events and training sessions (especially when free to attend) get a lot of shares (and can also generate business leads) and this can lead to backlinks to your website.
Remember, this SEO for Accountants guide isn't intended to give you an instant success story. SEO takes time and patience. Especially if your accounting business is just starting out. You should look to undertake each one of these strategies and let them work together over time.
Consistency is key. You need to commit to your SEO content plan and set yourself some targets. Let's say, 4 new articles per month. Secondly, you need to commit to a similar number of backlinks to secure every month. Let's say at least 5 per month. Then, you need to action this consistently every month.
It's easier to measure your success if you're being consistent because you'll be able to see a more steady growth.

You'll need to use tools like Google Analytics to understand the performance of your website over time. You may also need to invest in specialist SEO software to track your keyword position performance or continue developing your SEO content plan.

Set yourself achievable goals and targets like percentage increases in traffic or website enquiries. Or set yourself website traffic targets like "5,000 organic users each month". That way, you will be able to measure your success, manage your priorities and develop new goals and targets.
SEO for Accountants: SEO experts that can help you to achieve your goals.