Increase in ranking keywords
Increase in student enquiries
Based on a comparison date range from April 2021 to April 2022
The main aim is to drive international recruitment for a new London-based university using digital marketing. The scope would later expand to include some national recruitment.
The SEO agency needed education experience, particularly in the higher education industry. Our team demonstrated our experience and success within this field and delivered an in-depth SEO proposal.
The new university had been built a stone's throw away from Canary Wharf in London. A modern, innovative and inspiring new university campus. The digital marketing strategy had already included some paid social media which had seen some early success, however, the strategy had not yet interlinked SEO, PPC or Social Media Marketing.
The website had also been built with some SEO practice in mind but there wasn't a cohesive or developed SEO strategy. There had been a handful of content pieces created and the onsite SEO had received a light touch during the website build.
When we started on the project we were very much starting with a clean slate.


From April 2021 to April 2022
918% increase in traffic
360.3% increase in conversion goals
Developing an SEO strategy for Educational Institutions
Our main target audience was to be international students, many of whom would be studying in London or the UK for the first time. Therefore, we had a good opportunity with the wealth of content options we could tap into.
Higher education institutions or universities often produce quite mediocre or generalised content. They're often afforded the luxury of being able to rely on the authority of their already established university website (Google loves unis). This usually means that they stand a reasonable chance of ranking for more generalised or broader content. They even stand a chance at ranking for content that hasn't been planned or researched. Sometimes content is produced without any link to the wider SEO strategy. However, we couldn't (and wouldn't) do this. Our website is a university website domain with the correct ccTLD but it's still a very young site. We still need to start at the beginning! But we also want to make sure that we're actually producing valuable content for our target audience. We want to produce content that answers our audience's questions, queries and concerns.
So firstly we summarised our target audience's persona:
Once we have this idea of who we're writing content for…
we can research…
what type of things these people might be searching for, what questions they're asking and what kind of information they're looking to find.
Our first approach led us in the direction of producing long-form content. We thought that we were best placed to produce long and detailed guides around different content pillars or topics. However, this wasn't an immediately successful strategy.
One of the first larger content projects we worked on was a 7,000+ word guide for international students who were moving to London.
This guide has around 6 chapters or sections and covers in detail what an international student needs to consider when moving to London to study and live.
The positives that we found from the start were that;
Superior content, we had produced something which was unrivalled and had little competition.
The content was driving good interaction with a good amount of dwell time on this page.
The chapters provided different sub-topics that fed into our social media strategy and its content.
It's a very linkable piece of content that were able to use for outreach link building.
Some of the negatives from the start were that;
Google took a long time to rank this piece of content. It didn't like it in the early stages. We analysed that this was most likely down to the sheer size of the guide in its entirety. At one point we even considered splitting into different pieces of content.
Google didn't want to rank us for the keywords we were targeting. Our target keyword was "guide to moving to London" but Google has other ideas.
This made us consider changing our strategy slightly. We realised that we had put a lot of our resources into one content piece. This meant we were gambling with slim odds. We had one horse in the race. This pushed us to reconsider the long-form content strategy and instead push focus towards shorter-form content that was around a maximum of 2000 words per piece.
This would allow us to produce more content at a more frequent rate and we'd have more chance of picking up rankings.
Not every piece of content that you create is going to be a winner, so if you produce at a higher level, you stand a higher chance of creating more winners.
In the long term, this piece of content did establish itself and Google has ranked it. So it has become a success over time, it's just that it took Google a while to figure it out! 

SEO Content Plan: The Second Stage
As mentioned previously, the long-form content didn't really hit the targets we were aiming for so we decided to adapt. Some of our other shorter form content was performing quite well and getting indexed in the SERP quicker.
Therefore, we decided to focus on content that was shorter which would mean we could produce it at a higher frequency than compared to longer form content.
It was this approach that really helped us grow our ranking keywords. 
We developed a content plan based upon the persona mentioned above and we also focused it on the city of London to make it super relevant.
We were less interested in producing content that is general or broad study tips for students, we are more interested in producing highly related content to students who may attend our university.
We started producing content consistently, without fail we would get between 4-6 new pieces of SEO copywriting content on the website each month.
Google likes consistency. By posting great content frequently you're encouraging Google to crawl your website more often as it learns that you're often producing new, valuable content on a regular basis. The more Google crawls your site, the quicker the likelihood is of you getting a new piece of content indexed and in the SERP.
We started to see content maturing after about 4-8 months, that's when we really saw our keyword rankings establishing themselves.
Link Bait - Tools & Resources
We also had great success with producing very linkable content or "link bait" as it's referred to. A common link-building strategy that is often under-utilised.
We saw an opportunity to create a new generator for Harvard referencing. A simple tool that students can use online to generate a reference in the correct Harvard format. We paired this with some content about Harvard referencing and published it on the website. We also shared this tool on social media to help generate some traffic.

This particular tool exceeded our expectations, we are actually optimised to target the keyword/search term of "free Harvard referencing generator" However we have achieved impressive rankings for the broader terms "Harvard referencing" and "Harvard referencing generator".
International SEO for Education
International SEO Strategy
One key area of our SEO plan was to implement an international SEO strategy to help us increase our keyword rankings in some of our key locations.
A slight risk to our strategy was that the ".ac.uk" domain name is a ccTLD meaning that it is country-specific to the United Kingdom. Therefore, (according to Aleyda Solis (slide 26) and SEO sources across the web) international SEO won't work with a ccTLD because it is already associated with the country in the domain itself. 
We wanted to test this anyway and see if it was true. Partly because we believe Google treats educational domain names differently but also because we thought that even if it doesn't help improve rankings and traffic, Indian students may be more comfortable viewing our content on an /in/Indian subfolder/sub-directory version of our site and be more likely to enquire.
For example:
UK version: www.university.ac.uk
Indian Version: www.university.ac.uk/in/
We implemented an Indian version of our website that sat on a subdirectory (subfolder). We also wanted to specify the language – we were not going to translate all of our content into Hindi or other Indian languages but instead would be using English. We wanted to be clear to make the distinction that our Indian site was for English speakers in India using the correct hreflang.
Which would look like this:
<link rel="alternate" href="https://www.university.ac.uk/in/" hreflang="en-in" />
You can use this great tool for generating your hreflang.
After one month of implementation, we found that it significantly increased our rankings in the target location.
We also found that it helped us to rank higher for specific course terms, lifting a lot of our page 2 or page 3 rankings onto page 1.
After a few more months and by the end of the year it had really helped us establish a lot more keyword rankings.
We continued to roll this out to other locations such as Pakistan, Bangladesh, Ghana, Nepal and more.
So for example, using the correct hreflang markup you end up international page versions which would look like this:
(Notice that this is for English speakers "en" in the location)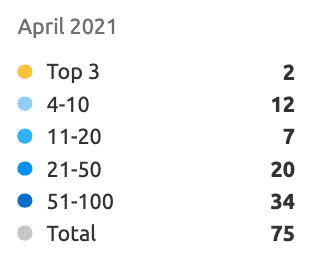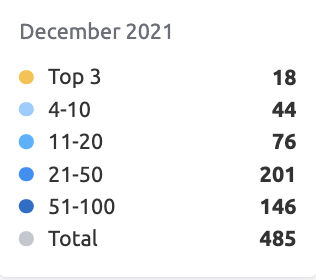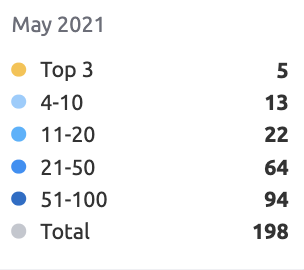 164% increase in one month
546% increase by end of year
We also started with a complete technical SEO audit to get a gauge of where the site stood. We were able to highlight some key issues as well as prioritise our onsite and technical SEO work.
One of the early tasks that was completed was a complete keyword mapping review. The existing pages were not really optimised towards any kind of keyword strategy. So we undertook some keyword research and onsite analysis and re-mapped to what our pages should be going after.
We also found that the site had a lot of orphaned pages and other high-traffic pages that simply were not feeding traffic elsewhere on the site.
We completed a large internal linking project and inputted a process for future internal linking opportunities and implementation.
If you are a university or educational institution reviewing your SEO strategy then it's vital that you first look at your student personas.
Who are you creating content for?
What questions are they asking?
Think Local
Universities often get distracted by always thinking big! Sometimes it's better to simplify things a bit and get back to basics. Who in your area is producing the best content about your area? Analyse them and their successes and look for new opportunities for local content.
Become a real authority in your local area, and keep it relevant to your students of course (you may not want to be talking about the "best garden centres in Nottingham"), but if there is a question you can answer that a student could be searching, you should be one of the sources for that answer.
There's a wide variety of local subject matter that is accessible to universities to write about, you're not really pigeonholed. 
You could be writing about;
Local places to eat
Landmarks and attractions
Guides and walks
Activities 
Places to study
There's a wide variety that can easily be related to your students.
Go Global
Could an international SEO strategy work for you? There are more ways to implement an international SEO strategy than the way we did it above. It might be good to consider whether this could help you increase traffic from international locations.
You could explore the options of working with multiple ccTLD domain names. This obviously means you have more domains to manage and it's less favourable on the SEO side, but it is one possible strategy.
Alternatively, you could look at subdomains or subfolder directory structures. Bearing in mind that although our test above showed that you can get some success with this, it is generally considered in the SEO world to be most appropriate to gTLDs rather than ccTLDs.
Provide Value
The main thing is that you need to provide value to anyone visiting your website. Whether that be to use some tools or resources you've developed or to read your latest guide on student study tips… the content should be amazing! And one way or another, Google will always reward amazing content.
Talk with one of our team today.