By now, you've probably heard a ton about this mysterious term in SEO: topical authority. But what is it, and does anyone know? How can you tell when an SEO tells you porky pies about topical authority? And which one wins the SERPs: topical authority or SEO tricks? Or are they the same!?
Let's dive in….
What is topical authority in SEO?
In a nutshell, topical authority is what the name itself suggests, a website's credibility around a particular topic. Let's say you are a digital marketing agency with services in SEO and PPC. The topics you are interested in building authority on are therefore SEO and PPC. As you can see those topics are pretty wide which gives you ample opportunity to ensure that your website covers them in every useful detail.

For example in the SEO topic you might want to cover:

In PPC you might want to write content for:

Then, each of these topics can be further divided into subtopics. For example, in technical SEO, you could look at writing content on Website architecture, Indexing, and Structured Data….  
You get the drill by now. The more expertise you show around the topics, the more you are building your topical authority. 
Simple right?
Not so simple when you throw search engines into the mix. A search engine's job is to sort through millions of websites that wish to be an authority on a topic and decide which ones are actually an authority so that they can rank them on top of the Search Engine Results Pages (SERPs). This is done using a very complex mix of signals. So complex and closely guarded that not even the best SEOs can tell you what exactly they are! We know a bit about them because of algorithm updates and releases, but the actual formula is known only to search engines like Google, Bing and the rest.
Plus, let's be clear here there is no such Google ranking factor as authority score!
Measures such as authority score (SemRush), domain authority (Moz) and domain rating (Ahref) are proprietary metrics used by SEO tools. They are NOT USED BY GOOGLE.  
This does not mean that topical authority is not a helpful way of thinking about your website and assessing if your content is helpful. It just means that you need to change the way you look at the term and separate it from the SEO tricks like claiming it's a ranking signal.
How to build topical authority – moving away from SEO tricks
Now that we have put the rest of this ridiculous claim that topical authority is the score you see in SEO tools let's try and reframe the discussion. 
Instead of looking at topical authority as a search engine signal, you should look at it from a user and user experience (UX) perspective. Because, after all, that is how Google and other search engines actually look at it! It's just that they use complex machine learning to do it at scale. 
Rather than trying to cheat the algorithm, build topical authority at least on these four basic elements:
Audience research

Helpful content

EEAT

Linking
Take this chase for authority as a motivator to actually do some proper audience research. 
At Vixen, we always recommend starting and continuing with audience research. Clients should work on the basics first and often. Too many times we have seen major projects such as website migrations and redesigns carried out apparently with SEO in mind but without being informed by user research. Websites without user journeys, meaningful persona profiles or department collaboration (eg. not including Sales or Customer service in the process!) 
It sounds basic, but go and ask your audience if they think you are an authority on a particular topic. And, ask them how to improve your authority!
With the recent Helpful Content update and the core update following soon after in September 2023, Google has cemented its switch from quality content to helpful content. And so should you! This is an interesting switch for Google and shows how far search has progressed. And it's a great way to frame your efforts around topical authority. 
It is no longer enough for your content to be of great quality, to build topical authority, and to rank; you will need content that goes beyond this. In practice, this connects very much to the next point discussed here, EEAT.
For content to be truly helpful, it needs to build EEAT, be on point in terms of intent and have great UX. 
EEAT stands for Experience, Expertise, Authoritativeness, and Trustworthiness. And, this is not a ranking signal either! But it is a good clue to what Google considers to be helpful content and topical authority. EEAT is part of Google's Search Quality Rater Guidelines which are used by real people, known as "Quality Raters", to assess the expertise of content creators. Search Engine Land has a great (although now outdated) interview with someone who was hired as a Rater for anyone who wants to hear it from the horse's mouth.
And, understanding EEAT is critical to understanding topical authority. So rather than wasting time digging around for a reason why your domain authority score has fallen down, read the Quality Raters Guidelines and start building a picture of how Google actually ranks websites. 
There are several steps you can take here, from the small ones such as improving UX with author pages on your website (I'm still to find tests where a clear correlation has been made between rankings and this, if you know of any let me know!) to long term content strategy tactics and link building.
Linking often comes with its own SEO fallacy and trick: link juice. Let's be clear, there is no such thing as link juice. The term is often used to explain the authority that one link passes to the page that it connects with.
For example, if your topic is technical SEO, you have:
Content A: "Blueprinting Your Success: Website Architecture That Boosts SEO"
Content B: "Structured Data Unleashed: Maximizing SEO with Schema Markup"
(yes, I used 🤖 to create these cheesy titles!)
Link juice is this idea that if your content A has external links on authority websites and you link it internally to content B, content B will get some of that "authority juice" from content A. 
This might have been useful back when PageRank, Google's algorithm that was based on a website's backlink profile, was the main determinant for a site's ranking. Today, the ranking system is much more complex! 
Having said that, linking should be included in every SEO strategy that seeks to build the topical authority of a website. There are two types of linking you should look to achieve:
Internal linking – one of the most underutilised SEO strategies that really does build topical authority and improve traffic is internal linking. There are some interesting tests out there around this topic – check out SearchPilot.  We've seen it in our SEO clients as well, with well-defined linking helping to achieve great results and driving users to explore related articles. 
External linking – a lot more time and effort is often given to external link building. It's basically trying to get other websites to link to your pieces. This builds your authority IF those other websites are authorities themselves in the same or similar topic areas. Back when I was working as an in-house Digital Marketing Manager, I saw agencies spending hours on outreach and buying links that often had nothing to do with the topics I was trying to build authority in. Be aware of those SEO tricks! Those links won't build your authority and if anything can have a negative impact. Next time you get your agency to build your links just make sure you check out that the link is not featured on one of the Link Building Blacklists
At this point, it's worth mentioning another SEO trick we often hear in relation to building authority and link building: toxic links. There is no such thing as toxic links in the eyes of Google. Don't let an SEO or an agency claim that toxic links are part of Google's rankings. Those are, again, metrics developed by SEO tools. Yes, you should not buy links on sites like Fivver, but don't waste time or let your agency waste time by disvowing so-called toxic links. Google is smart enough to ignore those.
A note on topical authority and AI
Naturally, I asked ChatGPT what it thinks about the interplay of AI and topical authority. This is what it had to say on the topic: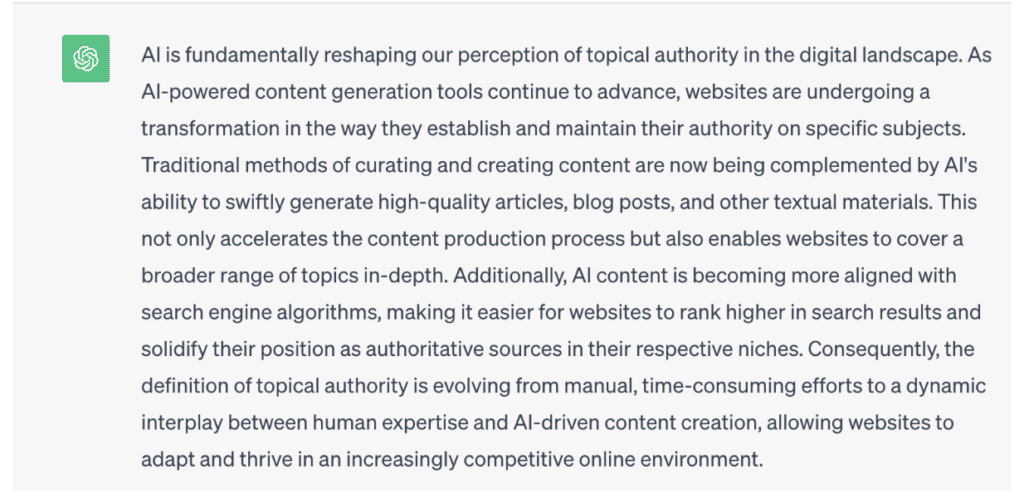 Not a bad write-up, and I could have just copied and pasted it in here and been done with this section. But I didn't. 
I agree with the sentiment here. AI has made content production more efficient. It opened up an opportunity for companies to cover topics much more in-depth and at a staggering velocity. Changes in search, like AI-powered Bing and Google's Search Generative Experience, are changing the way users search. Some are heralding dark times for the SEOs, claiming that AI threatens the $68 billion SEO industry. I'm more of a believer that these shouts of revolution are a bit premature.
Looking closer at the ChatGpt response above, what strikes me is the section that says: a dynamic interplay between human expertise and AI-driven content creation. The key here is topical authority is and will always be a purview of companies and individuals more than AI. Yes, the search landscape will change, and it will be even harder to get good rankings. And yes, at this time, Google has not made it clear that AI-generated content will not impact search rankings.
But at the same time, the helpful content update and the addition of the extra E to EEAT are signs of where things are going. 
I don't envision a future where AI will become the sole topical authority and where AI-generated content will be enough for high rankings. In fact, just the opposite, real experiences and expertise on a company and employee level combined with the speed of AI will become more and more paramount to building topical authority and winning the SERPs. 
Businesses that are at the moment laying off their employees, thinking that they can use AI to replace SEOers and content writers, are delusional at best and seedy at worst (using it as a distraction to use tech against workers). 
Topical authority vs SEO tricks: who wins the SERPs?
When it comes to building topical authority, it's key to distinguish between genuine practices and illusory ranking shortcuts.
SEO tricks may promise quick gains, but they fail to provide long-term gains. Search engine algorithms these days are just too smart for it, and they are constantly changing! 
The path to SERP dominance lies in reframing the concept of topical authority as being predominantly user-centric and not about chasing algorithms with SEO tricks. 
To start building topical authority, focus on audience research, create genuinely helpful content, follow EEAT principles, link strategically and use AI effectively. 
The true victors are companies and SEOs who understand that topical authority transcends tricks and shortcuts. And who value the synergy of human authority and AI's efficiency.