Have you ever been stuck with squeezing your USPs into one advert on LinkedIn? Or giving your target audience the story of your brand in one image ad? LinkedIn Carousel Ads have you covered!
LinkedIn Carousel Ads can be a brilliant way to reach new audiences and grow your business using LinkedIn advertising, without hours spent trying to fit your offer into a 1:1 image. 
To put it simply: if you have more to say in an ad, start using LinkedIn Carousel Ads. And, dare we say it, sometimes they work better than image ads. 
In this Complete Guide To LinkedIn Carousel Ads you'll find out:
What are LinkedIn Carousel Ads?
So what are LinkedIn Carousel Ads in the first place? 
According to LinkedIn, "LinkedIn carousel ads allow you to showcase up to 10 images with their own links in a single ad. With more creative space within an ad, you can highlight different services, products, and offers or tell a story about your company or brand that develops as members swipe through each image." 
In a nutshell, LinkedIn carousel ads allow marketers to tell a story through a swipeable series of cards. 
Let's say you are a digital marketer working for a big retailer and you have a corporate campaign running for Christmas. Setting up some LinkedIn ads to promote your corporate range is a no-brainer, as it will help you get in front of the right business audience. And, this type of campaign is a great test ground for LinkedIn Carousel Ads. In this example, LinkedIn Carousel Ads are a great way to showcase:
Best products in your corporate range with what makes them special
Discounts, offers and benefits that your corporate clients can look forward to
The same could be applied to top-of-the-funnel awareness stage campaigns. Let's say you work in SaaS and have a piece of content you want to promote. LinkedIn Carousel Ads are a brilliant way to provide the audience with a sneak peek into that content. For example, you could use the cards to provide:
Main messages for the content pieces
Stats from the content (in any) 
Showcase contributors and their expertise 
What are the benefits of LinkedIn Carousel Ads?
Whether you are looking to get leads, raise awareness or boost engagement, LinkedIn Carousel Ads come with a ton of benefits that will help you achieve your LinkedIn ads goals. 
The 5 main benefits of LinkedIn Carousel Ads, as shared by our LinkedIn experts are
More chance to convert
Visual storytelling 
Great CTR rates
Peaks audience curiosity 
User-friendly and frictionless
With LinkedIn Carousel Ads you have a chance to add up to 10 images and each one can have its own calls to action (CTAs). Now whether you should use all 10 and how you need to approach designing the CTAs is covered further down in this guide. But the bottom line is, LinkedIn Carousel Ads allow you to take advantage of more calls to action than other ad formats eg. LinkedIn image ads. 
You could opt out to add a different CTA to each of the cards. In the example of the corporate gifting range, you could add a different CTA to each of your product cards. Each card could lead to a specific product page, making it more relevant for the individual user and hence giving you a higher chance of a conversion. 
Alternatively, you could use the same CTA but word it differently on each card. This will again provide you with a better chance to hit the right note with your audience and entice them to convert. In the example of the SaaS content piece campaign, you could play around with the Download/Read CTA to see what resonates the best with your audience. 
One of the biggest benefits of LinkedIn Carousel Ads is their ability to tell a visual story in an engaging way. It's simple really, with more space to use you are able to basically turn your ad into a story. It's important to say here, the key is making sure your Carousel Ad actually takes the audience on a journey and tells an actual story. Don't just use the extra space given to throw everything and the kitchen sink into your ad. But more on that later…
LinkedIn Carousel Ads allow marketers to capture the audience's attention in a much more creative way than with other ad formats. And, the swiping motion that's native to the ads is intrinsically reminiscent of swiping a storybook.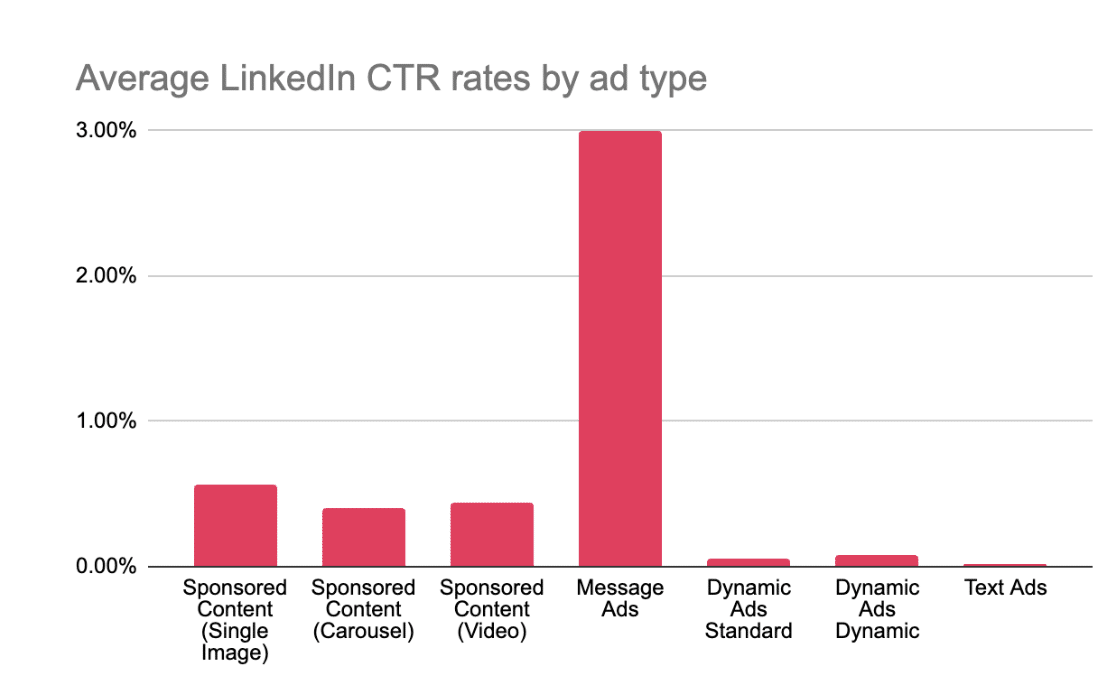 Data source: B2BHouse.com
Obviously, CTRs are a complex subject and not only dependent on the ad type. For example, you could have the best ad ever and still low CTR if your audience segmentation is pants. But overall, we've seen CTRs for LinkedIn Carousel Ads that are as high as 1% on a cold audience. 
Comparatively, according to B2BHouse.com, at first glance Message Ads have the best average CTR rate, but that's assuming a 30% open rate. The leader from the other ad types is single-image ad, closely followed by video and carousel ads. 
| LinkedIn Ad Type | Average LinkedIn CTR rates by ad type |
| --- | --- |
| Sponsored Content (Single Image) | 0.56% |
| Sponsored Content (Carousel) | 0.40% |
| Sponsored Content (Video) | 0.44% |
| Message Ads | 3% |
| Dynamic Ads Standard | 0.06% |
| Dynamic Ads Dynamic | 0.08% |
| Text Ads | 0.02% |

Peaks audience curiosity and engagement
Closely connected to the benefit of enhanced storytelling is the ability of LinkedIn Carousel ads to peak the audience's curiosity. By using visual cues, marketers can entice the audience to explore better than with other ad formats.
In the example of the SaaS company and the content piece promotion, the fact that you are able to give the audience a preview of the content on the other side of the CTA increases the chance of a click. 
Later on, we show a few examples of companies who have done this really well in the past!
User-friendly and frictionless
LinkedIn Carousel Ads are very user-friendly, for both the marketer and the user. The UI is super simple and straightforward (as you will see in the How to set up ads section further down). And, for the user who is already very familiar with the swipe motion, the action of swiping through the cards comes naturally.
The audience also does not need to leave the LinkedIn platform to get some value from the LinkedIn carousel ads. For example, if you are telling your brand story you can do this extremely well with Carousel ads and be memorable even to those people who do not click right away onto your website. The story is told within LinkedIn itself.
When used together with the Lead generation objective (more on that later), Carousel ads can also be paired up with LinkedIn lead generation forms. LinkedIn Lead generation forms come with lots of benefits themselves, one of which is the fact they are super frictionless when it comes to sign-up as the form fields are already pre-populated with user info. 
How to create LinkedIn Carousel Ads
There is no doubt that LinkedIn Carousel ads are worth looking into when advertising on the platform. But how do you actually set the ads?
Here are seven steps to follow when creating your LinkedIn Carousel Ads
Set up the campaign group and campaign
Choose your objective and define your audience
Choose your ad format
Create a budget, schedule, and bid
Set up conversion tracking
Create your ads
Review & Launch your campaign 

Let's look a bit deeper into each of them… 
Set up the campaign group and campaign
This part of the process applies to all campaign types really but it's worth mentioning here. 
To set up sign into your Campaign Manager, click on Create and Create a Campaign Group first. We recommend creating a campaign group based on the campaigns you are running. For example, the retailer corporate campaign would have a Corporate Campaign Ad group. 
Now in this specific ad group, you can start creating your individual campaigns. We usually use audience targeting AND ad format to differentiate our campaigns within a campaign group. This helps us keep organised. See the example below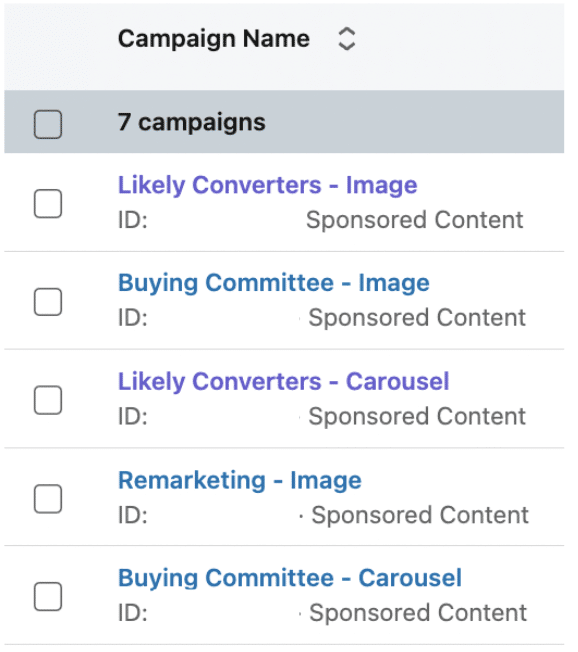 Choose your objective and define your audience
Again this section is something you will need to do for whichever ad format you decide on. It is arguably the most important section of your campaign. 
The common goals for LinkedIn Carousel Ads include: 
 Brand awareness 
 Website visits 
 Lead generation 
The goal you chose will also inform your designs of the carousel and how you measure the results, not to mention it will serve as a guide for LinkedIn algorithm to serve your ads. So choose wisely! 
Also, this is where you might want to think about combining the Carousel ad with a Lead Generation form. If you chose the Lead Generation objective, you'll need to attach a form to your ad.
Once you have your goal it's time to build your audience. 
How you build your audience can make or break your campaign. We provide LinkedIn audits as part of our service and we've seen it all. Campaigns with amazing ads but an audience that is way too large to get quality leads. Or campaigns that segment the audience so much that it's way too small to get any conversions on the other end, no matter how good the ads are. So again, before you start messing around with all the LinkedIn audience filters (and there is a ton of them!) plan out who you want to target. 
This is where it gets a bit specific. In this case, you want to choose the Carousel ad as your format. See below

Create a budget, schedule, and bid
Another step you will need to do for any campaign type. We have a whole blog coming up on the subject of budgeting but for the purposes of this guide needless to say you should be strategic when deciding on your budget and bid in particular. In general, a budget of £3000 per month per campaign is recommended, but we have seen it work on less. An investment of at least £1500 per month per campaign is desirable as LinkedIn's CPC is higher than other platforms. 
You might also want to untick that LinkedIn Audience Network placement default value. LinkedIn Network in our experience is a bit of a waste of budget. 
Set up conversion tracking
This is where the fun starts. Click on the Create Ad link and start adding your ads. Remember you will need to add all the cards you have planned for that particular ad. See below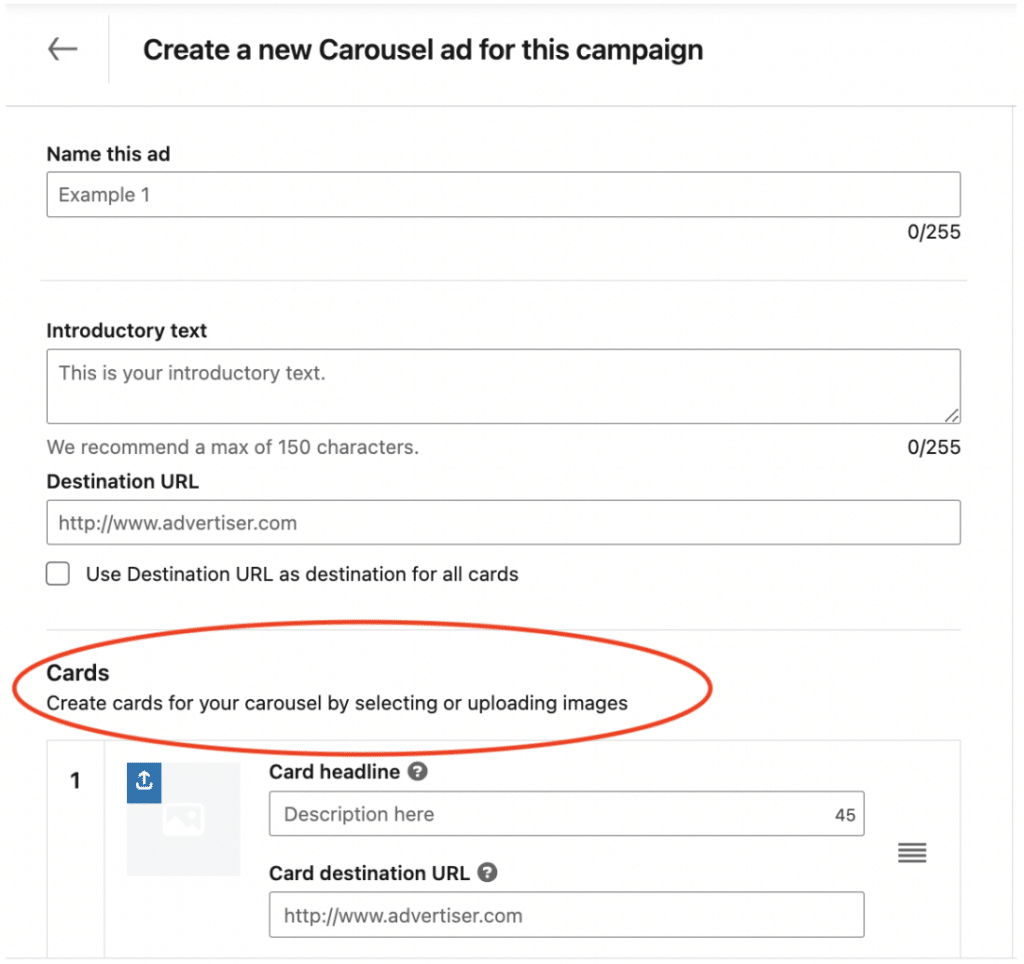 It's useful to think about how you name your ads as it can help to test. In our retailer example, you could pose a hypothesis that says: I think ads with 3 cards will perform better on clicks than those that have over that number. Then you name your campaigns indicating how many cards you have in them. It can be as simple as 3 card ad, 5 card ad, 7 card ad, 10 card ad. It makes it easier later on to evaluate the results.
This is the text that appears above your carousel. Again be smart about what you put here. You have a recommended size of 150 characters. Be careful to capture the audience's attention in an engaging and succinct way. The cards are there to provide the extra info.
Basically where do you want the user to go when they click on your ad. This must have
the "http://" "or https://" prefix.
You can opt-out to use the same URL for all cards or send users to a different URL based on what the card says. In our retailer example, if we have one card per product, we might want to mix it up and add specific product page URLs.
If you chose to use a lead generation form, the CTA will link to the same Lead Gen Form for all carousel cards.
Each LinkedIn Carousel card is made up of:
Card Image
Card Headline
Card Destination URL
If you have chosen to go with a Lead Gen Form you will also be able to add a CTA onto each card.
One thing to emphasise here: once your ad is saved, you cannot edit the carousel cards. So no going back and changing your mind, unfortunately!
Review & Launch your campaign
Final step is to check that all is correct. After that, you are good to go and launch your carousel ads campaign!
LinkedIn Carousel Ads specs
There are several specifications to be aware of when creating your Carousel ads. Specifically,
General LinkedIn Carousel Ads specs
Carousel ads can have a minimum of 2 cards and a maximum of 10
LinkedIn carousel ad character limit for the description is a maximum of 255 characters but in mobile view, this may be truncated at 150 characters
LinkedIn Carousel Ads Card specs
LinkedIn Carousel Ads Card specs include specifications for:
Images 
LinkedIn carousel ads size should not exceed 10 MB
Max image dimension: 4320x 4320px
Images will be scaled to 312 x 312px
Recommended individual image spec: 1080×1080 pixels with a 1:1 aspect ratio
Rich media formats supported but limited to JPG, PNG and GIF. No video or animated GIFs, unfortunately!
Card text
Headline is limited to a maximum of two lines
If a landing page is used the character limit is 45 characters and for Lead Gen Form it's even shorter with a limit of 30-character limit.
Best LinkedIn Carousel Ads examples
Looking to get inspired for your next LinkedIn carousel ads campaign? Here are 5 examples of ads we love. Some we were lucky to work on and others we just noticed and appreciated. To inspire your next LinkedIn carousel ad campaign!
Yes yes the retail example we used in this guide is actually from one of our lovely clients. Lindt came to us looking for support for their corporate Christmas campaign and LinkedIn carousel ads were one of the ad formats we tested.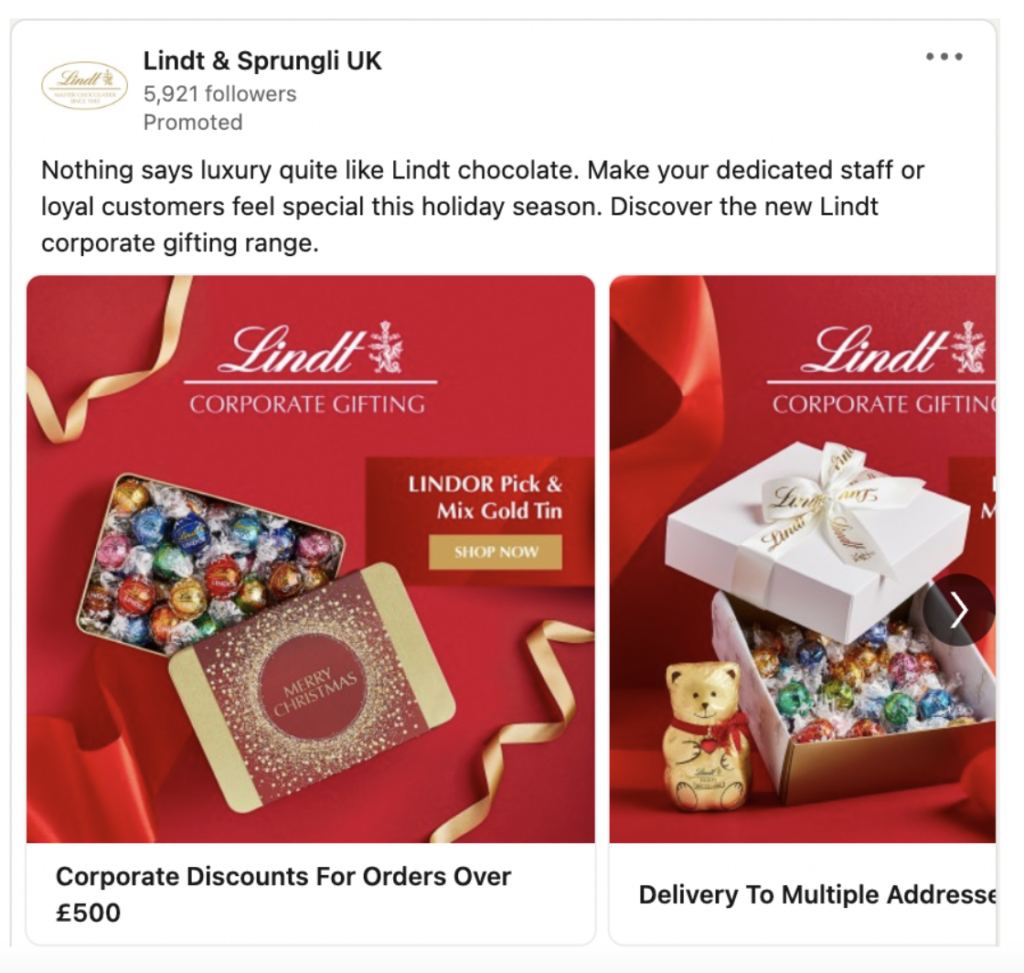 As the corporate range was a brand new initiative for Lindt the audience was not yet familiar with all the benefits it has to offer. The cards were an opportunity to outline these benefits and introduce the range in a bit more detail than the image ads that were running alongside the carousel ads. That focus on benefits and the addition of some excellent (and yummy) made the ads engaging and informative for the audience.
Another one of our clients, who aced their carousel ads was a pharmacy marketplace EzriRX.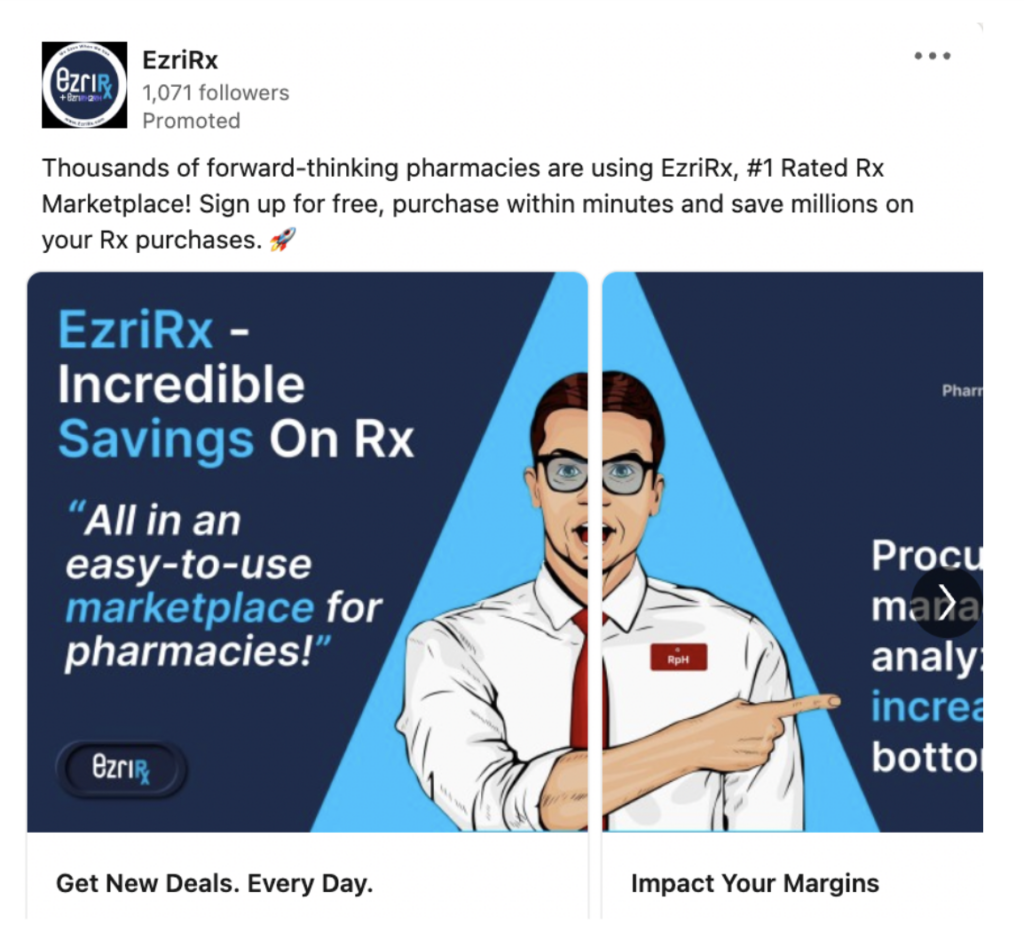 Their ads were brilliantly designed with engaging visuals in line with the brand. The carousels also included visual elements that connected the cards together into one image which made them even more visually appealing.
LinkedIn Marketing Solutions
Unsurprisingly LinkedIn is also smashing it when it comes to Carousel Ads.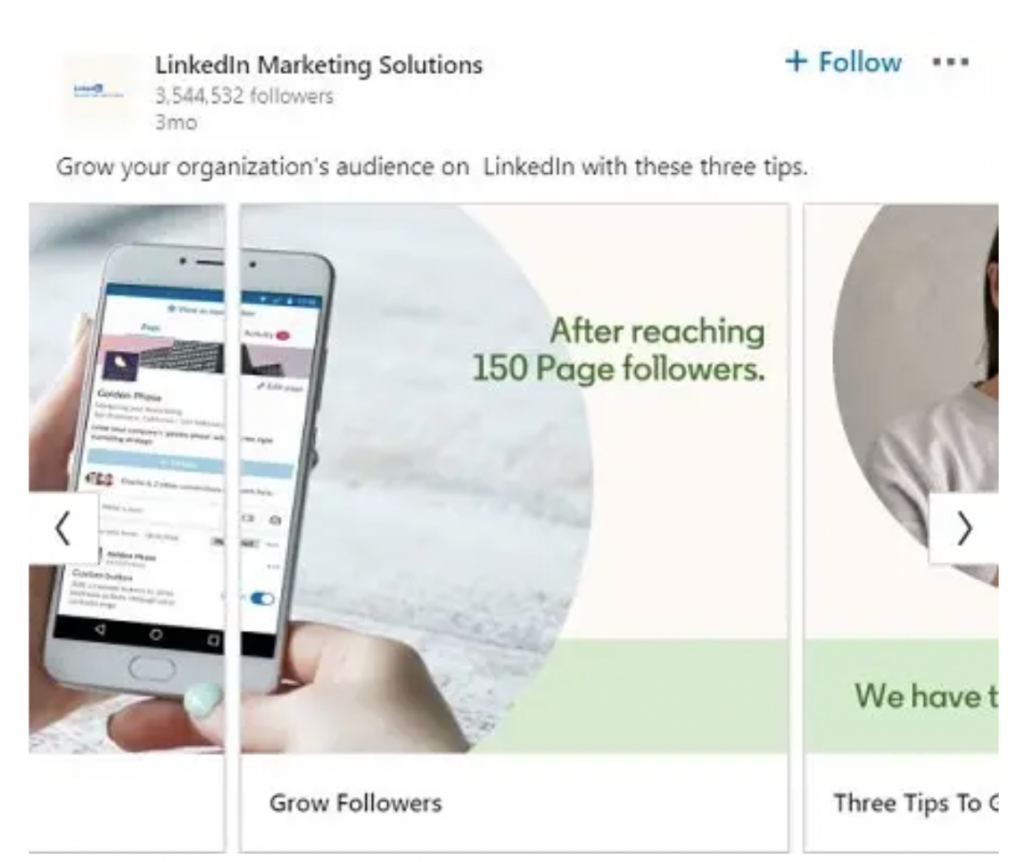 We love it because it's simple yet effective. It clearly outlines the benefits for anyone looking to use the solution and the graphics continue through the cards which makes it visually appealing.
Can any ad examples list be complete without Saleforce! They are masters in LinkedIn advertising so no wonder they take full advantage of Carousel Ads as well.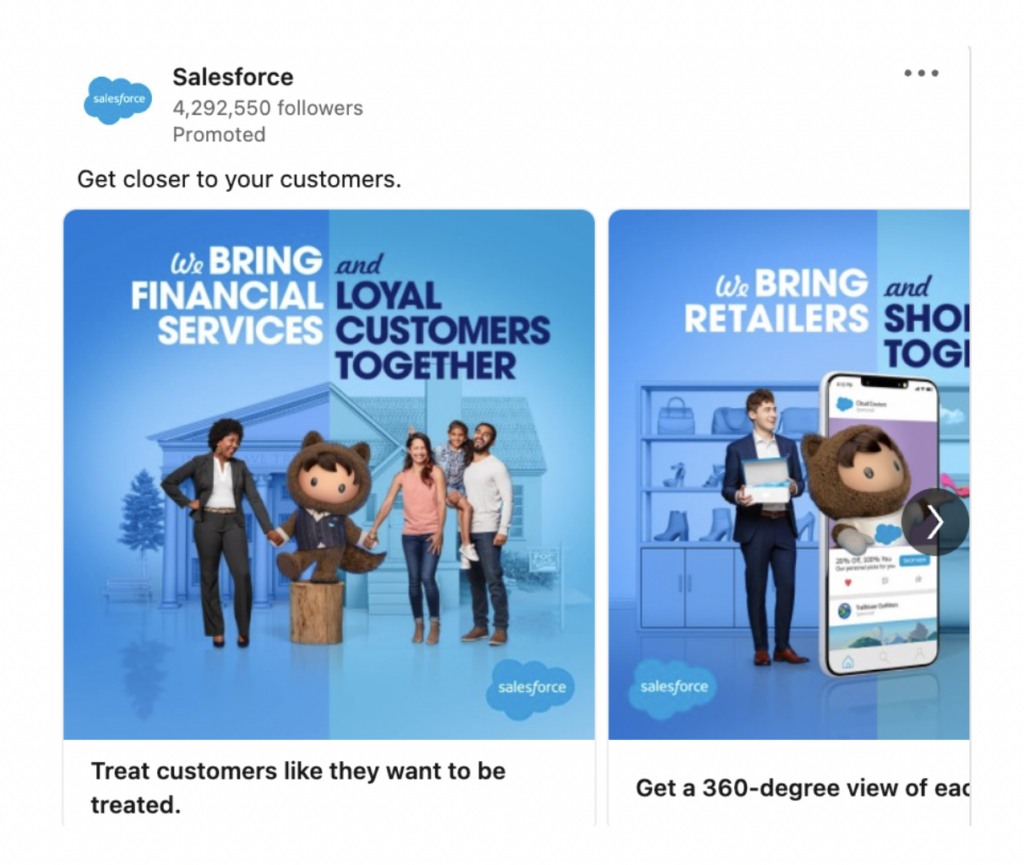 We love the messaging on these ads. It's simple and emotional. The imagery is also on brand and engaging as with any of their ads. They also combine animation with real images of people which is unusual and makes the ads stand up.
Gartner is also on this list with an excellent example of using carousel ads to present content.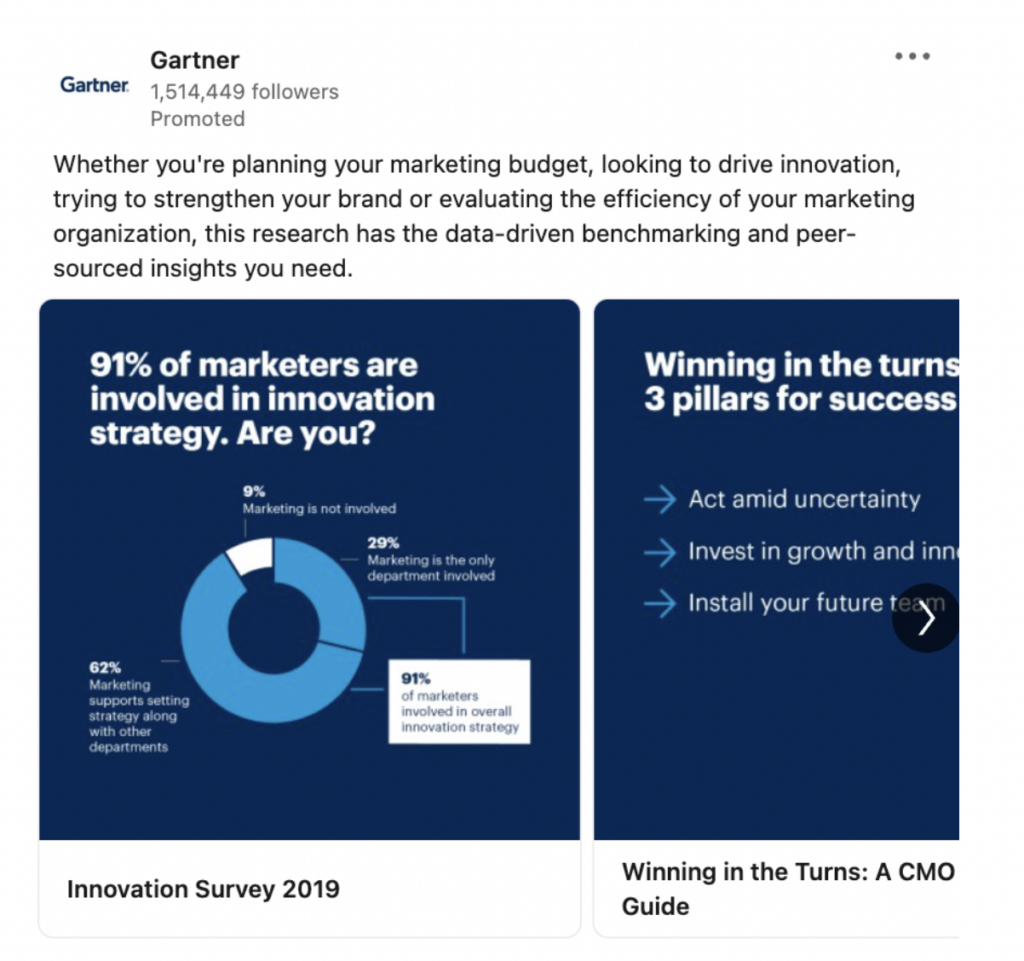 Using actual results from the report, Garner gives the audience just enough info to attract them to explore more. It's a simple but effective design where data is king. We also appreciate this ad because it brings value even without a click. A user can get really valuable insight into the report without a download.
Best practice for LinkedIn Carousel Ads - as shared by our LinkedIn experts
LinkedIn carousel ads best practice can be divided into 6 broad categories:
Audience
Objectives
Messaging
CTAs
Design
Testing
LinkedIn carousel ads - Audience best practices
When it comes to LinkedIn audience best practices, the same best practice applies to Carousel Ads as to any other ad format, such as image ads. This includes:
Know your audience and segment based on this
Knowing how to set up your audience for any type of ad really boils down to how well you know them. Do you have meaningful personas developed? Do you do customer research? Are your sales and marketing aligned? All of these are the basic questions you need to know the answer to if you want to set up your audience on LinkedIn strategically. Only when you know your audience can you map that up against the available segmentation on LinkedIn.
Be mindful of the size of your audience
You don't want to narrow down your audience too much but you also don't want an audience that is so wide it brings irrelevant traffic that won't convert. LinkedIn suggests the following audience sizes:
For Sponsored Content and Sponsored Messaging, a minimum of 300,000
For text ads, target between 60,000 and 400,000
In our experience, there really isn't an ideal audience size number. It's more about knowing your audience and devising messaging that resonates. And, thinking about conversion rates though out the funnel. We've seen campaigns with a small audience of barely 3000 work, particularly when running ABM campaigns. But we've also recommended massive audience expansions when running cold brand awareness campaigns.
The general rule of thumb with audiences is to have a larger audience size for the cold layer since the goal is to identify qualified prospects. Then set up retargeting campaigns that will convert into fewer numbers but further down the funnel eg. demo.
LinkedIn carousel ads objectives best practices
How you set up your goals will determine how you will measure your campaign later on and also how the LinkedIn algorithm will deliver your ads.
When setting the goals, you need to be immediately thinking about how this maps out to your key performance indicators (KPIs). For example, if your goal is awareness, you will want to measure impressions, clicks and engagement rates. If the goal is lead generation your KPIs will be around conversion rates, number of leads, and cost per conversion. 
You can easily track your performance on LinkedIn using the Performance tab in Campaign Manager. The data can also be exported so you can dig deeper into impact.
LinkedIn carousel ads messaging best practices
One of the benefits of LinkedIn carousel ads is that they allow you to expand on your message using the card format. Each of the cards will have a headline plus you will need to add your main ad copy. There are a few things to consider here:
Space is limited to a maximum of two lines – not a lot to play with so keep it on point
Carousel ads work well in a story format – use your headlines to support your story
Craft headlines that speak directly to your audience – ask yourself what's the benefit for them, why they should care about this.
Consider using the last card headline to add a call to action
LinkedIn Carousel Ads CTA best practices
You will only have CTAs available on each card if you are pairing the carousel ads with a Lead gen form but even if you don;t have them available, some companies opt out to user the headlines to add CTAs.
You have 10 cards to play with and 10 CTAs you can design – not that you should be using up all of them! Your CTAs will depend on the approach you are taking with your cards. You could use the same CTA across all cards or mix it up. But whichever option you go for when it comes to CTAs there are a few best practices to follow here:
If you are telling a story with your cards, your last CTA is the one that needs to be the strongest. The audience is presumingly swiping though and the final CTA should drive the point home and get them to click.
Don't be afraid to get creative – why not try to Save Your Spot instead of Register as your CTA? Or Grab Your Report instead of Download?
As is the case with messaging your CTAs need to be concise and on point. Tell the audience what to expect as a result of the action.
Design best practices for carousel ads
More than any other ad type, LinkedIn carousel ads are a great opportunity to get creative with your designs. You have more space to play with! Here are a few best practices to follow:
Let your designs tell a story – from simple common design threads such as continuing lines on the cards to graphics that are positioned to fit between the cards, the possibilities are endless
Play around with images of real people – people love seeing people and they respond to faces. Why not add some images of real people to your carousel?
If you add text to the images, keep it concise and on point. These are not LinkedIn document ads! You don't want to drown your design in the text
Keep it on brand but also make it eye-catching. It may well be your brand colours don't pop on the screen but why not try and test out adding some pop of colour in there? Remember the goal is to attract attention!
Simplicity is your friend – don't make the design too busy. Always ask yourself how does this element contribute to the goal of this card?
Test, test, test – always! This is a vital element for any LinkedIn campaign, including carousel ads. You can only really optimise for performance if you are testing. And, the fact that there are more cards also means there are more opportunities to test.
Here are some best practices for testing your carousel ads:
Start with a hypothesis – for example, you might say I think 3-5 cards will give me the highest engagement rate. Your goal is then to test out at least 4 ads with a different number of cards in them to see if your hypothesis was right or not.
Only test one variable at a time – time and time again we see companies who say they are testing but all the ads are so different that the test is not valid at all. A true A/B test is a test that changes one variable at a time to see if it increases your metrics.
Don't just test your ads, test your campaigns as well – think about testing the audience, the bidding strategy and other campaign-level settings.
Adjust your ad rotation settings – LinkedIn has two types of Ad rotation options:
Optimise for performance: This option will collect performance data from each variation and then begin serving the highest-performing creative more frequently as the campaign goes on.
Rotate ads evenly: This option enters each ad variation into the auction evenly and doesn't consider performance even after collecting data.
We recommend you go with the second option. This will give you more meaningful data.
Test for at least two weeks and sometimes longer depending on the size of your audience – you want to get statistically relevant data.