How to block someone on LinkedIn
You might be experiencing someone hassling you on LinkedIn. Or, you might be connected to someone who you'd rather didn't have access to your LinkedIn content. We understand. On most social media platforms out there, you can choose to block other accounts so that they can't even see your profile when they search for it (and you can't see theirs), and LinkedIn does just that too. To remove another profile's access to your information (and your access to theirs), follow this 4 step guide on how to block someone on LinkedIn.
You can choose to block another account from your mobile device or a desktop device. For either, here are the steps on how to block someone on LinkedIn:
Go to the profile of the individual you would like to block and click More. You'll find this just under their profile picture.
Here, you'll see Report/Block as one of the drop-down options. Select that.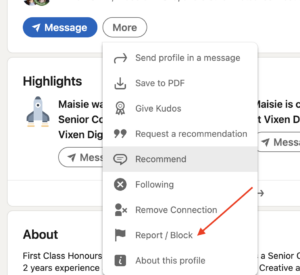 You will be asked What do you want to do? As a pop up prompt. Here, you can select Block (name).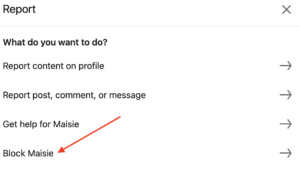 Simply select Block to confirm. And that's it!
Can you change your mind and unblock someone on LinkedIn?
Yes, you can. Simply Go back to your review options and select Unblock from there. If you change your mind later on, remember that you won't be able to find them on LinkedIn by searching. Instead, you will need to go to your own Blocked list and unblock them from there. 
To find your Blocked list, click the Me icon at the top of your own LinkedIn homepage and select Settings & Privacy. Find the Visibility section and select Visibility of your LinkedIn activity. Your list can then be found in Blocking and Change.
Will they know you blocked them?
A blocked user will not get a notification to let them know that you've blocked them. If they've been communicating with you regularly on LinkedIn, they may notice your account suddenly disappear from any saved history. From what they can see from their account, it will just appear as if you've deleted or deactivated your account. So, while they might guess that you've blocked them, it won't be clear from what they can see from their side. 
Should I report an account instead?
If you ever think a LinkedIn user is fake, putting out spam or could be scamming other users, you should report the account rather than just blocking it. This notifies LinkedIn that there might be an issue with that user and it means that they will investigate them. 
Just like with blocking someone, when you report another member's content, they will not be notified with who reported them. You can report an account generally or you can choose to report a specific comment, post or message that you think is inappropriate or there's another issue with. 
If you find a particular account's content offensive, annoying or troublesome for whatever reason, you can alternatively choose to just hide their posts, comments or updates. To do this, select Hide on the upper right-hand corner of the content. Doing this will also hide all future updates that the person or organisation posts. 
What if I want to delete my own account?