LinkedIn is the leading professional social network and if you ask us, it's a pretty important tool in any marketers' tool kit. Why do we think so?
Well, LinkedIn's highly engaged audience, coupled with engaging ad types and strong targeting capabilities offers a wealth of opportunities for advertisers. However, this means things can get pretty competitive and overcrowded. So, when you get in front of your audience, you're going to want to make it count! 
To inspire you, we've rounded up 10 Examples of LinkedIn Ads we LOVE to showcase how it should be done.
Retail Bulletin Image ad - Strong graphics and great ad copy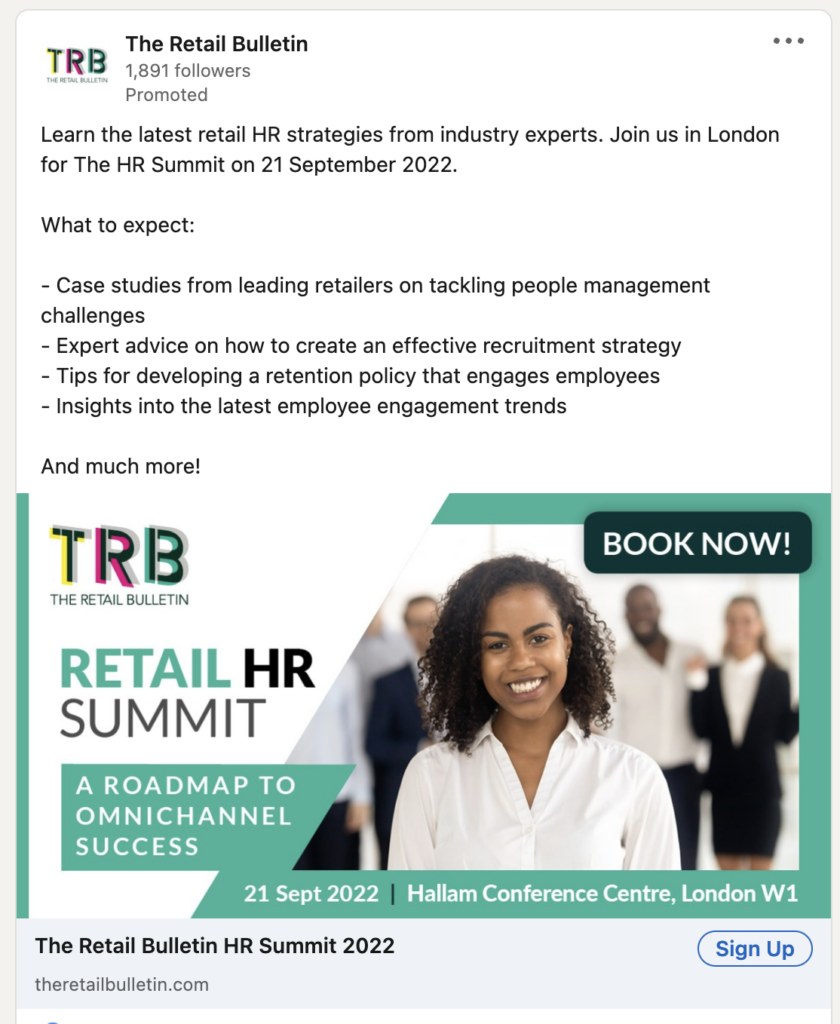 This example from Retail Bulletin is a stellar use of a LinkedIn Image ad. They use a strong graphic, well aligned with their brand and coupled with the use of an eye-catching 'book now' call to action to hook the user as they scroll through the feed. The graphic also clearly states all the key information and is paired with strong ad copy which immediately presents the value proposition to the audience.
Opening with an active verb is also a great way to grab attention and provoke action.
Zappar Image ad - The benefits of offering free, downloadable content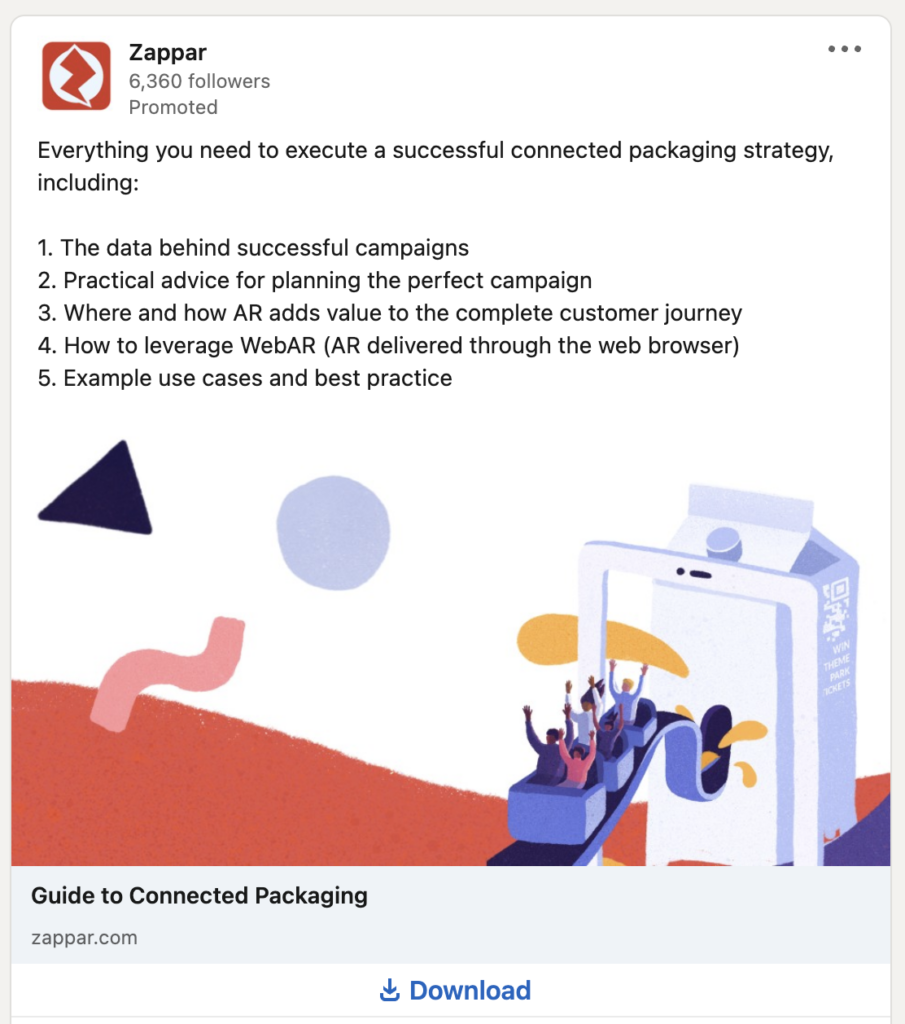 Similarly, this image ad from Zappar is another great example of this simple yet effective ad format. Zappar uses a strong graphic and leverages a simple heading to clearly outline the value for the user. 
LinkedIn users are often searching for new and useful industry relevant information. So, using your ads as an opportunity to share helpful content with your audience, without directly selling your product or service is an awesome way to showcase your brand as a thought leader, raise brand awareness and drive users to your website. 
By opening with language like "Everything you need…"  Zappar instantly sparks interest and presents themselves as the complete solution to the users packaging strategy. Followed by clear and concise information presenting how the user will benefit from engaging with their content, the audience are quickly given all they need to convert.
Cruise Ship Interiors Video ad - Driving awareness and lead generation with Video Ads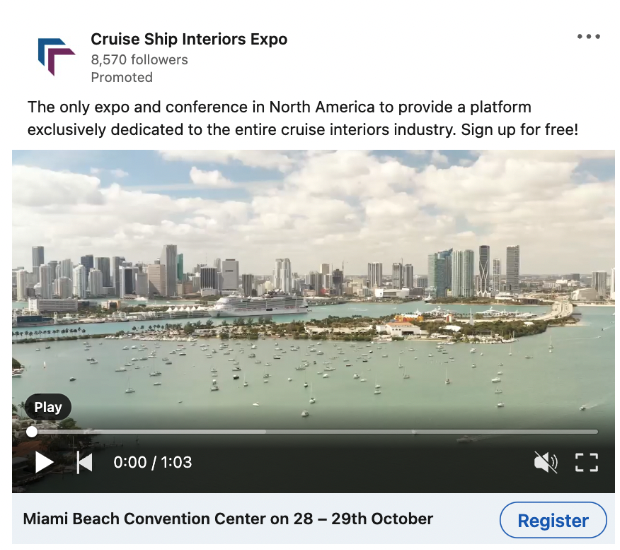 Cruise Ship Interiors Expo use of LinkedIn Video Ads demonstrates the strength of presenting an eye-catching and engaging visual to demand the attention of the user. 
The use of language such as 'The only' further demands the users attention and emphasises the value of the offering.
This is again an example of how providing a free, relevant and engaging offering within ads to a well targeted audience, is a highly effective strategy for driving brand awareness and lead generation.
Lindt Carousel ad - using engaging Carousel Ads for corporate gifting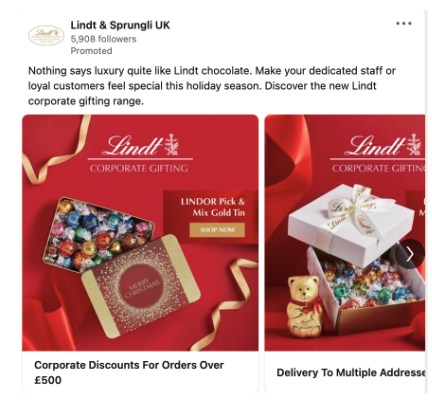 This carousel ad from Lindt is an awesome example of the impact of an ad when there's a natural fit between your offering and the platform that you're advertising on.
In the ad we see Lindt, a typically B2C brand, using LinkedIn to promote their corporate gifting range. 
The engaging design is well aligned with their brand and in-keeping with the holiday season. In each carousel slide, the user is presented with a tempting array of products which encourages them to continue through the carousel.  Lindt seamlessly packs a number of persuasive tactics into a few short and concise lines of ad copy and each heading clearly offers a new value proposition.
Google Image ad - The benefits of using LinkedIn's granular location targeting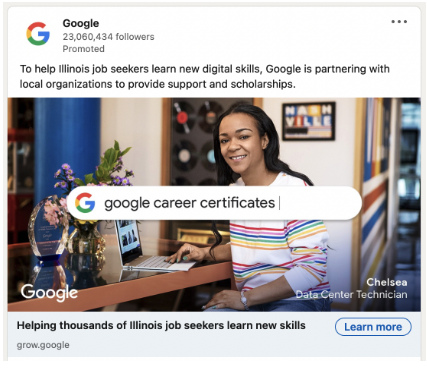 Here Google showcases the benefits of using granular location targeting on LinkedIn. The explicit reference of job seekers in Illinois will capture attention of the audience and instantly creates a personal feel for the user.
Airbnb - Humanising a global brand through emotive video ad content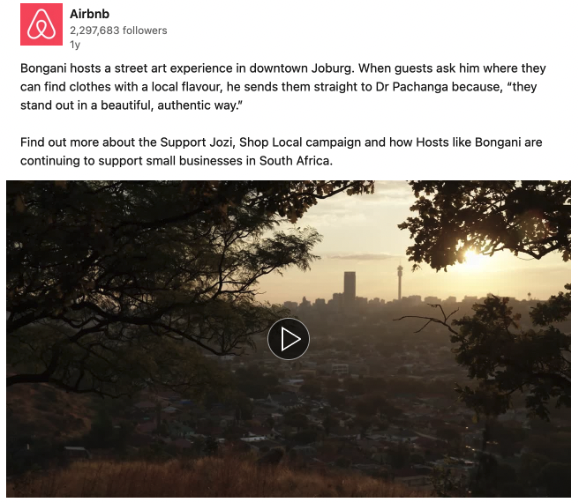 In this example, we see how video ads can be used to portray impactful and engaging stories and effectively humanise large global brands. With this ad, Airbnb not only humanises their business but also emphasises their values of supporting local hosts around the world.
The use of a host in the ad creates an engaging story. This helps to develop the user's brand trust, encouraging them to click through to the Airbnb website. Engaging the user in this way is also a great way to increase future consideration.
LinkedIn Image ad - Images that resonate with your audience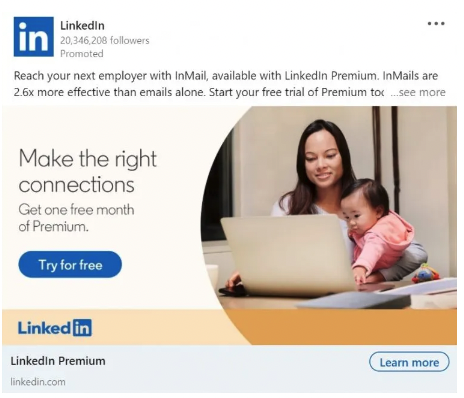 This example from LinkedIn themselves demonstrates the use of subtly emotive messaging that is intended to resonate with its target audience. The use of imagery that symbolises the juggles of a working mother in the era of flexible, hybrid working and then provides assistance through their services, is an example of using relatable imagery and messaging to connect with the audience and drive engagement.
Apple Carousel ad - Using carousel ads to hook the user and take them on a journey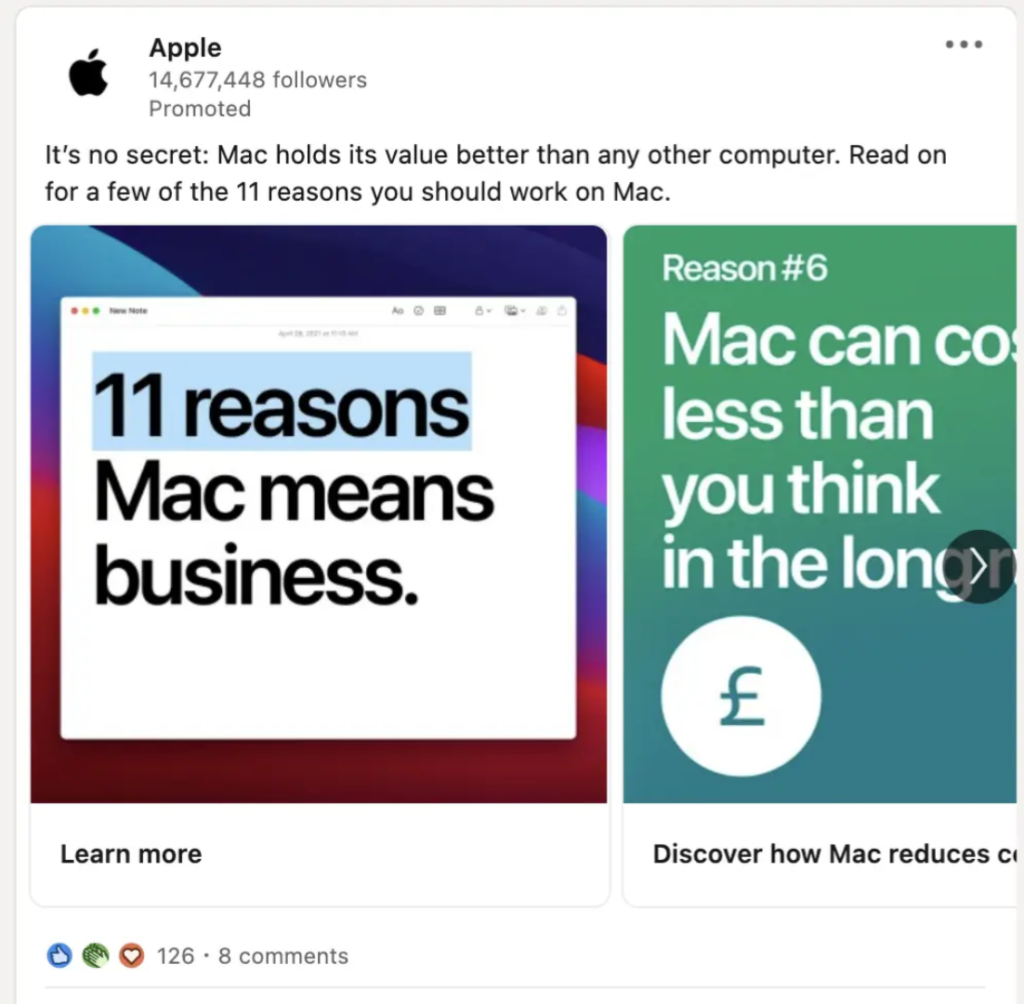 Apple uses bold design teamed with sharp, punchy language to hook the user. They then immediately encourage the user to move through the carousel. Finally they present a strong CTA on the final slide, through which the remaining reasons why 'Mac means business' can be found. It's a 10/10 example of how carousel ads can be used. The ad takes the audience on a journey and drives conversions in an engaging manner for the user.
Adobe Image ad - Building brand trust through humanising the brand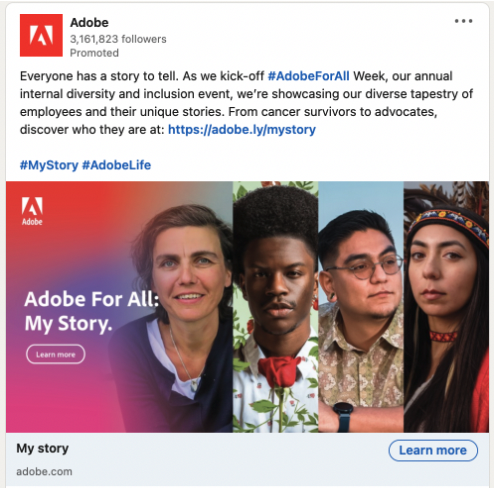 Adobe uses their ad to humanise their brand and communicate their values. This is a highly effective way of building brand resonance and trust. It's an awesome example of how not always focusing your ads on your product and showcasing brand values, can drive deeper audience engagement and future consideration.
Monday Image ad - Spotlighting a relatable situation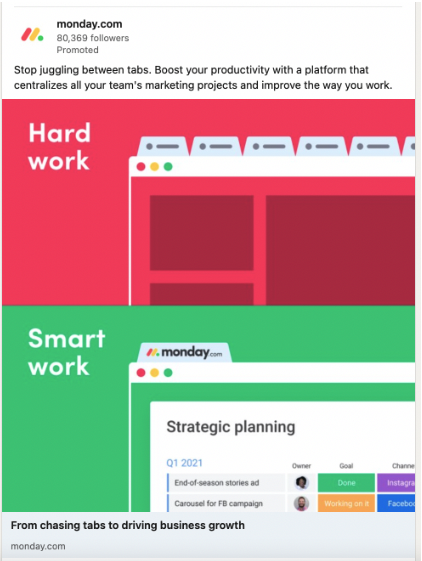 Here Monday demonstrates the effectiveness of using a simple, authentic and relatable message to connect with their audience. The eye-catching graphic supports the well structured and to-the-point ad copy, playing on a situation that the audience will have no doubt experienced and offering themselves as a straightforward solution to achieving business goals. This is another outstanding example of relevant ad placement.
Final thoughts and tracking campaign success
So there you have it! 10 examples of LinkedIn Ads we LOVE. We hope you found these ads as engaging and inspiring as we did. These examples will no doubt help you on your way to creating some killer ads in your next LinkedIn advertising campaign.
Like the look of LinkedIn carousel ads? Check out our complete guide here. Perhaps you're looking for something a little more personal? Why not explore the other types of LinkedIn ads and check out our complete guide to LinkedIn Conversation ads.
But, it's important to remember that strong ad design and catchy ad copy isn't all there is to LinkedIn ads! You've had a round up on some of the different ways you can use LinkedIn ads but, you're going to want to make sure you can track your campaign success. Check out our blog on how to install the LinkedIn Insight Tag on any website. Plus our easy guide to LinkedIn conversion tracking to get you started.