🚀Simple GA4 Migration Checklist with FREE PDF download & video guide
If you're here, then you surely already know about the changes coming to Google Analytics. 
But, to reiterate once again, Google Analytics Universal Analytics will be sunset in July 2023😢, with Google Analytics 4 (GA4) taking its place.
This means if you haven't already got GA4 implemented on your website…. what are you waiting for!? 
And for those of you who are looking for a bit of a helping hand, we have put together this simple GA migration checklist for you to follow so that you can get yourself up and running with GA4 in no time.
The main thing to remember is that GA4 does not have to be overly complicated and cause unnecessary stress to MOST website owners.

The truth is that the average webmaster, business owner, blogger can get set up and using GA4 pretty quickly and simply with basic data tracking and conversion events.
GA4 Migration Checklist Explained
We have split the GA4 migration checklist into two stages to make it as simple as possible.
This also helps to group the tasks together and give yourself a chance to take a break in between 😉☕️.
– Stage One focuses on setting up your GA4 property and configuring your data settings.
– Stage Two focuses on setting up conversion tracking and creating audiences. As well as linking your other Google products to your new GA4 property.
GA4 Migration Checklist PDF
You can download the GA4 Checklist PDF here.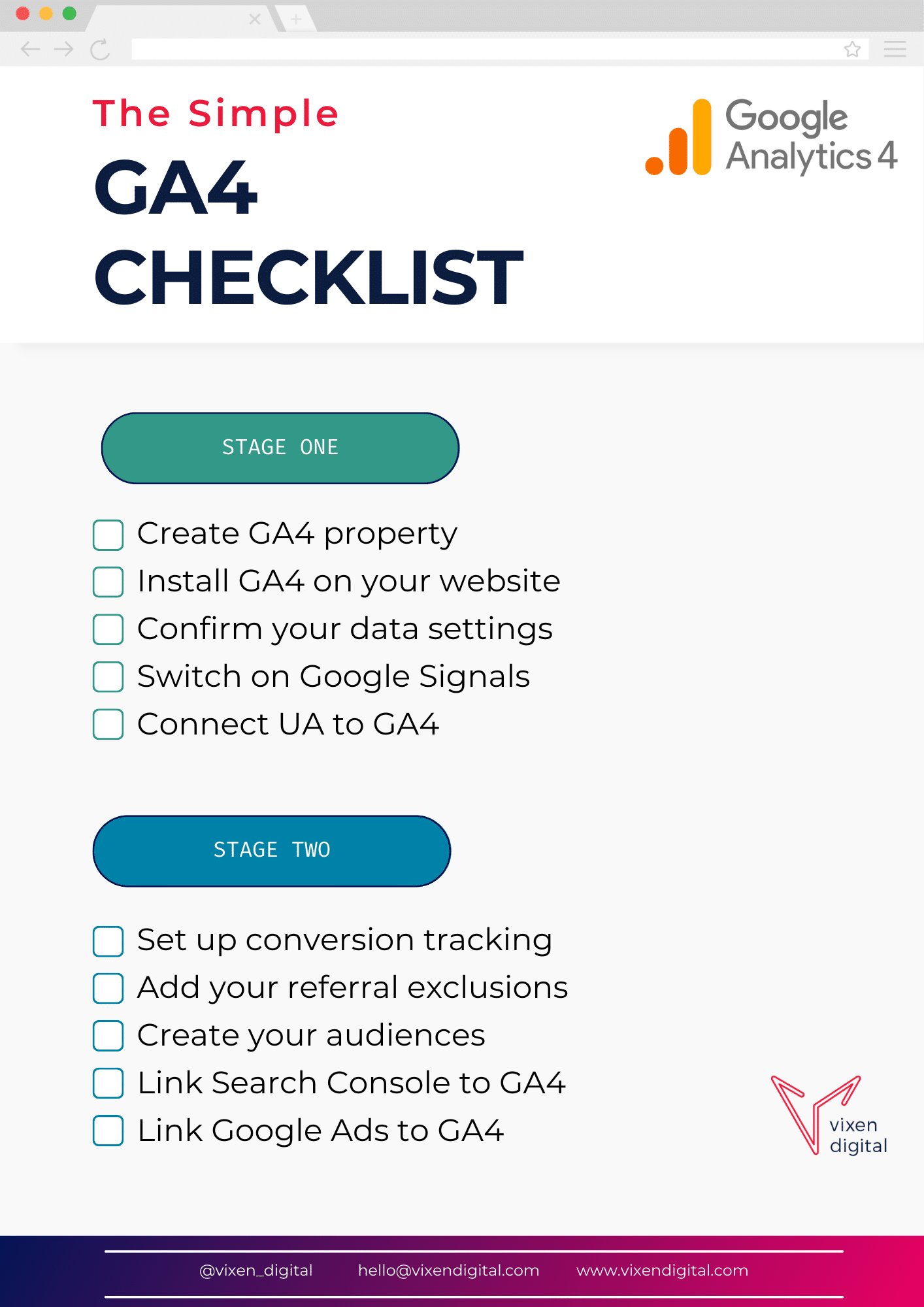 GA4 Migration Checklist - Stage One
In stage one of the GA4 migration checklist, we focus on 5 key areas to get you started with GA4:
Create your GA4 Property
Install GA4 on your website
Confirm your data settings
Switch on Google Signals
Connect UA to GA4
Install GA4 on your website
You will then need to install GA4 on your website. The most common ways to do this are either:
Install GA4 using Google Tag Manager (GTM)
Manually paste the GA4 code into your website <head>.

You will need to find your measurement ID of your web data stream and use this to implement GA4 with Google Tag Manager.
Or you will need to copy the code in the manual installation option from the other installation options section.
You can find how to do this in the video at:
13:49 – Install GA4 with Google Tag Manager (GTM)
15:43 – Install GA4 manually with code
Confirm your data settings
The recommended way to set up GA4 is with some certain data settings configured in the correct way.
This includes making sure that your data retention is changed from 2 months to 14 months as well as adjusting your session timeout settings (if applicable).

Video timestamp: 21:50
It's also advisable to turn on Google Signals to help with cross-device tracking and remarketing. It's especially important if you are going to be running Google Ads and utilising your remarketing audiences.
Connect Universal Analytics (UA) to your Google Analytics 4 (GA4) property
You're now able to connect your Universal Analytics property with your new Google Analytics 4 property. This is really quick and simple to do and will then allow you to share certain settings from Universal Analytics to GA4. For example, certain Property Settings, Audiences, Conversions, and User Management. However, some of these still might be better suited to being set up from scratch in GA4.

You can find out how to do this in the video at 31:00
VIDEO: GA4 Checklist - STAGE ONE
GA4 Migration Checklist - Stage Two
In stage two of the GA4 migration checklist, we focus on 5 key areas to finalise the set up of your new GA4 property:
Setup Conversion Tracking
Add your referral exclusions
Create your audiences
Link Search Console to GA4
Link Google Ads to GA4
Setup Conversion Tracking in GA4
In GA4 "goals" no longer exist. We were used to setting up and using "goals" in Universal Analytics to track valuable actions on our website. However, now we have "events" and "conversions".
The main thing to remember (like we mention in the video) you need to have an "event" before your can create your "conversion".

We cover this in the video from 3:50 onwards.
Add referral exclusions in GA4
Next up is creating an audience in GA4. If you have started collecting data already in your GA4 property then you should already have a default "all visitors" audience. However, you will most likely want to create some custom audiences. We show you how to do this in the video by giving an example of how to create a simple GA4 audience based on user website behaviour.

We show you how to create audiences in the video at the 30:00 mark.
Link Google Search Console to GA4
Towards the bottom of the "admin" panel in GA4 you will see options for other Google products like Google Search Console (GSC). It's here where you can link your GSC with your GA4 property by following the simple steps.
Likewise, you can also do the same to link Google Ads to your GA4 property.
VIDEO: GA4 Checklist - STAGE TWO
So by now you should have a GA4 property that is set up and collecting data as it should be, as well as tracking conversions and populating your audiences.
Remember, the aim of this GA4 checklist is to simplify the GA4 migration for most website owners. It really doesn't have to overly complicated as most websites can operate with quite basic setups in regards to their analytics systems.
It's only when you have large websites that require more advanced integrations or configurations when you need to start getting more technical in the GA4 migration and setup.