There are a few things in life that are inevitable: death, taxes, and the need for referral exclusions in Google Analytics 4 (GA4). 😝
For those of us who are new to GA4, referral exclusions may seem like a foreign concept. But trust us, they're important!
Referral exclusions are basically a way of excluding certain referral traffic from your reports. This is important because you don't want your Google Analytics 4 (GA4) data to be skewed by traffic that shouldn't be counted as a referral.
If you want to learn more about referral exclusions then read on…
Referral traffic is basically any traffic that comes to your site from a link on another site. This can include things such as a third-party website or a recent blog that mentions your website and links to you.
Google Analytics automatically detects where the user was before they came to your site, and then lists the domains in the referral traffic segment of your reports.
For example, look at this recent referral traffic we received on our website:

Why do I need to exclude referral traffic?
Sometimes it might be inaccurate to class certain websites as referral traffic.
For example, one common problem that eCommerce websites have is referral traffic from Paypal.com if they offer it as a payment method in their checkout.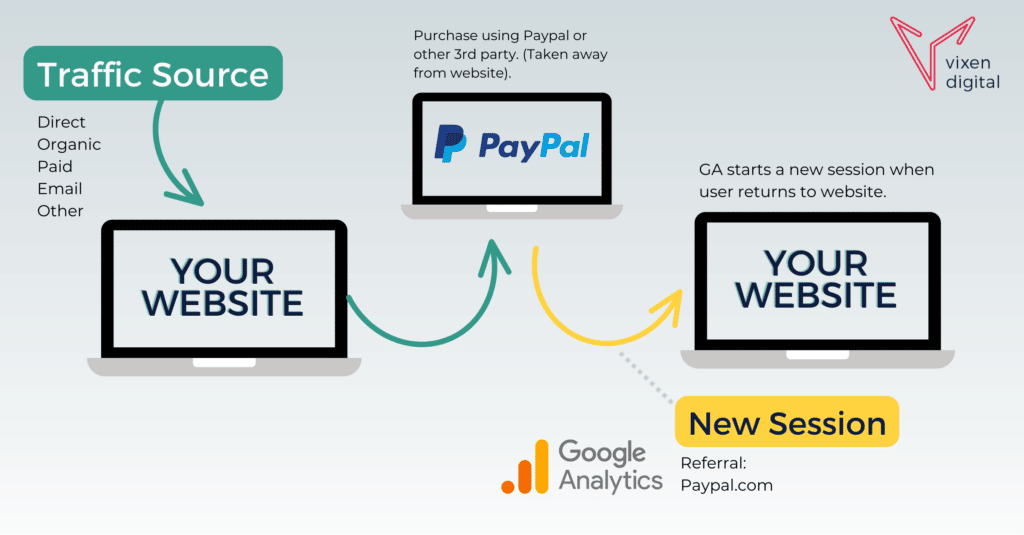 This happens because the user diverts away from the eCommerce website's checkout to PayPal to complete their purchase, then returns to the eCommerce website for confirmation of the order. This starts a new session and Google Analytics, therefore, recognises this as a referral from Paypal.com. So, this attributes the purchase incorrectly to PayPal, overriding the original source of the user's journey.
See this example of an eCommerce client's GA4 BEFORE we excluded PayPal as a referral source.

This is a problem because you won't be able to see and analyse what actually brought you that particular sale. You can't see whether it came from Google Ads, Organic, Direct, Email….nope….just PayPal.
(So you can see how this might be a problem if you're running a PPC campaign for your eCommerce business and you can't see accurate data in your Google Analytics account.)
This is where referral exclusions come in:
With a referral exclusion, you can exclude Paypal as a referral source. So when someone uses Paypal to complete their purchase at your checkout, Google Analytics does not start a new session for that user when they return to your site so PayPal is not able to override your traffic acquisition data.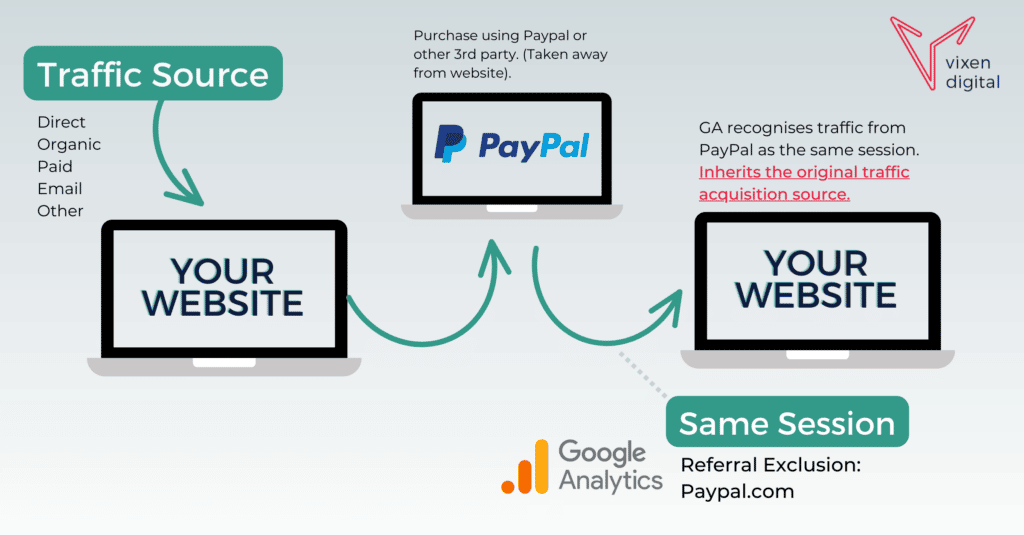 Other common referral exclusion examples
Now this isn't just unique to PayPal, it happens with many other third-party payment processors including:
Stripe
Shopify.com
pay.google.com
Afterpay
Klarna
Clearpay
It also happens with any other third-party site integration that sends traffic from your website to theirs and back again (starting a new session).
For example, events-based websites that utilise an events booking platform where the signing up to or payment for an event is carried out on a different website.
It also happens between sites that you own.
For example, if you have a personal blog on its own domain that you often send traffic or link to from your business website, you may also run into this problem.
This happens if you have something like. "mybusinesswebsite.com" and "myblog.wordpress.com".
You may start to see lots of referral traffic from your blog website in your Google Analytics reports which may give you a reason to think about putting a referral exclusion in place.
Do I need to set up a referral exclusion for subdomains in GA4?
No, you don't! Unlike its predecessor, Google Analytics 4 (GA4) tracks subdomains automatically. With the old version of Google Analytics (Universal Analytics), if you DID NOT want Google Analytics to start a new session when someone passed between both your website and a subdomain of your website, you would have had to create a referral exclusion for your subdomain.
This is not the case with GA4 as it has a new feature called "Automatic self-referral detection" which does not identify traffic as a referral when it matches the same domain as the referral page.
Guide: How to add referral exclusions in GA4
Follow the step-by-step instructions:
Step 1: Go to your GA4 property and click "admin" in the bottom left hand corner. (You must have the required permissions).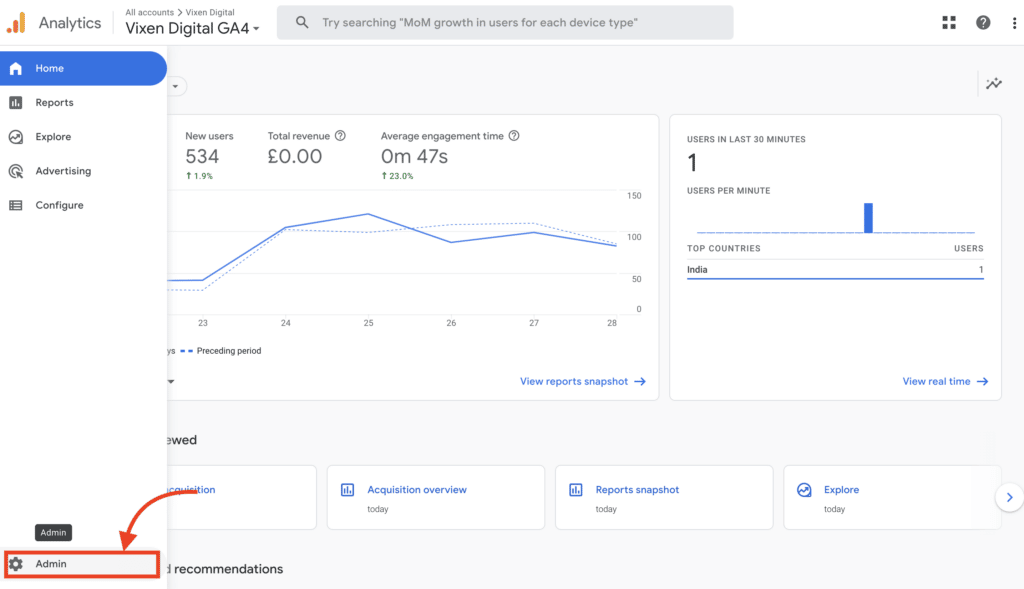 Step 2: Click Data Streams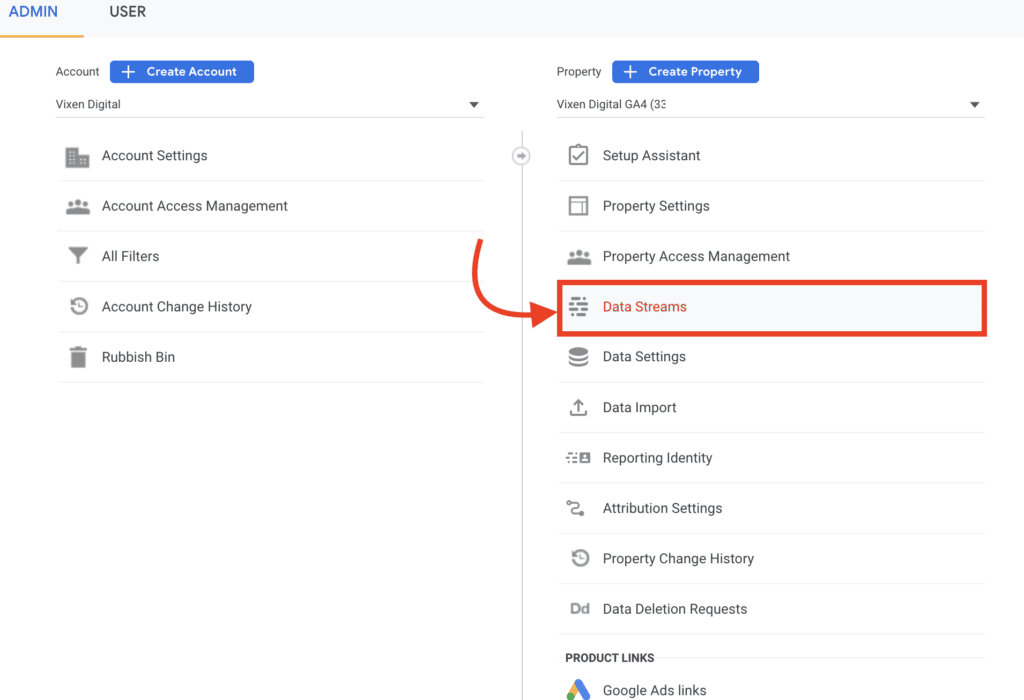 Step 3: Click "Web" and select the web data stream you want to exclude referrals on.

Step 4: Click "Configure Tag Settings" and on the settings panel select "Show all".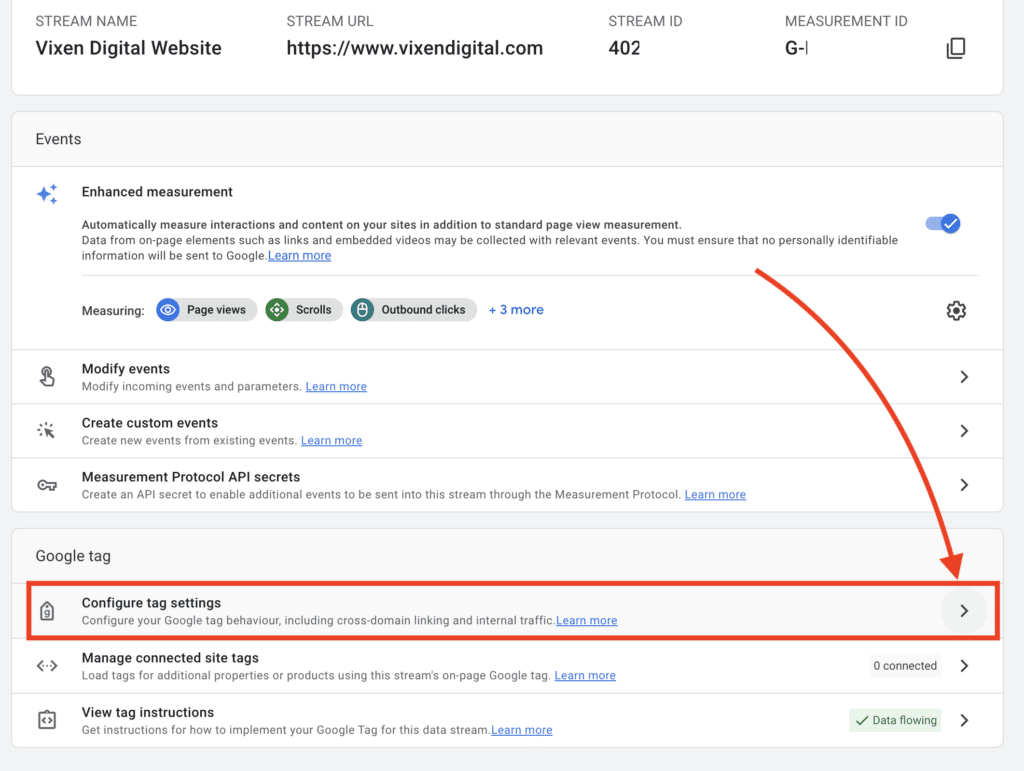 Step 5: Select "List unwanted referrals"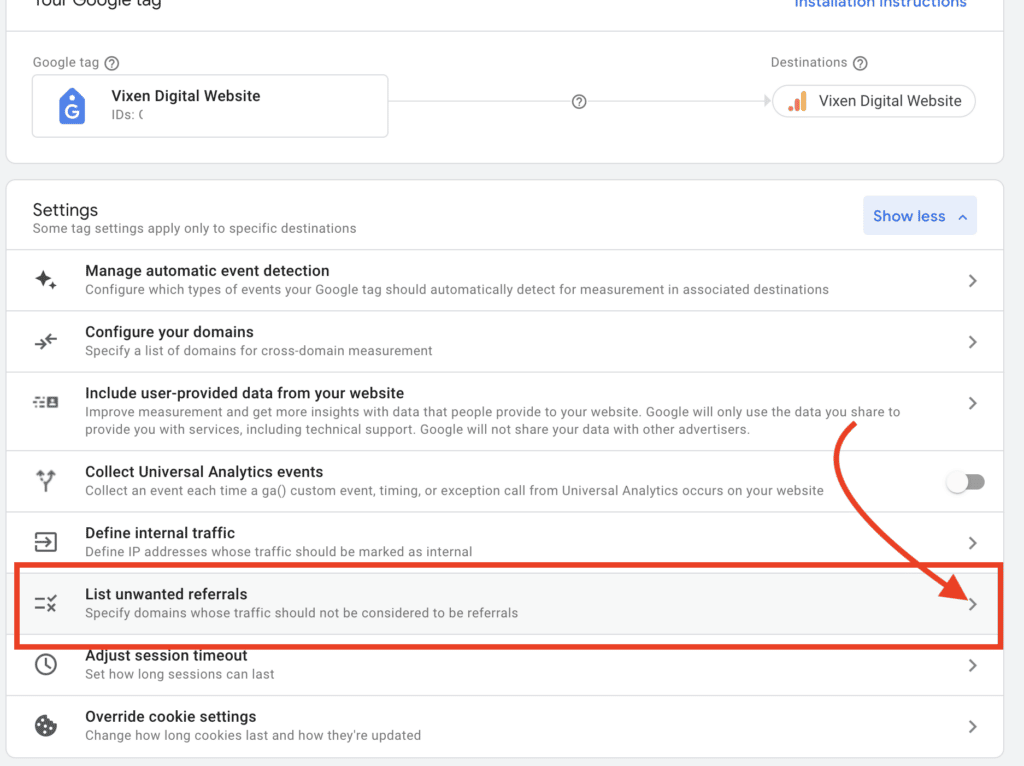 Step 6: Click on the configuration panel and type in the domain you wish to exclude. Choose a match type (e.g referral domain contains) and then click "Save".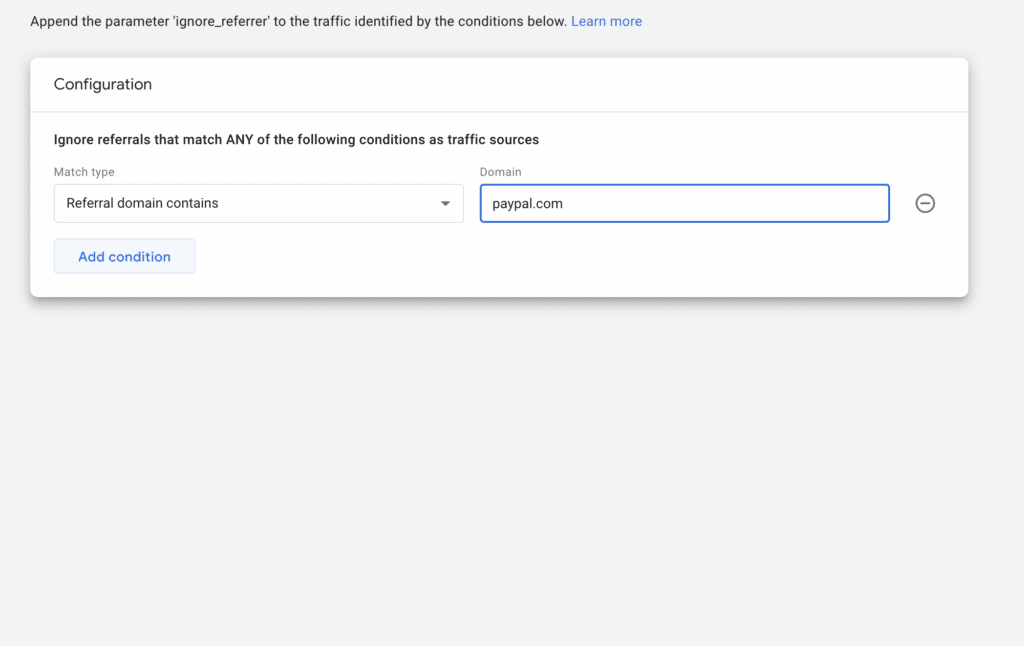 Well done! You've added a referral exclusion in your Google Analytics 4 account! I hope you found this post helpful, remember you can always get in touch for help or read more of our articles below.
Take care!