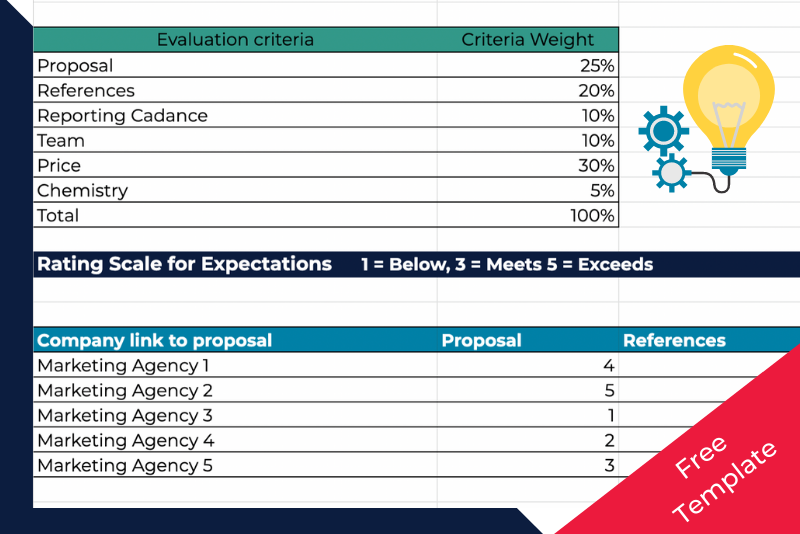 You've decided to invest in online marketing, but how the heck do you evaluate a digital marketing agency? With so many choices out there, finding the right partner to help you grow your business is not easy. Particularly, if you are a marketing manager and your neck is on the line, if the agency turns out to be a massive waste of an already tight budget.
This is why having a plan for how you will evaluate your short listed agencies is key.
First, the bad news: there is no cut and dry set of criteria for evaluating digital marketing agencies. Every organization is different and looks for different things in a partner. It's like dating, there's no accounting for tastes. But….
The good news is that as long as you know your taste AND you prepare for the date accordingly, you might just find a keeper.
Back when I was an in-house digital marketing manager, I developed just the kind of evaluation matrix that helped me choose the right agency. Here's a free How to evaluate a digital agency template. No sign-up (unless you don't have a Google Drive account. In which case, Google will ask you for one)
How it works:
It has a set of evaluation criteria that I found important when evaluating an agency – below you will find each of them explained. Read those first before you start using the template.
The template puts a weighting on each criteria – this is based on organizational and personal preferences. In this downloadable template, I have weighted the price a bit more than the rest of the criteria. If price is not important to you make sure you adjust the weighting.
The template has instructions. Which will help you understand better. It's really simple stuff so hopefully, it all makes sense.
Just a warning before we go into it though, for it to work you don't want to spread yourself too thinly. The last thing you want to do is end up evaluating 10 agencies. Keep your numbers low and only add your top 3-5 contenders.
This is a tested and proved method for evaluating marketing agencies that worked for me. I hope it can help you make a decision as well.
Here are the evaluation criteria I included and what you should consider evaluating…
Evaluate the digital marketing agency written proposal
What you are expecting to see from the proposal will depend on at least two things:
Your digital marketing agency brief
Did you send a brief to tell the agency what you are looking for? Does the brief have clear goals you are trying to achieve? Are you clear on the type of agency you are looking for – for example, one that focuses on SEO or PPC or a full-service marketing agency.
Writing an awesome brief is a whole other blog post (that will be coming!), but if you don't tell the digital marketing agency what you want, you will find it hard to evaluate the quality of their proposal. The main goal of the proposal should be to fit the brief AND to go beyond it to show a proactive approach.
Your personal preferences
How important is creativity to you – would you be happy with just a document or do you value a more creative approach (eg. video)? Are you looking for "war and peace" or is a short proposal your preference?
When I worked in-house I was super busy all the time (not that I'm not now!). I just didn't have time for long proposals and, as much as I loved a creative touch, I couldn't watch an 1h long video. My preference has always been short, snappy and most of all customized.
For me, the lack of customization would always drop an agency score. Let's be honest every agency uses a template for their proposals but that doesn't mean they shouldn't customize it for your company. The worst offenders even forget to change the names of the last prospect they were pitching to! That used to half my score immediately!
Decide on your preferences and what you are looking for in a proposal beforehand and let that inform your score in this category.
Evaluate the agency references
Asking for references and digital marketing agency case studies is a must! After all, how will you evaluate how good an agency is if you have no idea who they worked with before and what the results were?
Additionally, ideally what you are looking for is a reference in a similar industry. But don't expect completely the same, due to conflict of interest agencies don't have clients that are competing with each other. So look for a broad brush similarity. For example, if you are a SaaS company someone with a SaaS reference might get a point bump when you are evaluating their particular digital marketing agency.
On a more practical side, to make your life easier ask for a phone number. A quick call will save you hours of back and forth  emailing.
Evaluate the calibre of the proposed team
One of the main reasons why you would hire a digital marketing agency in the first place is the expertise that comes with having a team of experienced digital marketers working on your account. So, ask for Linkedin profiles of the people who will be working on your account. 
Having Junior and Senior marketers on your account is a good thing. It brings the wealth of perspectives. What you don't want is for the pitch to be the one and only time you hear from the Senior marketers. 
Another thing to consider here is the audience you are looking to target. If you are a B2C company that's targeting Gen Z, having someone who is that young on the account might boost the agency score a bit. 
Evaluate the reporting cadence
What kind of reporting you expect from your agency, comes back to knowing your goals and your personal and team preferences. What is a constant is the need for some kind of reporting to be in place. The last thing you want to happen is for you to have no idea what your new agency is doing day to day and what the results are.. 
When you're evaluating your agency options, how and how often the agency updates the clients should definitely make the cut. Ask the agency what their regular reports look like and even ask for a sample of the monthly report. 
Flexibility is also key here. How open is the agency to hear how you want your reporting cadence to work and are they flexible in reporting methods?  
Evaluate the agency price 
Let's face it, price is very important to many out there. Marketing budgets are often too tight and every penny needs to be justified. When I worked in-house, I always had the price-weighted a bit higher but it was never the be-all and end-all.
You can simplify things and just go for the overall price listed in the proposal. Personally, I found that to be too constricting. I wanted to know exactly how many days I'm getting for that price. 
If the proposal lists a monthly cost of £6000 and has no days assigned I would immediately ask for clarification. Or, if my brief clearly asked for a quote per day and for the agency's daily rate, I would not even go back to them. I would just drastically drop their score. Ruthless I know, but then I really wanted to find the right agency for my business and reading the brief mattered to me.
Having the daily rate is important. Having the daily rate AND the overall price is even better. For example:
Digital Marketing Agency A 
Quoted £6000 and a daily rate of £600. The proposal estimates 10 days per month of work.
Digital Marketing Agency B
Quoted £6000 and a daily rate of £700. The proposal estimates 10 days pre month of work AND a discount on the daily rate of £100 due to the higher number of days. 
Naturally, I am going to score Agency B higher since I am getting a discount. 
Agency costs can vary (for example check out How much do PPC agencies charge and the going rate for the UK),  but at times you will get a group of suppliers where the pricing is so close that it makes it hard to decide. This is where even small elements, such as being open enough to discount based on days, come into play. 
Evaluate chemistry
This is an important but totally personal evaluation criterion. We've all been on at least one date where the person was lovely, but the chemistry just wasn't there. It just fell flat.
The same happens with picking a marketing agency. Sometimes I would sit in a pitch and it would be a great pitch but something in me kept on telling me not to go with that marketing agency. 
Call it chemistry or instinct, it doesn't matter. It's the feeling you get when you meet a team of people that tells you whether you will be able to work with them.
Of course, when it comes to dating, chemistry can be super important. When evaluating your agency options, take it with a pinch of salt and maybe don't put a big weighting on this particular metric. After all, first impressions can be deceiving.
To conclude, finding the best agency for your business will depend on your business needs and goals. And, also on you as an evaluator. We are all people and carry with us our biases and preferences. 
Hopefully, this digital marketing agency evaluation template will help you at least bring some order into your evaluation process without wasting your precious time. Download the "Evaluating digital marketing agencies template" today and let me know what you think on Linkedin.
Here's my Linkedin Profile, let's connect!
And, if you are so inclined I'd really appreciate a share of the blog on social media. Just hit the share buttons below 👇