Finding the best SEO tool has never been more difficult for digital marketers. In such a fast-evolving field as search engine optimization, it feels like new software is popping up every week. It's no wonder that choosing the right SEO software for your business is a challenge. To help you make a decision we have reviewed the top 10 best SEO tools to consider using in 2023 . 
You might already know some big players on this list. And, we included some new dark horses of digital marketing you might not be familiar with. 
10 SEO tools & software to consider in 2023
SemRush

– great all arounder when it comes to digital marketing. You can use the tool to help not just with your SEM, but also with advertising and social media. With a price tag starting at

$

99 per month for the Pro package, it's an affordable option even for smaller companies. 

Surfer SEO

– if SEO content is your priority, then this is a brilliant choice. This SEM platform has impressive features that allow you to generate content plans for any domain in a couple of clicks. It's super easy to use and with a price tag of

$

49 a month and a money-back guarantee, it really is a digital marketing no brainer. 

Moz Pro

– an oldie but goldie! Moz Pro is a great starter SEO tool for any digital marketer. It's an easy to use one-stop-shop for all your SEO needs. Pricing also starts at $99 per month (this will turn into a running joke!). 

Spyfu

– another all-rounder for SEM that boasts some useful PPC features as well. As the winner of the 2020 Editors Choice award in the digital marketing category by G2 Crowd, it's definitely worth a look-see. The Basic package is super cheap, starting at only $33 per month on an annual subscription. 

Ahrefs

– if you work in SEO or have even brushed up against it, you've heard of this platform. A long-standing contender in the space, Ahrefs is another all in one tool that is easy to use and has all the bells and whistles. Their Lite package starts at, you guessed it, $99. 

Google

– I'm cheating here because technically this is not a tool but a set of tools. Specifically: 
Search Console 

Google Keyword planner 

Google Trends
7. Mongools

Tools particularly KWFinder – Mongools has several SEO tools in their repertoire but the one that's easily the best is their KWFinder. If you are a marketer obsessed with finding keywords with low competition that has a foolproof interface this is your perfect match. KWFinder Basic starts at only $29.90 per month making it a great choice for small companies.

8. UberSuggest

– you've heard of Neil Patel hopefully? Well this is his baby. No matter what your opinion is about Neil, UberSuggest is a great platform. It's basically a keyword finder tool that helps you identify keywords and the search intent behind them. It has a pretty good free version and a starter package that's priced at £29 per month – cheap as chips. 

9. Answer the public

– if you are going to do one thing in SEO content do this: find the questions people are asking about your product/service area and write the answers.  This tool lets you do exactly that and it's great for finding featured snippet opportunities.

10. Siteliner

– this is a brilliant platform to easily check for any duplicate content and broken link issues on your website. Like many others, it has a freemium business model. Siteliner lets you check one domain with up to 250 pages every 30 days. Not bad for digital marketers managing just one small site. 
Best SEO tools for digital marketers – detailed review & comparison
A beast of an SEO tool! As they put it, the platform allows marketers to "Do SEO, content marketing, competitor research, PPC and social media marketing from just one platform".
Unsurprisingly as one of the long-standing market leaders, SemRush boasts some impressive big clients such as Tesla, Samsung, Apple, Forbes and such. They also have an impressive award track record with a whooping 14 international awards for the best SEO software suite.
Two of the features that are definitely a stand out are Domain Vs Domain which lets you quickly compare the basics against competitors, and their SEO Site Audit tool is super easy to use.
Semrush Price:
Starts at $99 p/m if paid annually

SemRush Strengths
A great all-rounder in SEO platforms for digital marketers, even digital marketing newbies can use the platform fairly easily.

Great for easily assessing your rankings, identifying any changes and finding opportunities.

The new search intent feature

is an excellent addition! 

Impressive selection of useful resources, plus free training.
SemRush Weaknesses
Not great in everything! For example, there are specialised tools for PPC that are definitely better and their content marketing features are definitely not best in class.

The price tag can rack up – it starts at £99 but you pay extra for additional seats and if you are managing a lot of keywords. 

Keyword volume and traffic data can be wrong so double check things!
If you are looking to power up your content quickly, Surfer SEO is a brilliant tool. It boasts a superior algorithm that will help you "Rise to the 1st page of Google with less than 30 minutes of Surfer optimization". Now, this is obviously a bit of an exaggeration. Rankings will very much depend on several other things (competition, technical, industry etc.), but there is no doubt that SurferSEO is one of the best SEO tools for digital marketers looking to easily get some ways to optimise their content. In a basic sense, what the software does is let you quickly and easily analyse the first position articles on the SERPs for any given keyword which then helps you optimise your own content. 
A testament to this is a number of G2 Crowd awards the tool has received in 2021 alone: Best Usability, Summer Leader, Most implementable and Best Support. Impressive! 
SurferSEO Price:
The basic plan for SurferSEO starts at $49, which is very reasonable.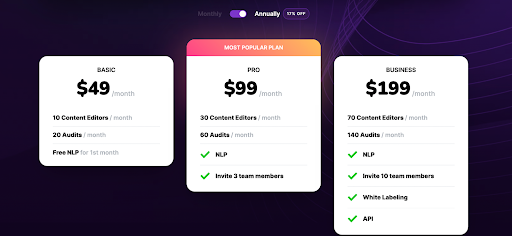 SurferSEO Strengths
The breakdown that the tool gives you of first Google page rankings is really impressive. It will give you some really useful data such as how many links the top-ranking content has. 

It has some brilliant features. Two that stand out for me are the Topic and Questions to answer feature in the Content Editor and the SERP Similarity. 

Uses Google's BERT methodology which is a must these days. 
SurferSEO Weaknesses
Can be overwhelming for beginners and some data is redundant. There is a lot there and not all of it is super relevant and useful. For example, while it's interesting to see the average number of H2 top-ranking content, I'm not convinced that emulating this will give you much of a bump in the rankings. 

The NPL features can be confusing. While they can be super useful, the keyword research tool is definitely not the best on the market 
Another great all-rounder on the list, Moz Pro has been around for ages and rightfully holds a big chunk of the SEO tools market. They say that they remove SEO complexity and to a large extent, this is correct. With an easy to use interface and fool-proof action-oriented results, this is a brilliant tool for in-house marketers who are looking for a straight to the point platform. 
Moz Pro comes with all the major bells and whistles in SEO: keyword analysis, rankings, crawl and audit, on-page optimizations etc. 
Moz Pro Price:
Moz Pro's price starts at, you guessed it, $99 per month on a monthly package.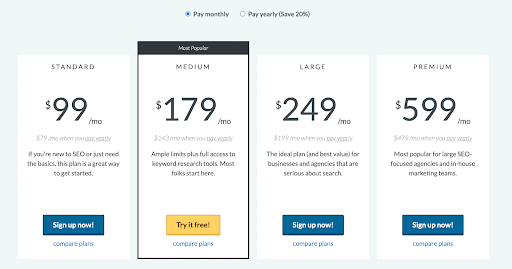 Moz Pro Strengths 
Truly a brilliant tool for the most important elements of SEO. Easy to use and understand even for beginners in SEO with a useful Insights section

Great community, training and content around the tool. Although the training is not free, it is reasonably priced.  

Customer support is responsive and issues get resolved fast.
Moz Pro Weaknesses
The $99 package doesn't really get you much. For any benefit, you really need to start on the Medium package.

Technical SEO audit is lacking behind some other tools so if you are an experienced SEO-er might not be the best choice.

Not as feature-rich as some of the other tools on the market so not perfect for experienced SEO-er. 
Again a great all-rounder, SpyFu gives you the basics needed for SEO optimization. It includes the staples such as backlink strategies, ranking history, top pages, keyword tracking and custom reports.
SpyFu also has some useful PPC features which are lacking in some of the other contenders on this list. This makes it easier to have a more holistic approach to digital marketing. 
SpyFu price:
SpyFu price starts at $33 per month and, as is the case at the moment, they often run special offers so keep an eye out.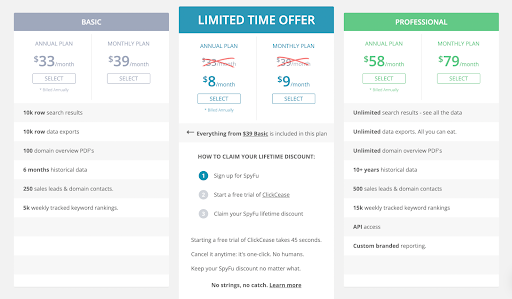 SpyFu strengths
It has a free version which is not bad at all and gives you an idea of what to expect in the paid packages.

The PPC analyser is better here than in some other tools I've seen. 

Super cheap in comparison to some of the other tools on this list. It also doesn't put any limits on the number of searches, domains etc. which means the pricing can't ramp up easily. Great value for money!
SpyFu weaknesses 
Can seem a bit cluttered for some digital marketers. A lot is there and it is not always clear what you should focus on if you don't have a lot of experience in the field. 

The Basic version reporting, while it's a good start, can be very limiting. 

Limited in terms of community and training.
Alongside Moz and SemRush, Ahrefs is likely the most talked-about SEO tool on the market.  This is another all in one tool that boasts a ton of amazing features. Its value proposition is that "you don't need to be an SEO Pro to rank higher and get more traffic". In my mind, this is a bit confusing for a tool that has so many super-powerful features and is one of the platforms that is preferred by experienced SEOs rather than beginners. 
As is tradition, as an all-rounder, Aref has all the needed features for SEO such as competitor analysis, keyword research, ranking etc. 
Ahrefs Price:
Ahrefs price starts at the very popular $99 per month.

Ahrefs strengths 
Extensive community, content and free training that is sure to up-skill anyone.

Great in-depth features that really give you a lot of data to work with. Great reporting and a truly granular view of most important SEO data (and then some!)

Their link database is likely the best one on the market so if that's your priority, Ahrefs is a great choice. 
Ahrefs weaknesses 
Not the best tool for junior digital marketers who don't have time to invest in training. Ahrefs can do a lot but only if you spend the time exploring the platform.
Content optimization features are really lacking here.

The price tag is one of the largest on the market when you go past the Standard package. If you want the full power of Ahrefs you will definitely have to pay for it. 
Google
All things said and done, you should never ignore the ultimate set of tools and that is Google. Technically these is 3 tools but likely the most important ones on any list! 
Search Console – Honestly if you are a digital marketer you absolutely must use the Search Console! Yes, it's not a fancy SEO tool that spits out a content template, but there is no better place to understand your Google rankings. And, it is yet again absolutely free. 
Google Keyword planner – yes yes not exactly an SEO tool for digital marketers, more like a PPC platform. BUT definitely super useful for your SEO keyword strategy and since it is free needs to be part of your SEM arsenal. 
Google Trends – if you want to know which keywords are on an upward trend don't miss out on this little gem. It's a brilliant tool for budgeting as well. You can easily see if your particular industry is on an upward trend. For example, when COVID started this was one of the ways I lobbied for more budget for SEO. 
Google price:
Free! 
Google Strengths 
You are trying to rank on Google so it's a no brainer to use the tools provided by Google!
Google Weaknesses 
The absolute monopoly over the market and the fact that they are sharing less and less insight with digital marketers. Great for their push towards advertising revenue. Not great for us!
Even though Mongools has several SEO tools, the one that makes this list is their KWFinder. It's a brilliant SEO software for keyword research and the low price makes it affordable for small businesses. 
It comes with a more than generous 10 days free trial, to allow you to really see it in action before you commit. 
In terms of features, it's the usual arsenal of keyword research basics. To name a few, KWFinder allows you to:
Find hidden long-tail keywords

Find your competitor's keywords

Organise keywords with keyword lists

Import keywords in bulk

Filter keywords that aren't profitable

Perform local keyword research
And much more….
The dashboard is easy to use and understand and they claim they have the "most accurate keyword difficulty" evaluation. 
Mongools KWFinder Price:
KWFinder Basic starts at only $29.90 per month which already makes it the most affordable plan from the paid tools on this list. Be aware though, that the 200 keyword suggestion limit is very, well, limited. Plus tracking only 200 keywords daily is ok but not for medium businesses.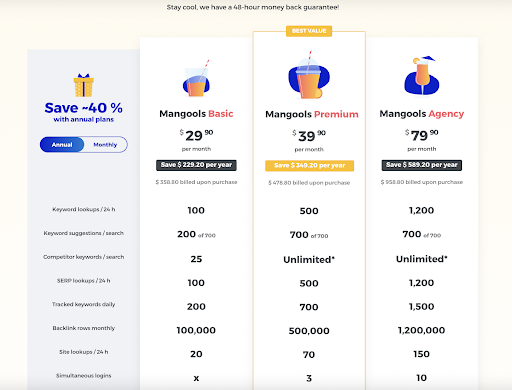 KWFinder strengths 
The price certainly offers the best value for money when it comes to subscription keyword research tools.

Easy to use, friendly interface.

The keywords suggestions are impressive. It's not just the usual drab, just variations of the same keyword. This tool actually gives you a decent amount of "lateral" keywords.
KWFinder weaknesses 
It doesn't produce as many keyword ideas as some of the other tools on this list. But quality is better than quantity! 

No PDF exports of reports which makes it tricky to share with stakeholders in a readable way

Not sure about the claim that the keyword difficulty is the most accurate. The website does not elaborate on this. 
The brainchild of Neil Patel, UberSuggest is basically a keyword finder tool that helps you identify keywords and the search intent behind them. It does everything that most other tools do on this list eg. lets you analyse your competitors' keywords, SERPs, gives you suggestions of keywords and all that other fun stuff. 
There are a few tabs to get familiar with but the interface is simple and easy to use for anyone. 
UberSuggest Pricing:
With a starter price of £29 a month, Ubersuggest is super cheap and a great option for small businesses. They also often run special offers. At the time of writing, Neil is attracting customers with a great value offer of "Pay once and get full access for life". It comes in at  90% cheaper and makes the basic package a £ 290-lifetime investment. 
There is also a free version that works ok-ish if you want to just dip your toes into SEO.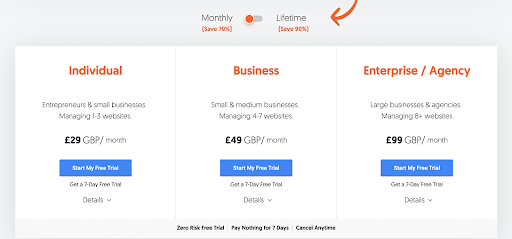 UberSuggest strengths
Very cheap and a great starter tool for small and medium business 

A well-rounded tool with all the usual features in an easy to use interface

Neils advice is peppered throughout the tool and he delivers it with his usual down to earth understandable way
UberSuggest weaknesses 
No integration with Search Console – keywords needs to be pulled in manually

Reviews on G2 slam the customer service 

The backlink profile feature is not as good as some of the other tools on this list. And, in general, for more experienced SEO-ers this tool is a bit limiting. But you get what you pay for I guess. 
This freemium tool should be part of every SEOs arsenal and in general any digital marketer. To put it simply, this online platform allows you to explore all of the questions that are coming up around the web on a particular topic. And, as we know, answering user questions is key to any good SEO strategy. 
Once you have your topic, Answer the public will show you all the related questions in a very visual way. It's super easy to use it to enrich your existing content or plan new pieces. 
Answer the public pricing:
The basic plan starts at, you guessed it, $99 a month.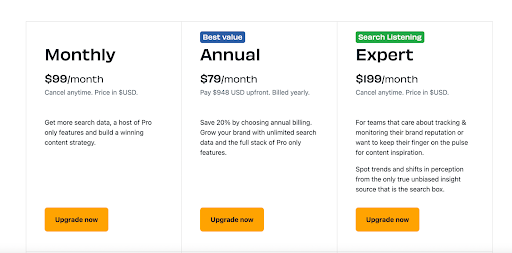 Answer the Public Pros
Super visual and easy to read. 

Focuses on what matters the most: questions that people ask. This increases your chances of ranking

Free version is only limited by the number of searches you can do. 
Answer the Public Cons:
The paid plans don't really offer much more than the free version. For example, you can't track rankings or understand keyword difficulty. 

At its core, this is only a great content brainstorming tool and not really an SEO platform. You have to combine it with some of the other platforms mentioned in this list to make it work. 
Another freemium tool on this list, Siteliner is a web crawler that specialises in finding duplicate content on your website. It also informs you of any broken links, which is a nice little add on.
Siteliner doesn't do much but what it does it does well. Rather than spreading itself too thinly, it concentrates on one of the important elements of SEO for digital marketing. 
Siteliner pricing:
Siteliner has two pricing packages:
Free – limited to monthly analyses of websites having up to 250 pages. Simply type in your URL and Siteliner gets to work.

Siteliner Premium – scan and analyse up to 25,000 pages, as often as you like. Advanced options let you control which pages on your site are scanned. You may also save and review your previous results.
Siteliner Pros
Does what it says on the tin, online, without having you download any software. Just got to the website and crawl your page 

Even the free version scan is quick and accurate. And, enough for digital marketers that own smaller sites.
Siteliner Cons
It's not really a full-rounded platform. If you want anything else other than duplicate content you need to pair it with some other tools on this list

The pricing structure can put people off. Each page only costs 1 penny. So if you have 2,000 pages you only pay $10. But who wants to spend the time calculating? 
To conclude
So many tools out there! It's no wonder it's tricky to find the best fit for your needs. This list only includes the top 10 SEO tools for digital marketers in 2023. There are a ton more out there! Ultimately, what you decide to get will depend on your individual goals and budgets. Hopefully, this list gives you a bit of an insight into what's out there and the Pros and Cons of each platform as tested by the team here at Vixen Digital.  
And, if you are looking to really grow your company with some expert SEO support get in touch with our team for a free consultation!