How to add certificates on LinkedIn
If you use LinkedIn to promote yourself to potential employers or recruiters, you should know that the platform can host any certificates or licenses you have that those potential employers might be interested in. One certificate might not make much of a difference to your employability for a role, but having it there and accessible to see might just be the tick box some employers are looking for. It might even be the case that some organisations will filter their search results to only those with specific licenses or certificates proven. It could be that your driving license (for example) is the one thing that sets you apart from someone else they're considering. So with that in mind, if you have a few qualifications to show off on LinkedIn, follow our 4 step guide on how to add certificates on LinkedIn.
Select the Me icon at the top right-hand corner of your LinkedIn homepage (or next to your profile picture if you're on your profile).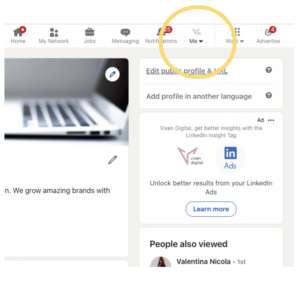 Select Add profile section directly under your cover photo, then Recommended, then Licenses & certificates.
Select the add button over at the right-hand side of the page, then you'll be asked to add in all the details of your certificate (see below for more info on what they ask for).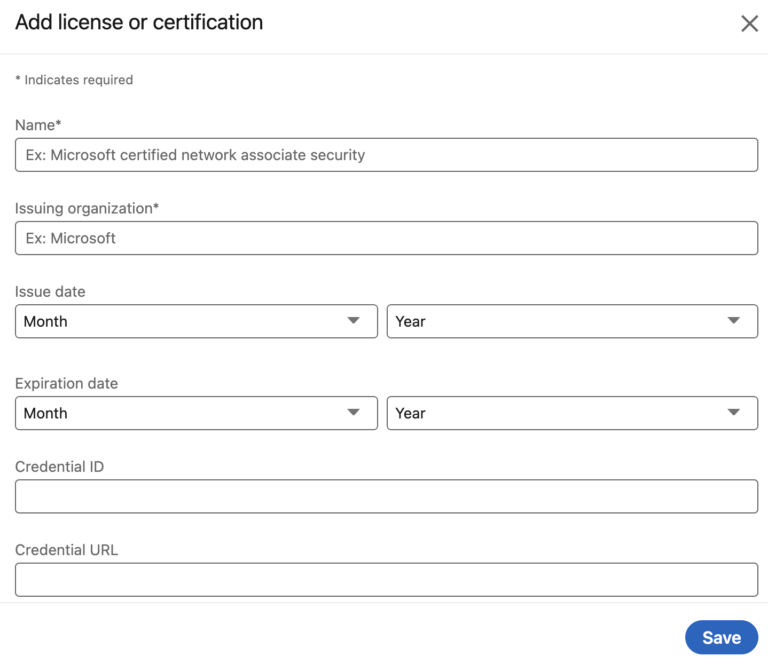 Finally, just select Save and this certificate should appear listed in this section of your profile. Then, just repeat the process for any more you have!
LinkedIn no longer shares changes to the Licenses & certifications section of your profile to your network. If you've recently connected with organisations or businesses who you'd like to impress, you might want to consider sharing this information in a post or update to make yourself a little more visible. To do this, go to your homepage and create an update. You can tag the institution or organisation where your qualification is from. Doing this also means you're more visible to that organisation and the connections it has on LinkedIn too. 
What details will be needed when adding my certificates?
LinkedIn asks you for the following information for each certificate or license you want to add:
Name of the organisation or institution that issued the certificate. You'll probably notice the organisation listed on LinkedIn once you start typing, so select it from the drop-down box to add some credibility to your qualification. 

When it was awarded (month and year)

Credential ID (if you have this)

Credential URL (if you have this).
What kind of certificates could I include on my profile?
You might think you don't have much to show off to the industry you're interested in, but even including your GCSE exam results could set you apart from others. So, take some time to go through your folders and see what might be of interest on your LinkedIn profile. Here are a few certificates or other documents you might want to add:
GCSE certificates
A Level certificates
Undergraduate degrees or postgraduate degrees
Any other academic qualifications like diplomas, further or higher education certificates
First Aid training certificates
Driving license including any specialist vehicles or equipment 
Childcare or caring qualifications 
Is it really worth adding my certificates to Linkedin?
The answer is of course, yes it is! Employers look for a range of different things when searching for new candidates, but all of them try to answer the same basic question… What can this individual add to our business? With that in mind, here's why adding any qualifications you have to your profile is always a good idea…
If you're thinking, "Well, everyone's done that", you might be taking your education for granted. Not many people will have the exact combination of academic experience you have, and it might be exactly what a particular employer is looking for (along with the right work experience or skills). As well as this, if you've pursued additional education, which isn't standard but is specialist in some way, it helps show the viewer of your profile that you're willing to go beyond what's expected of you. Not only that, it tells them that you're curious and committed to the industry you're interested in. 
A lot of LinkedIn profiles out there are quite basic. Even if you're someone who would make the perfect candidate for a role, if an employer or recruiter values LinkedIn as a tool to get to know you and your profile is pretty bare, you won't be making a good impression. By going to a bit more effort with your LinkedIn profile (filling it out with lots of detail), it not only tells others about yourself but it shows them that you're taking the whole process seriously. You're willing to spend a bit of time to communicate your skills etc clearly and that says a lot about you in itself.  
If you're lucky enough to get to the interview stage of an application process, having a few things to start the interview off with is really useful. Your LinkedIn content is perfect for just that. Similar to a CV, you might have certificates (or content in general) that involve your hobbies as well as your academic achievements or licenses. For example, maybe you have an art diploma which tells the employer that you're a creative individual and it gives them something interesting to break the ice with when you meet for your interview.