Managing multiple social media accounts can be time-consuming and overwhelming. That's where social media scheduling tools come in. Two popular options in this field are Later and Buffer. Both of these tools aim to make social media management easier and more efficient.
Choosing the right scheduling tool can be tricky. Lucky for you, we have created an easy-to-follow comparison of Later VS Buffer so that you can quickly make an informed decision about which platform is best for your business needs.
What to look for when choosing a scheduling tool?
Before diving into each tool's features, let's talk about what you should consider when choosing a social media scheduling platform.
Consider the following:
Your goals and needs. How many clients do you have, how many posts are you planning to publish per month and which features do you need the tool to have?
Price. Of course, price is important, but it's not the be-all and end-all.
Can you publish on multiple networks? The main benefit of using a scheduling tool is that it allows you to publish your posts on various social media platforms in the same place with one login! Isn't that amazing?!
Can you get the data you need? Every digital marketer knows that data is the holy grail for any successful marketing strategy, so make sure you can get all the data you need and regular reports.
Are you working alone or in a team? If your case is the latter, you may want to consider a tool that provides you with a good collaboration environment and easy integration.
Supported Social Media Platforms
At the moment, both tools seem to support all the main social media channels except Snapchat. However, Buffer is aiming to launch YouTube very soon. Something that lots of users complain about and that we experienced ourselves is that Later often loses the connection with your social media platforms profiles, constantly disconnecting or failing to refresh.
| | | |
| --- | --- | --- |
| Instagram | | |
| Facebook | | |
| LinkedIn | | |
| TikTok | | |
| Twitter | | |
| Pinterest | | |
| YouTube | Coming Soon | |
| Google | | |
| Mastodon | | |

Channels and Users Management
What is worth mentioning are the different ways Buffer and Later are organised. Later is organised by Social Sets and Access Groups. Access Groups help you manage access to your media and social profiles within Later. An Access Group contains unique sets of Social Profiles and its own Media Library. Each social set includes one of each available social media profile.
This structure means that if you only have three social media profiles, you would still pay the full price for each set.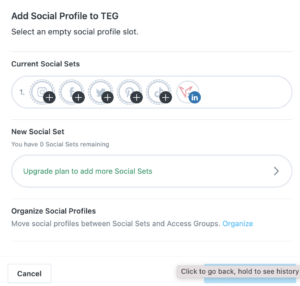 Buffer, on the other hand, is more straightforward. You can add as many channels as you want and you pay a price for a single channel depending on what plan you are on.
In terms of users, with Buffer, you can add one to unlimited users according to your plan at no extra price, whereas in Later you have one user with the Starter plan, three users with the Growth plan and up to 6 with the Advanced one. Extra users come at a price of 5 USD/month each.
In Buffer, you can grant your users full Admin access to the entire organization, or you can give them specific permissions for the channels you'd like them to work with. If a user with Admin access hasn't been invited to any channels, they wouldn't be able to create posts or respond to comments. Users with Admin access will have full control over all of the channels you've already connected to, so this level of access should be used sparingly.
You can only have one admin per Later account. Later account 'users' can't see or change any main account settings. This includes Subscription settings social profile settings, connecting or refreshing social profiles and adding or changing other users.
When it comes to pricing, Later and Buffer offer free plans and a range of paid options. Later's paid plans start with the Starter plan at $18 per month. On the starter plan, you can't add any user or social set, so if you ever wanted to add a user or have two Instagram accounts, for example, you would need to upgrade to the Growth plan.
With Buffer, you pay an amount for each channel depending on your plan, starting from $5 per month with the Essentials plan. The difference between plans regards the number of users, reports and team management.
Both platforms offer a free plan with limited features, and you can post up to 10 posts per channel.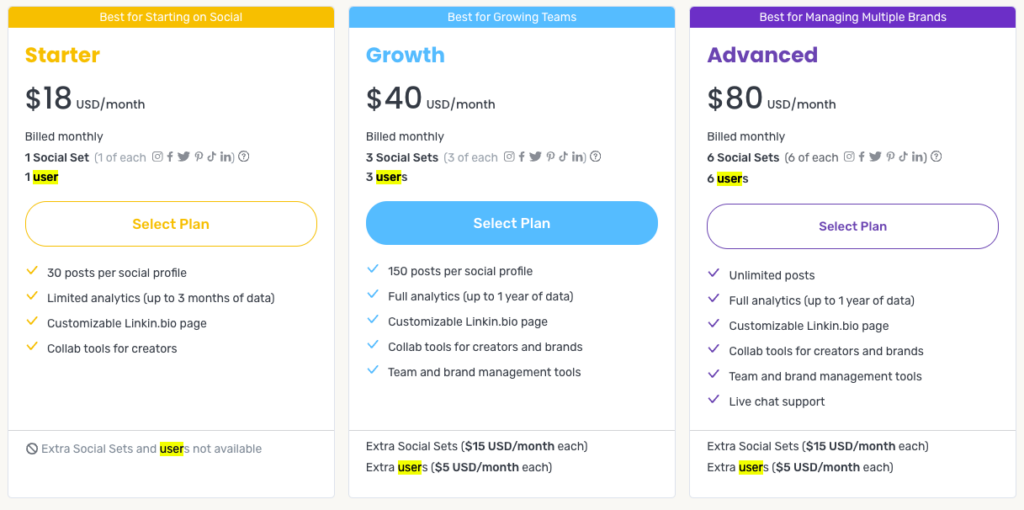 Check Later available plans and features here.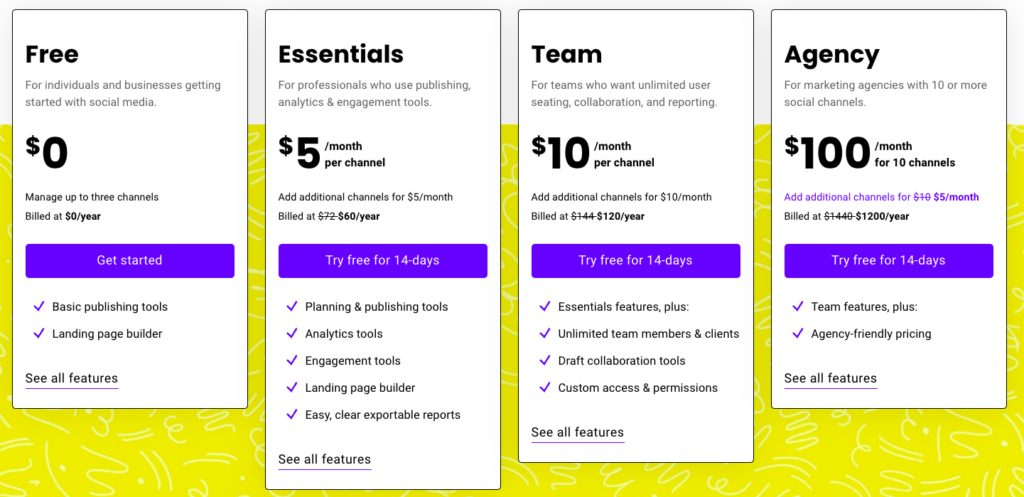 Check Buffer available plans and features here.
Content integrations and more
Buffer browser extension makes researching and sharing content ideas a breeze! If you are tired of manually compiling spreadsheets with links to cool posts and new trendy ideas, this time-saving tool is here to lend a helping hand.
Add the extension to your browser so you can easily save all your ideas wherever you find them. You can easily capture ideas with a single click on the buffer icon located in your web browser bar and save them for later. Just select text or an image from any website to effortlessly store it in one convenient place.
In the same way, you can create a post directly from the idea you found.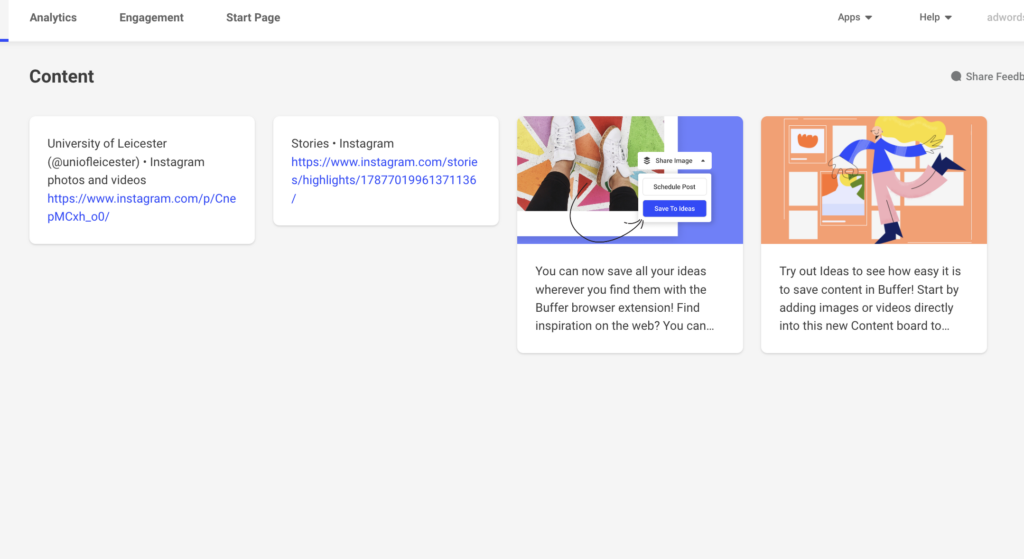 Other integrations that will blow your mind away include Zapier, Pixlee, Feedly and many more.
Using short links is good for clarity and cleanliness and often provides tracking and analytics capabilities, allowing you to see how many clicks your links are receiving and from where.
You can see how much traffic you receive from social media posts directly inside your Google Analytics dashboard by enabling this feature directly on Buffer in the settings.Some platforms also have character limits for posts, and short links allow you to share links within those limits.
Link Buffer to Other Accounts
Buffer lets you easily upload from many accounts, including One Drive, Google Drive, DropBox and Google Photos. Plus, with the connection to Canva, users can design content within Buffer or simply connect their existing account for easy access. And who doesn't love adding some extra flair? The built-in Giphy search tool helps get that job done!
Buffer is ideal if you are working in a team and you need to share ideas and get things reviewed. All of Buffer's plans, including the free one, provide the possibility to create draft posts. Account owners and users with full posting access can check and approve drafts in the approvals section.
Tired of looking for hashtags? It can be easy with Buffer's Hashtag Manager, which allows you to group and save your favourite and most used hashtags.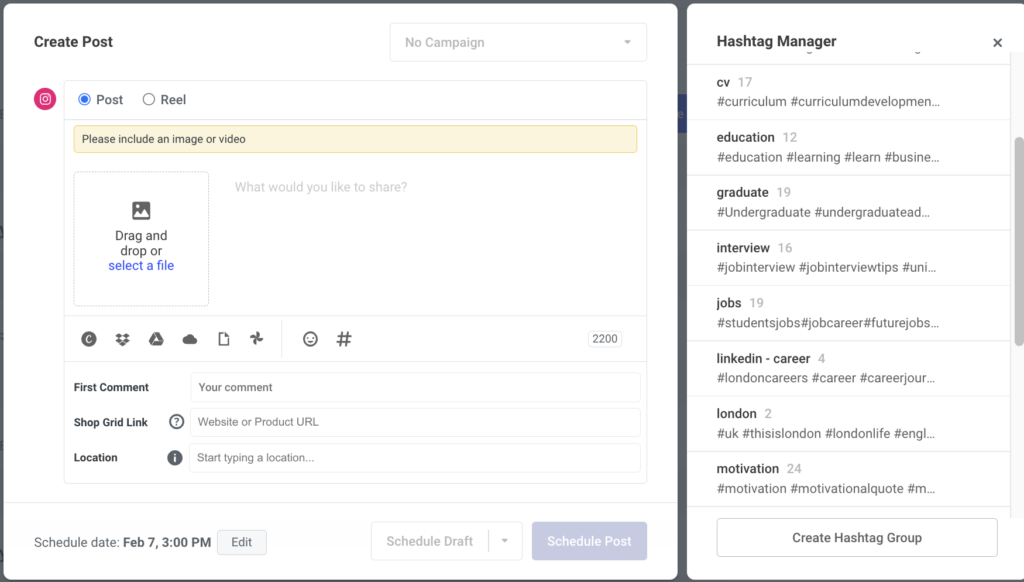 Looking to level up your content with some stunning visuals? Later makes it super easy. You can access Unsplash Photo Library directly from Later and save any relevant pics straight into the Media Library – no downloading required! This comes with all the plans, including the free one.
Edit Your Images Inside Later
If you don't have or don't want to use an additional tool to edit your images, later has you covered! It has an integrated tool that allows you to edit your images within the app. This obviously has limited functionalities but is still good to have for quick and simple changes.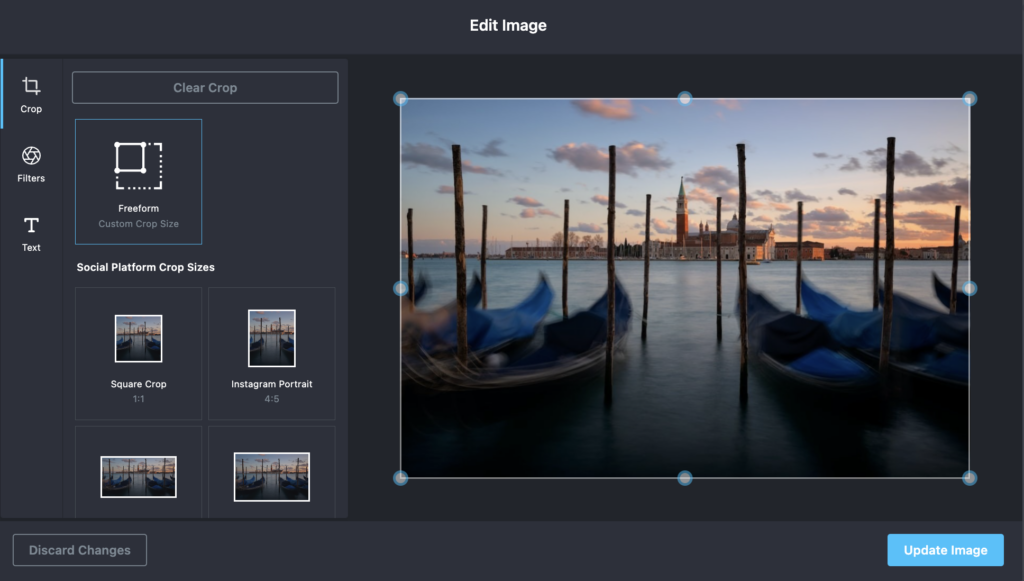 Sharing User-generated Content is Easier
The power of images and videos from Instagram is now at your fingertips with Later's Search by Profile feature! This feature lets you add engaging visuals from Instagram business and creator profiles to your Media Library in a few easy clicks.
When adding images and videos to your Media Library, the URL or Instagram handle will be automatically added to your media notes. Therefore you can easily credit the original creator (this is not included in the free plan).
If you are a branding agency or simply a perfectionist, you will love this feature! The Visual Instagram Planner makes planning a beautiful feed easier than ever. Whether you choose a free or a paid plan (except for Reels, which are available on Starter, Growth, and Advanced plans only), you are able to preview your scheduled photos and videos alongside published posts quickly. This will help you give your IG feed a consistent look.


While Buffer provides you with a hashtags manager to organise your hashtags, Later offers a suggestion feature. Constantly being on the lookout for new hashtags can be daunting, but now you no longer have to do tedious searches. All you have to do is choose from those automatically suggested to you by Later. Just a heads up, though… we found that this tool could do with some improvements as the quality and quantity weren't always spot on. Hashtag Suggestions are available to paid plan users on the web only.
No more logging into several accounts just to respond to or delete comments! Buffer and Later offer an engagement feature to turn every comment on social media into an opportunity to create a lifelong customer.
You will be able to view the posts as image thumbnails for the selected social media channel. Up to 30 posts with up to 2000 comments will be backed-filled.
Later's Conversations feature shows a feed of your most recent Instagram and TikTok comments, so you can read, reply to, and delete comments from Later on the web.
As we already said, collecting and analysing data is key to being on top of things and tweaking your strategy when necessary. We think Later's analytics are more user-friendly and visually more straightforward, especially for Instagram. However, both Buffer and Later offer the possibility to filter posts by engagement rate to see what content is working and work out the best time to post, plus other useful features.
One thing worth mentioning is that Later does not provide analytics for LinkedIn and with the Starter plan it only provides up to 3 months of data. On the contrary, Buffer offers analytics for all platforms beyond a year.
Buffer Vs Later: Which One Is The Best?

There is no right or wrong answer. The choice between Later and Buffer will ultimately come down to the user's specific needs.
The best way to get the answers you need is to try each one out to understand how it fits into your workflows before committing long-term.
We realise that trying every tool out there can be too much. So if you are in a rush (and we bet you are), here are our key takeaways.
Later is a social media scheduling tool that is focused on visual content creation, ideal for businesses and creators whose main channel is Instagram. It's designed for businesses and individuals who promote their brands through visually appealing content such as photos and videos. Later has a user-friendly interface and a drag-and-drop calendar, making it easy to schedule and organise content. It also has a built-in library of images, filters, and design tools to make the job smoother.
Buffer is a more comprehensive social media management tool that offers scheduling, analytics, and engagement features. It is ideal for businesses and individuals who need to manage multiple social media accounts in one place within a team. Buffer offers a simple and straightforward scheduling process that allows users to queue up content and schedule it to go live at specific times.
Ultimately, things are always changing in the world of social media, so just because a tool seems to be the better option now, it doesn't mean that it will be the same forever. Make sure you keep up with changes and updates in the industry.